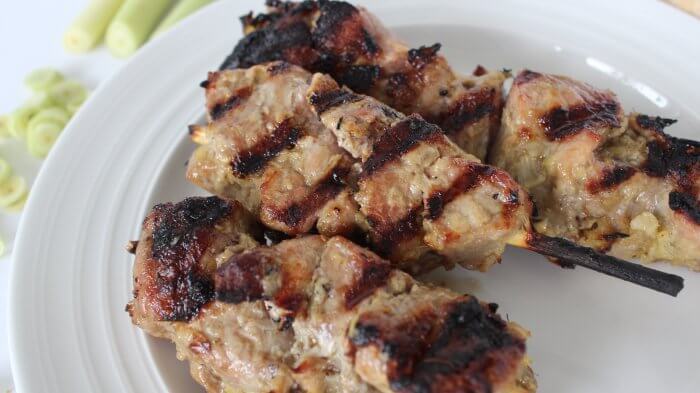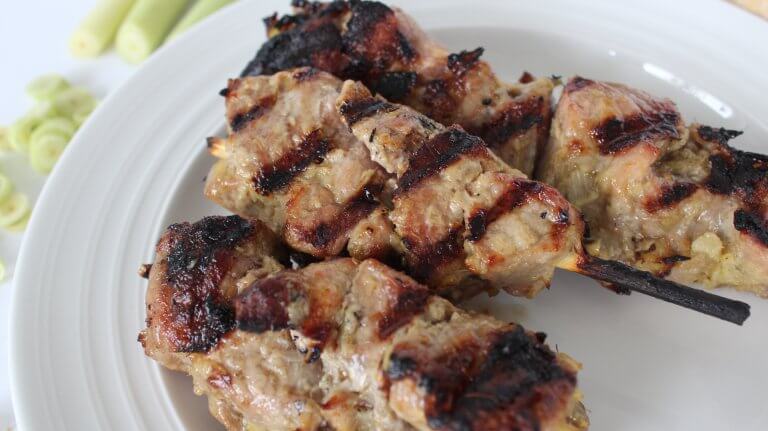 Prep these flavorful pork skewers ahead of time and enjoy these flavorful bites of lemongrass-ginger pork with just a moment's notice.  This recipe uses a cheaper cut of pork, the pork butt (shoulder), which you can find sustainably raised at US Wellness Meats.
If pork isn't your thing, this marinade is delicious with chicken.  Use the fattier thigh meat for best result.
Lemongrass is fun to work with, it smells amazing and is different than herbs we typically use. To prepare it we need to puree it with a food processor or blender to break up the woody pieces.
Lemongrass Grilled Pork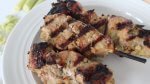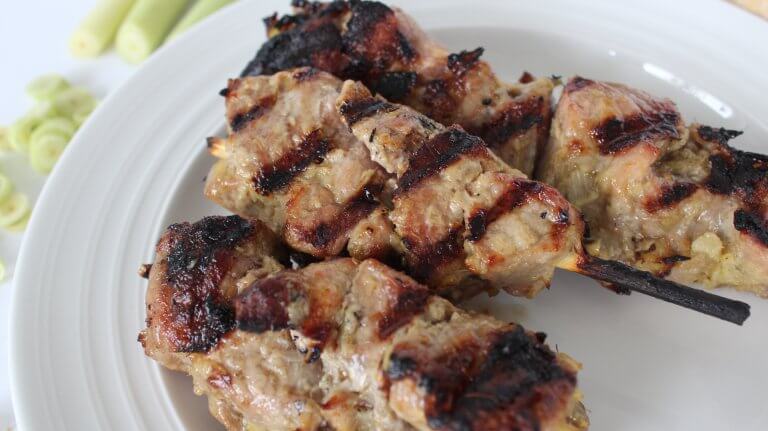 Fresh Lemongrass-Ginger Grilled Pork Skewers
This freezer-to-grill recipe (it's delicious eaten the same day it's made as well) is from our Freezer Cooking Class.
Click here to learn more about our class
and enjoy seasonal delicious food all year long.
Print
Instructions
Rinse lemongrass, and remove ends. Cut stalks into 1/2-inch or smaller pieces so that your food processor can break it up.

Peel ginger if using fresh and pulse with the lemongrass in the food processor.

Peel shallot and garlic.

In the food processor, place cut lemongrass stalks, peeled shallot and garlic, fish sauce, coconut aminos, olive oil, and ginger.

Puree to make a paste.

Moving to the pork roast, cut away excess fat and cut roast into approximately 1 to 1-1/2 inch cubes.

Once pork has been cubed, toss it with marinade to evenly coat.

Since the marinade is a paste, it will stick to the meat well and can be threaded onto skewers immediately.

Gently remove cubes of pork, keeping as much marinade on as possible, and thread onto the soaked skewers in the desired amounts.

Pork should be touching, but not packed tightly on the skewer. This allows all sides of the pork cube to be exposed to heat as it cooks, and the whole skewer of meat will cook evenly.

Rub on extra marinade to coat skewered pork - this just continues to add delicious flavor!
To freeze: (optional; allow to sit in marinade at least 2 hours if not freezing)
Using wire cutters, snip off ends of the wooden skewers and place in freezer bags. Freeze 4-6 skewers in each bag, so you can just pull one bag at a time out of the freezer to thaw.
To Grill:
Thaw pork skewers that you are going to grill in the fridge overnight. If they are still icy, thaw in a cool water bath as you heat up the grill.

Preheat the grill to medium-high for 5-10 minutes.

Carefully place skewers on the grill. Try to position skewers so that the meat is over the hot spots, and the wood skewers are not over the flame too much. This will help prevent them from catching on fire.

Close grill and allow to cook for 3 minutes with the lid on, then remove the lid and turn as needed, browning each side.

Carefully watch, some kebabs will be done faster than others due to the heat pockets on the grill. Pork is done when juices run clear. As they are done, move them to the edges, or even turn off a heat element and keep the kebabs on the grill, but not over heat.
Recipe Notes
Nutrition facts assume that only half the olive oil ends up being eaten, and the pork shoulder yields 3 lbs boneless meat.
Nutrition Facts
Fresh Lemongrass-Ginger Grilled Pork Skewers
Amount Per Serving (1 g)
Calories 408
Calories from Fat 261
% Daily Value*
Fat 29g45%
Carbohydrates 2g1%
Protein 33g66%
* Percent Daily Values are based on a 2000 calorie diet.
Serving Suggestions:
Grilled pork is delicious with any of the following:
Fresh Fruit, especially mellon slices, cubes, or balls made with a mellon baller

Potatoes with butter and parsley (not GAPS or SCD friendly)

Coleslaw

Roasted Beets

Grilled corn on the cob (not paleo, GAPS, or SCD friendly)

Sliced cucumber drizzled with vinaigrette dressing

Grilled asparagus

Avocado and tomato slices

Jicama slices (not GAPS or SCD friendly)

Grilled green beans

Grilled sweet peas (in the pod)