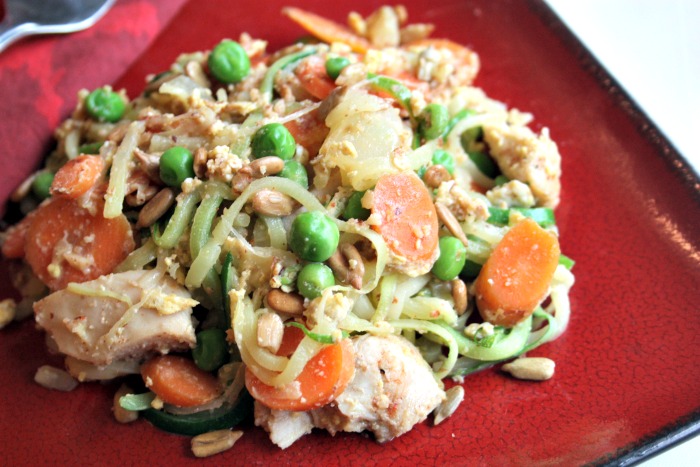 This is amazing. Zucchini noodles and spaghetti squash are some of the best foods I've ever discovered. In this recipe, their tender, slightly sweet veggie flavor plays beautifully with the spicy Thai sauce.
If you don't have a julienne peeler and you want to use zucchini, you can use a vegetable peeler to make fettuccine-like noodles. But in my opinion, soft zucchini strands peeled with a julienne peeler or spiral slicer are out of this world, and vegetable peeler zucchini is just okay. If you will be grain-free for awhile, I recommend getting one.
Thai Noodle Stir-Fry
by contributor Stephani Jenkins Serves 4
Ingredients:
6 medium zucchini or 4 cups roasted spaghetti squash
1 pound boneless skinless chicken breast or thighs, cooked and diced (find pastured chicken here)
2-4 eggs (optional)
1 onion, chopped
2 cups stir-fry veggies (broccoli, green beans, peas, asparagus, carrots)
2 green onions, green parts only, chopped, as garnish (optional)
1/4 cup sunflower seeds or chopped almonds, to garnish (optional)
Ghee, animal fat or coconut oil
Thai "Peanut" Sauce Ingredients:
1/2 cup almond, peanut or sun butter
1/2 cup coconut milk
4 tablespoons lime or lemon juice
2 tablespoons stock or water (see recipe for easy chicken stock here)
1/2 tablespoon fresh ginger
2 cloves garlic
1 teaspoon apple cider vinegar
1 teaspoon crushed red pepper flakes (find organic non-irradiated herbs and spices here)
Dash cayenne pepper (optional) (find organic non-irradiated herbs and spices here)
Sea salt, to taste (find natural sea salt here)
Directions:
If using zucchini, peel with a julienne peeler to make long, thin noodles. Toss with sea salt in a colander then place colander in a sink to drain for 20-30 minutes. Rinse, drain, and pat dry with a towel (this whole step ensures tender, instead of wet, noodles).
To make sauce, pulse garlic and ginger in food processor until minced, then add the rest of the ingredients except coconut milk. Process until well blended, then pour in the coconut milk and whir together until smooth.
Melt 1 tablespoon fat in the large saucepan. Sauté onions and veggies until tender. Stir in another teaspoon of fat then crack the eggs into the pan. Stir quickly and vigorously until eggs are mostly cooked. Add diced chicken.
If using zucchini, sauté in a separate pan with 1/2-1 tablespoon fat until just barely no longer crunchy. If using spaghetti squash, toss it in the pan with the veggies. Cook until heated through.
Stir everything together in a large bowl with the peanut sauce. Serve on plates and garnish with green onions and sunflower seeds.
5 Delicious Keto FatBombs
Sign up to get my 5 Best Keto Fatbomb Recipes sent right to your inbox! Plus a bonus pizza recipe :)
Please follow and like us: