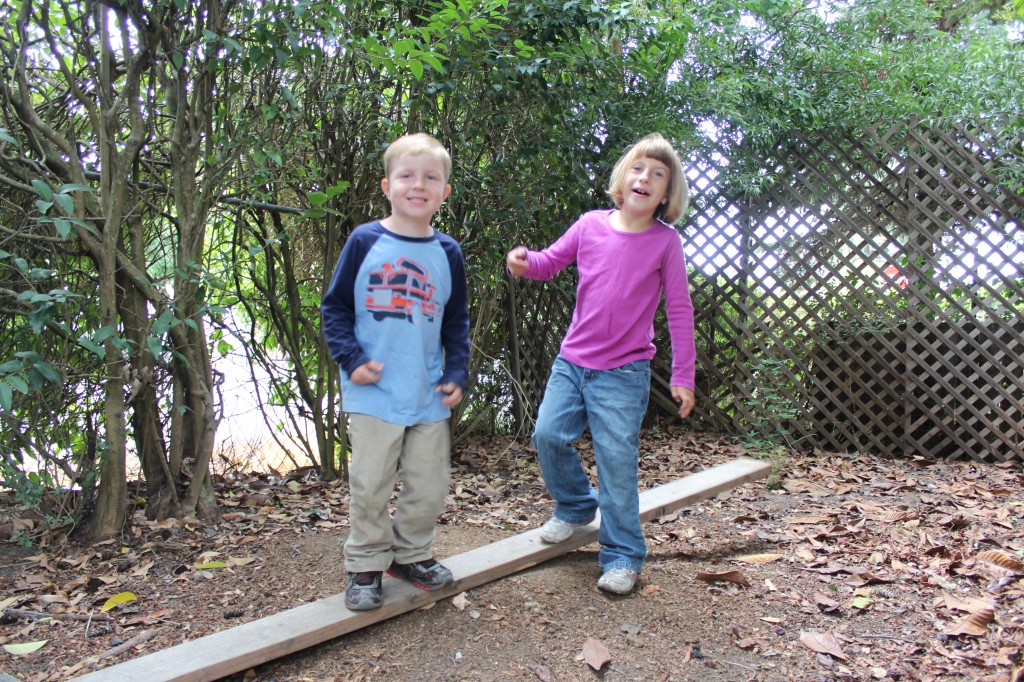 I love parenting :) I see home education as a continuation of parenting. I'm not rigid, we've tried public school for my daughter (it hasn't worked out), and my son is in preschool two mornings a week.
I don't educate at home because I'm trying to keep my children from the world, but rather, I enjoy teaching them and I think they benefit from having someone who knows them really well teach them at their particular level.  They love the attention they get in homeschooling, and I love knowing exactly where they are educationally- academically as well as life skills.  We accomplish quite a bit in four 20-minute blocks 4-5 times a week.
This Making Room For Healthy Changes post is the start of a series of posts to help you make room in your time, budget, and more importantly cluttered mind, to make the healthy changes that you've been meaning to make.

Your goals will vary- they can be anything as daunting as doing the GAPS Intro or as simple as using a few more natural remedies and finding a source of local grassfed beef.

Homeschooling is part of this series because sometimes dealing with the school system, unless we have children that thrive in that environment, is more difficult than it is worth and you actually save time and energy by home educating.
I'm going to share what's working for me right now, and then below my friends from Facebook will too!
I'm a homeschooling junkie. I love homeschooling books, philosophies, and anecdotal stories from people in the middle of homeschooling, as well as those who have raised a bunch of homeschooled children and can see the big picture really well.
I'm going to share what is working for us right now, but I'm beginning to think that in homeschooling, as in life, you are most successful when you have the ability to be flexible with everything but the essentials. So, please don't see me as an expert, read lots and lots about different philosophies, take what works for your family, and leave the rest!
Twenty-minute blocks of seat work spread throughout the day
Our homeschooling blocks (my kids are 5 and 7) are very simple.  I call it handwriting, but we work on number/letter recognition during this time too.  We spend 15-20 minutes, or until they start to get antsy (quit while you're ahead is my motto) on each subject.  We do some on the Kindle (ipad would work too), some with pencil and paper, and sometimes other activities like writing numbers in sand.
I set the alarm about every 2 hours, and it starts a 'block' that looks like this:
Instruction from me for about 20 minutes
Playing with the materials we just used (drawing, writing the letters that we weren't working on, etc) for another 20ish minutes with less involvement from me
Free play for them, inside or outside, or an activity that I'll do with them such as building with legos and following an instruction.
Housework for them and me- this includes chores, cooking, errands, lunch if it falls into this time
The only rigid part of this schedule is the 20 minutes of my undivided attention and instruction on different subjects. Kids usually crave attention from their parents, so this sets them to get a good dose of it every couple hours.
Alarms that have different sounds to remind us of different activities
I have alarms that go off for everything. They remind me to leave for speech therapy on Fridays, to take out the trash on Wednesdays, and to start our homeschool blocks.  I chose a different sound for each, my non-readers quickly memorized them.
These are our homeschool blocks:
That's it. The rest of our home education involve them asking me questions, and me answering. Sometimes I'll look up something on youtube for them to watch about what they're asking, or find a book on the subject, but usually I just talk :)
I don't have the alarms go off on weekends, but more often than not we follow a similar schedule at least one weekend day if we aren't out at a festival or other activity.
Using electronics as well as simple paper exercises
We have 2 Kindle Fires, with a variety of free and low-cost aps on them.  I never thought I'd do this- I love the idea of being media free, but there are a few reasons the Kindles work better for us:
Free Time (not free time unlimited which allows them to see anything targeted to their age group) locks them out of the programs that I don't want them using- way easier than the computer.
I can try applications, and if they don't work or will work better later, they aren't taking up bookshelf space.
The kids love them- kids are fascinated by electronics, plus, I'm a blogger, so they naturally want to do something similar to what they see me do on the computer.
I only have to buy one ap, and both kids can use it at the same time.
We do have educational movies on there too, they're easier for the kids to navigate to than the DVD player, I don't have to worry that DVDs will be scratched.  Some movies: Liberty Kids, Word World.
The kids are learning moderation with technology. We do not negotiate over when we do and do not use the Kindle- they need to ask first and accept my answer if it's no.
So that's our simple 'homeschooling'.  I really like doing the 20-minute blocks thorough out the day rather than scheduling out 2 or even 6 hours straight (I've tried doing that before, and quickly abandoned it).  This gives enough room for impromptu projects, but enough structure that I don't have to stress about whether we're covering everything I want to cover.
 Reader Contributions:
My kids are 5 and 6, so K and 1st. We are using Easy Peasy All In One Homeschool, and I like it because everything is laid out with day by day, step by step instructions…which has been really helpful for our first year. My son is already reading better than he did at the end of public school kindergarten last year. We don't do every subject every day, and each day has plenty of fun activities, free play, and real life application of our learning. Last week we learned about bones (what else with Halloween coming up!) and we used a window sticker of a skeleton…so now our project is also decor! I recently hired a tutor, a young man we are friends with, and he comes once a week to give us a math lesson…he comes up with fun projects and games to give the kids an extra boost in math, since that I my weak subject. So far it's going great! – Brittnee
I have seven children ages 24, 22, 20, 18, 7, 6 and 4. All were/are home educated. Although the 20 year old is doing some on-line studies on her own, I would say that I'm really only working with the 3 little ones right now. We have a very relaxed environment in terms of schedules and structures. We like to be flexible in order to be available for my husband's needs, and he doesn't work regular hours. Right now I am doing Learning Language Arts Through Literature with my 7 year old, which takes us about 30 minutes to an hour, 4 days per week. The 7 year old and the 6 year old are doing Math U See, which takes them from about 10 to 30 minutes, 4 days per week. I just started Easy Peasy with the 4 year old as an experiment. I've never taught a child to sight read BEFORE teaching phonics, so that is why it is an experiment. One of my long-standing philosophies about home education is that you can't ruin a child in a year and you can always do something different if what you are doing currently isn't working. Sort of like life, in general. – Terri
I have 3 boys ages 8, 6, and 4. We homeschool in a very interest-led way. They are typical, but I'm positive they would be diagnosed with ADD or ADHD if enrolled in public school. We have a variety of activities we do outside the home. I currently use my phone calendar to keep track of work and activities. I also post things on a chalkboard for the boys. What doesn't work for them is forcing them to do something they are not interested in. When they are truly passionate…they engross themselves for weeks. – Erica
I have only homeschooled for a little while. I have one child, a boy, aged 13. We started last January when he had surgery on his Achilles' tendons. We were unable to get him to school and the homebound teacher only came twice a week. We fell in love with home school. We do a variety of things, no set curriculum from one source. We joined a co-op this fall and he loves it. We joined mostly so he could be around other kids since he is an only child. However, I like it too, because it gives me the chance to meet other homeschool moms and learn from them. We do lots of field trips, either with the co-op or on our own. We do Apologia Science, Saxon math with Life of Fred, Story of the World History and state history, Memoria Press French, G.U.M. Drops grammar, Lightning Literature, Creative writing and art. In about a year we are starting him in flying lessons, as that is a dream of his. – Kristin
I have 6 kids that I homeschool. 11,9,6,4,2, and 13 mo no I don't really homeschool the baby and the two year old but it is an adventure everyday I have on SN kid and he likes order he does his school work in the same order everyday! I am a very relaxed person and I don't keep the same thing everyday going but I have to say that we do Charlotte Mason and I took hold of her belief that children can not learn if they are not well nourished so that makes me feel better about all the time I spend in the kitchen. – Crystal
I homeschool my seven year old who has SPD. It allows me to be able to modify to meet her needs. She has auditory and vision issues. We take breaks and mix up lessons between auditory and vision which works much better for her. – Michelle
3 boys, 10, 8, and 2. Always homeschooled and always very relaxed. My boys have done fine on standardized testing. For some subjects they test "above" grade level and others they test "below". I believe, unless there is a learning disability, it all evens out in the long run. I also believe in not doing too much "tablework" when they are young (say before 3rd/4th grade). Being relaxed has been great for the most part, though it is contrary to my personality, but I know it is better for my boys. I do believe at least one of them would have been diagnosed with something if they were in school. We are now able to be a part of 2 co-ops during the week and that has helped give me just enough structure. I plan my week around what is being taught in those co-ops. It has worked well for us and, while when I see the moms waiting at the bus stop for their kids I sometimes think how nice a morning at home to clean and organize would have been, I know beyond a shadow of a doubt that homeschooling has been the best thing for my children and our family. – Jennifer
I am homeschooling DS9 (2d grade) for the first time. He is undiagnosed, but has global delays, ADHD, and APD.
He thrives on routines, so I try to keep our mornings on track. We also use work boxes and a modified Charlotte Mason approach. I find the combination really helps keep him on track and also doesn't overwhelm him, since he knows we will only spend about 15 minutes per lesson. I break his work boxes up between school subjects and fun/therapy subjects.
We use Sonlight, Math U See, Handwriting Without Tears, and Explode the Code, along with some random things. I think he wants to do the Magic School Bus science program next year. – Amanda
We are homeschooling our 6 year old daughter and are loving first grade so far. Kindergarten was all about finding our rhythm and figuring out what doesn't work for us (I suppose that's a continual journey though). This year, we've started using the workbox system (which has been a lifesaver!), I altered all her books at Office Max in order to give her only 1 days work in each box (much less overwhelming for her), and we also changed our curriculum to Timberdoodle (last year, we used Christian Liberty Press). We're currently on week 7, and loving all of our new changes for this year… expectations are clear and our daughter is learning beautifully! – Heather
My "children" are 21, 19, 16, 13, and 9. The two youngest are still homeschooled, but at one time they all were. My oldest daughter is 13. She has struggled with profound dyslexia. I cannot say enough good things about the Barton method. Also, this year we found, "easy peasy homeschool". It is a FREE online curriculum. (donations accepted). What a huge blessing! I wish I had known about it when all five were home. – Audrey
I homeschool four children, three of whom would probably be labeled as some kind of special needs. I try to do real food for them and I am on GAPS. Homeschooling makes some things easier, and others more challenging (ie. making all food from scratch) but is so worth it! I love being able to tailor things to my kids' individual needs, and I love that I get to be with them all of the time ( although, of course, I need breaks, too)! Oh, and my kids are 10, 9, 6, and 4. – Megan
We homeschool… Three boys ages five, four, and one…. We do a Christian classical curriculum to raise creative, confident, independent critical thinkers… We attend a classical conversations co-op once a week as well. Young kids are wired to learn a massive amount of information by memory through song & rhythm…it's incredible! Later, they will learn to synthesize and then express what they know and think. Definitely something to look into if you're not familiar with it!
We do Singapore for math, "mystery of history" and "story of the world" for history with lots of living books and classic literature read aloud, "explode the code" for phonics, and classical conversations fills in the gaps with geography, Latin, basic art & music theory, science experiments, historical facts/timeline, and memorization. The kids are enjoying a homeschool gymnastics class at the local gymnasium, and our co-op serves as a great social outlet too. Obviously we will continue to evaluate and change things as we go, but this has been a great start for us. – Jessica
With my oldest in high school I have had to change the way we do things – so much flexibility is required, constantly evaluating and being willing to change what doesnt work. Attending big homeschool conferences really helps!! And having an involved husband is critical. – Amy
just started with my almost 6 yr old autistic son. we started with phonetics but he hated it and didn't 'get' the point. have moved to sight words which are relevant and he can read simple books after just a week!!! now when we look at individual letters he's more interested as he can see how they fit into words. – Kristy
I am homeschooling my almost 4-year old. She is a very precocious little girl. What is working best for us right now is having a schedule…and not being afraid to break it. I try to find a balance between making school a priority, and remembering that preschoolers also need a lot of time outside, running around, building imaginative skills, etc. 
I am expecting my third child (my middle one is 2), so on days I just don't feel well, we read a pile of books in lieu of "school," or we go take a long nature walk together. – Katherine
My children are 16, 13, 7, and 2. All normal development. This is our 12th yr to homeschool. I have learned that every family is different so what works for one family with 4 kids close in age is not going to work for us. The beauty of homeschooling is the flexibility and freedom to be creative and, thinking outside the box, tailor "school" for your individual family/kids. – Amy
5 Delicious Keto FatBombs
Sign up to get my 5 Best Keto Fatbomb Recipes sent right to your inbox! Plus a bonus pizza recipe :)
Please follow and like us: