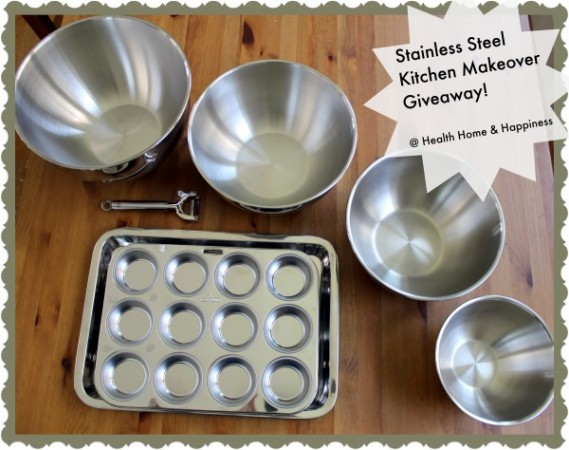 Stainless steel for the kitchen is such a treat to work with! Unlike plastics and nonstick coatings, it doesn't leach harmful chemicals into your food. It also is pretty enough to go from prep to serving at the table, and cleans easily. When you're dealing with food allergies, you want to make sure you can get your kitchen equipment super clean so that you don't accidentally include an allergen in your allergen free food.
I love stainless, and our friends at MightyNest not only have a ton to chose from, but they're also supporting local schools, AND having a giveaway for you this week!
Giveaway
You have a chance to win the following:
Spring is the perfect time for a fresh new point of view. Pledge to try something new with me, like replacing one piece of plastic or nonstick kitchen equipment with a shiny safe stainless steel alternative. It's a small but mighty step in a healthier direction, and you'll be automatically be entered into the giveaway to win this Stainless Steel Set from MightyNest. You'll also earn points for your local school to help them win $1000 this month in the MightyNest for Schools "Get Fresh" Challenge. Just click the button that says "I Pledge" to enter!
Here's how to enter:
1. Pledge to switch one item in your kitchen to shiny safe and easy to clean stainless steel.
2. Support your local school by choosing them to win up to $1000 in the MightyNest for Schools Get Fresh Challenge. All you have to do is select a school (based on zip code) when you pledge. MightyNest will accept pledges until May 30th. The school with the most points on May 31st will win $1000… The other top ten schools will share another $3000!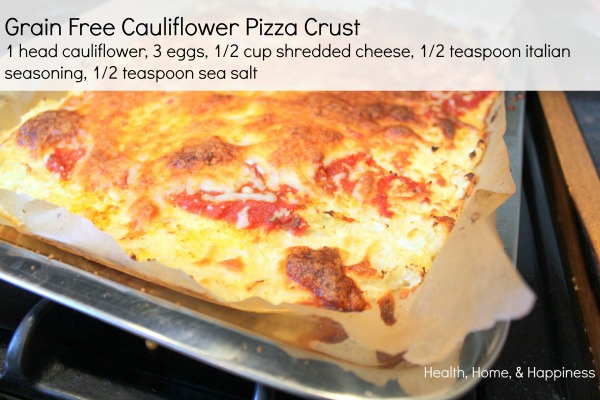 My favorite thing that I've made so far on my stainless steel baking sheet was this pizza.  I'll be honest, it's more of a pizza-inspired casserole, it can't easily be picked up and it's best eaten with a fork, but it has all the pizza flavors, and is grain and gluten free- score!
Grain Free Pizza with a Cauliflower Crust
Serves 6
1 head cauliflower
3 eggs
1/2 cup shredded cheese, plus more for topping
1/2 teaspoon sea salt
1/2 teaspoon Italian seasoning
Desired toppings
Instructions:
Preheat oven to 425 degrees F
Cut florettes off head of cauilflower and pulse in a food processor, half at a time, until the pieces are rice-sized. Place in a microwave safe bowl, and cook on high for 4-5 minutes, or until cooked through.  (if you don't have or use a microwave, steam the cauliflower until cooked, then cool, and chop in the food processor)
Wrap cooked cauliflower pieces in a clean dish towel, and twist to squeeze out excess water.
Dump out of the dish towel and add eggs, cheese, salt, and seasoning. Mix.
Cover a baking sheet that has sides with parchment paper, or grease.
Pat cauliflower mixture into a pizza shape.
Top as desired.
Bake at 425* for 30-40 minutes.
Allow to cool for ~5 minutes.
Cut and serve.