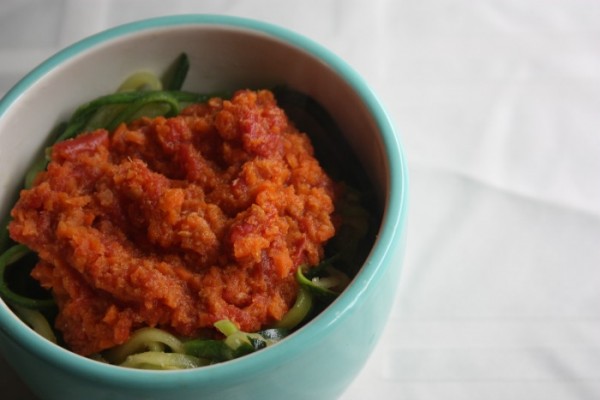 These tender, slinky noodles combined with a mildly spicy curry makes a perfect international grain-free trip for you taste buds. If you like, make the curry sauce a day or two in advance and let the flavors mingle in the fridge. When you're ready, heat it up while you saute the noodles for a simple but flavor-packed dinner.
By Stephani Jenkins, guest contributor
Ingredients:
4-6 zucchini
1-2 tablespoons butter, ghee or coconut oil
Sea salt and pepper, to taste (sea salt can be purchased here)
1-2 cups cooked leftover chicken (optional) (sustainably raised organic chicken can be purchased here)
Ingredients for Curry Sauce:
1/4 – 1 whole jalepeno pepper, to taste
1/4 cup unsweetened, shredded coconut
2 teaspoons coriander
1 1/2 teaspoons cumin
1/2 teaspoon powdered ginger (or 1/2 tablespoon fresh, grated)
3/4 teaspoon sea salt
2 cloves garlic
1/4 cup filtered water
1/2 cup + 1/4 cup coconut milk
1 tablespoon butter, ghee or coconut oil
2 cups shredded carrots*
Two (14.5-ounce) cans diced tomatoes
Directions
To Make the Curry Sauce:
Place the first 8 ingredients in a food processer and process until it forms a paste. Pour into a bowl then stir in 1/2 cup coconut milk and set aside.
Saute carrots in a large pan with coconut oil until tender, about 3 minutes. Add tomatoes, bring to boil, stirring occasionally, then simmer 7-10 minutes, until vegetables are soft.
Remove from heat and stir in the spice paste and remaining 1/4 cup coconut milk. Serve immediately or store in the fridge 2-3 days.
To Make the Zucchini Noodles:
Peel zucchini with a julienne peeler to make long, thin noodles. Keep peeling the flesh until you reach the seed core in the center. Save the core for another dish. Toss noodles with sea salt in a colander then place colander in a sink to drain for 20-30 minutes. Rinse, drain, and pat dry with a towel (this whole step ensures tender – instead of wet – noodles).
After 20-30 minutes, sauté zucchini in a large pan with 1/2-1 tablespoon fat until tender. Season with salt and pepper if desired. Pile noodles on a plate and top with Curry Sauce. Serve chicken on the side or add shredded chicken to the sauce and heat it up before serving.
Variations: Alternatively, serve the curry sauce over roasted spaghetti squash or cauliflower rice.
*Time-saver: Coarsely chop the carrots then toss them in the food processor and pulse several times, until chopped very fine.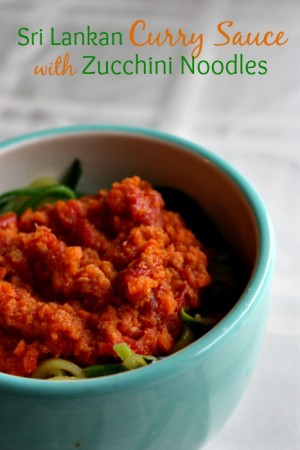 5 Delicious Keto FatBombs
Sign up to get my 5 Best Keto Fatbomb Recipes sent right to your inbox! Plus a bonus pizza recipe :)