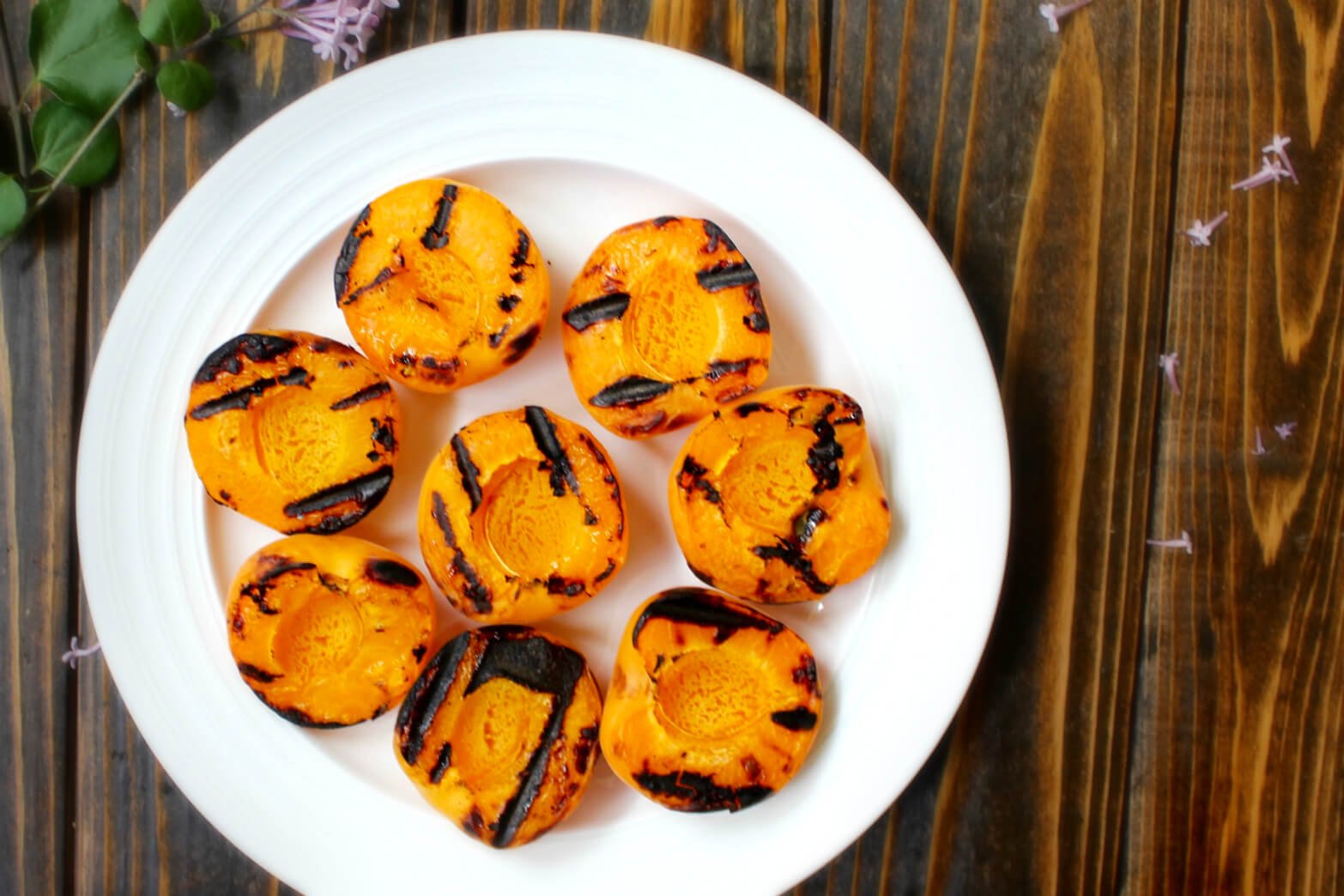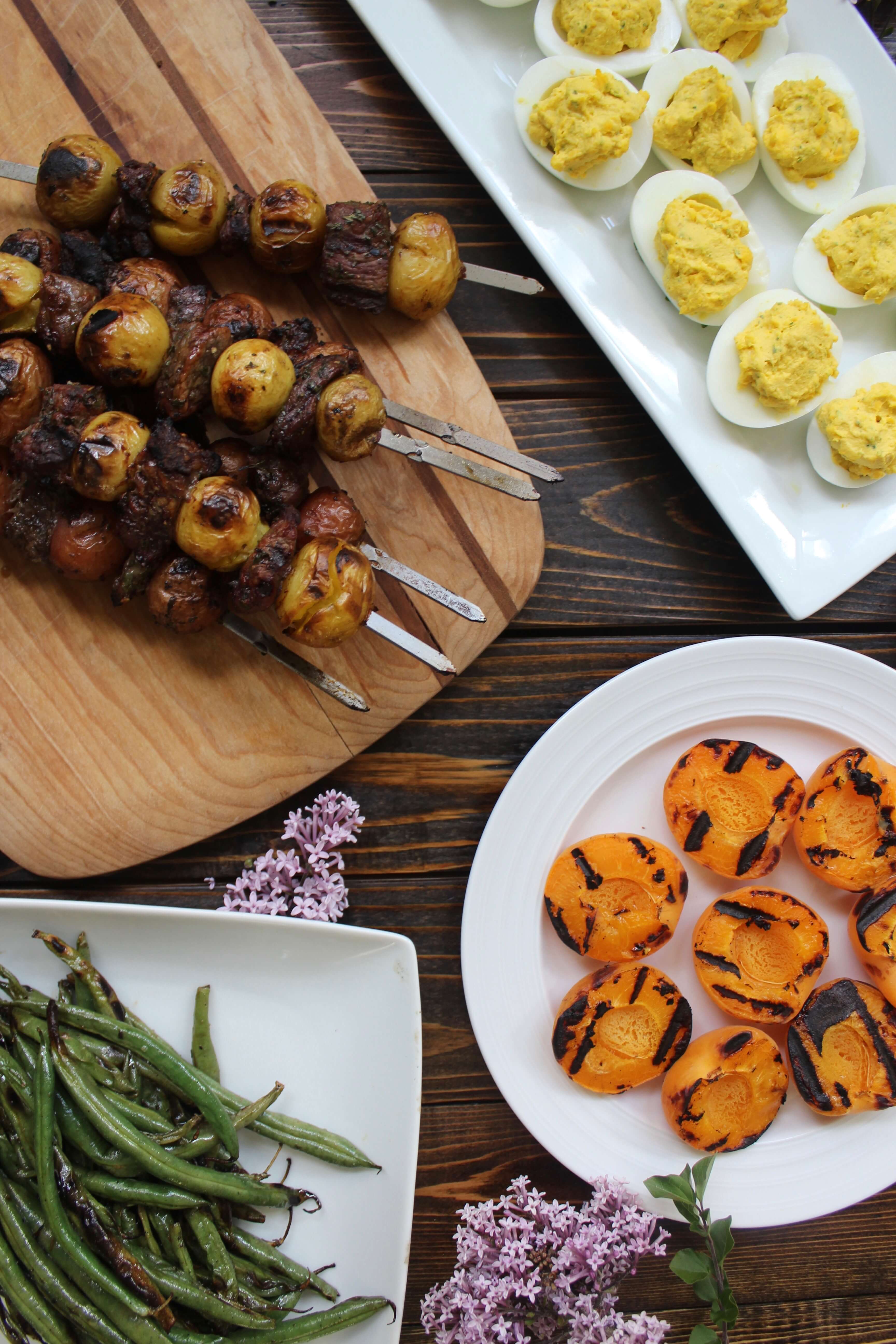 Grilled apricots are a perfect warm, sweet treat fresh off the grill.
During the summer we fire up the grill most nights, which keeps the heat and mess outside, limits dishes to wash, and allows me to keep an eye on children as they play.
Grilled foods, like the steak-and-potato skewers (recipe here) pictured to the right, also lend themselves well to camping!
Packing some apricots to grill over a campfire (or roast using a stick!) is a wonderful, and healthy, alternative to marshmallows, and everyone loves them.
Variations:
Some recipes coat the apricots in a glaze after grilling, but I've really found that to be unnecessary.  These beauties have a sweet-warm complex flavor all on their own, there is no need to distract from it with a sugar or honey syrup.
Other fruits that grill well: Peaches, nectarines, pineapple rounds, and even bananas or apple slices!
The Grill
I use a 3-heat burner propane grill with an upper rack (see the grill I use here).  I'm cooking our entire dinner on the grill, and have company over or am planning for leftovers, it is worth it to have enough space to cook everything at once.  This way everything is done at the same time and everyone can eat together.
The upper rack is perfect for keeping grilled food warm as you wait for the rest to cook.  You'll get to know your grill, and the hot spots that will cook food first. Once it is cooked to your liking, simply move it up top and wait for everything else to finish.
The Recipe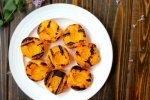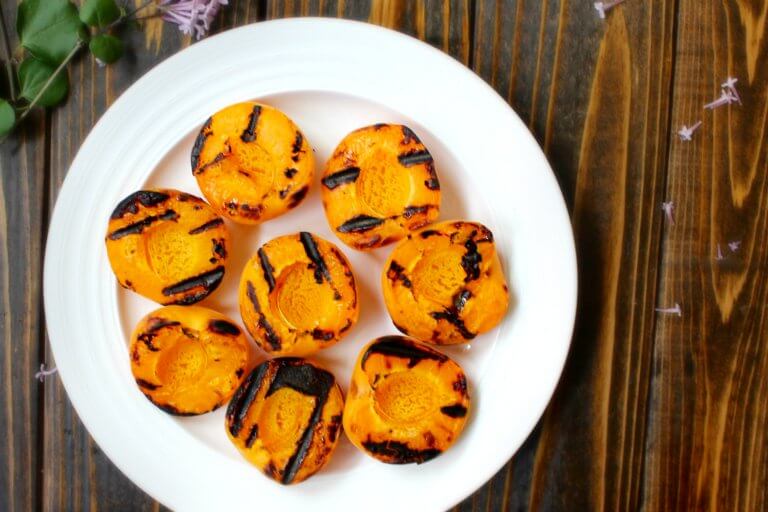 Sweet & Tangy Simple Grilled Apricots
This 'recipe' is really just very simple instructions. We opted to leave these grilled apricots plain, and allow the complex sweet-tart flavors of fruit come through without distraction.
Print
Ingredients
6

apricots

Optional: 1 teaspoon avocado oil
Instructions
Preheat grill to medium-high heat for at least 10 minutes. If you aren't grilling anything else, one burner is all you need to light.

As the grill heats, rinse apricots and cut in half. Remove pits.

If your grill isn't well-seasoned, brush the cut side of the apricots with oil to prevent sticking.

Place apricots cut-side down on the grill.

Close cover, and cook for 2-3 minutes. Check to see if there are grill marks on on the fruit, if not, continue watching as you cook for a few minutes longer.

Cook on the other side for about a minute, or until heated through.

Transfer to the top rack of your grill as you wait for everything else to finish cooking if desired.

Enjoy!
Recipe Notes
Nutrition information omits optional oil.
Nutrition Facts
Sweet & Tangy Simple Grilled Apricots
Amount Per Serving (3 g)
Calories 26
% Daily Value*
Carbohydrates 6g2%
Protein 1g2%
* Percent Daily Values are based on a 2000 calorie diet.