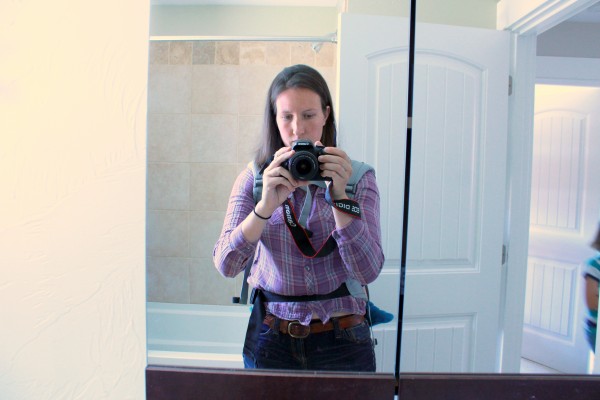 Are you curious what's in my medicine cabinet? Here are my commonly used items (I have a cupboard with some lesser used items in another bathroom – I'll detail below).  Cleaning up your medicine cabinet makes a big difference in terms of eliminating side effects from products that you didn't realize were bothering you.  Proceed slowly, and if you don't get rid of every single toxic thing in there, that's okay too (I didn't – well, I did when we were doing GAPS but then there are some things that I've allowed back in).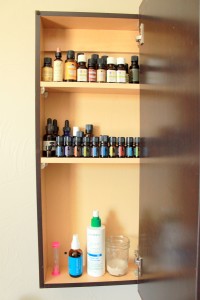 Left cabinet:
Essential oils (I'm not going to detail here – I like Plant Therapy brand)
Crab apple essence – I made a feng shui 'room clearing' spray for when we were renting and I wanted to have our house be a fresh start
Kombucha concentrate – this came with my continuous brew kit, I haven't used it yet but it's here.
Timer for the kids to brush their teeth for enough time
Argan oil to tame crazy dry winter hair (sephora)
Natural-ish hair spray – this is mostly for my daughter, when she sleeps on her hair wonky and I need to tame the bangs for school (Amazon)
Homemade deodorant (recipe)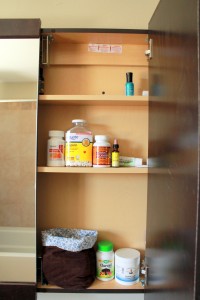 Middle cabinet
Up top? Yeah, that's toxic nail polish from target. It stays on, and it isn't used often
Mainstream meds – tylenol, aspirin. Melatonin for occasional "I can't sleep but I'm going to have to get up at 6 anyway!", rescue remedy for stress, and arnica for bruises and scrapes.
My makeup bag, charcoal for tummy aches and teeth brushing (yes, this stuff does whiten teeth really well!), tooth powder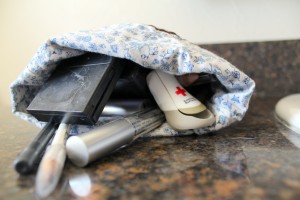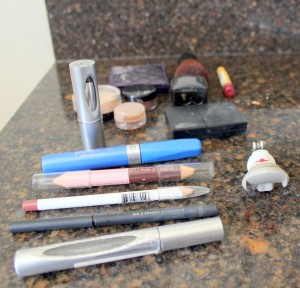 My makeup bag
foundation powder, Honeybee gardens
Blush/lip powder (the same color works for both- I never would have expected) – Honeybee gardens
bronzing powder/eye shadow – Honeybee gardens
Mascara – Honeybee gardens
Lip liner/lipstick – Honeybee gardens
Eyeliner – bare minerals
lip tint/lip balm – burt's bees
Mainstream waterproof mascara (ok, so sometimes I am planning on sweating and/or crying) – Target
Brow pencil – Target
pencil sharpener – Target
Baby nail clippers (I don't know why, but these live in my makeup bag) – Target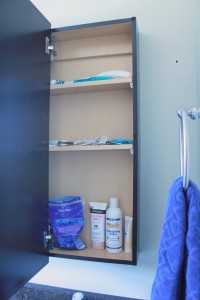 Left cabinet
Toothbrush
Epilator – I use razors too (I shave with coconut oil) but this cuts down on how often I need to shave by a long shot.
Tom's tooth paste
Diva Cup – have you tried this and couldn't get it comfortable? You have to place it, make sure there's no air in it, and then kinda kegal it up there.
Neutrogena sunscreen – for my strawberry blond who I can't always completely cover with sun protective clothing
Lotion – Tropical Traditions
Lotion – Burt's Bees (I use this on my face)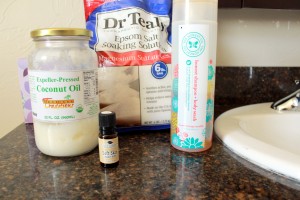 Kid's bath stuff, I put all of this in their bath
Coconut oil – yes it makes my tub a mess but it really helps their skin stay moisturized.
Natural-ish baby shampoo – this is from Costco
Plant Therapy's Soft Skin  – totally makes everything smell like carrots, but my son especially has drier skin.
And there ya have it!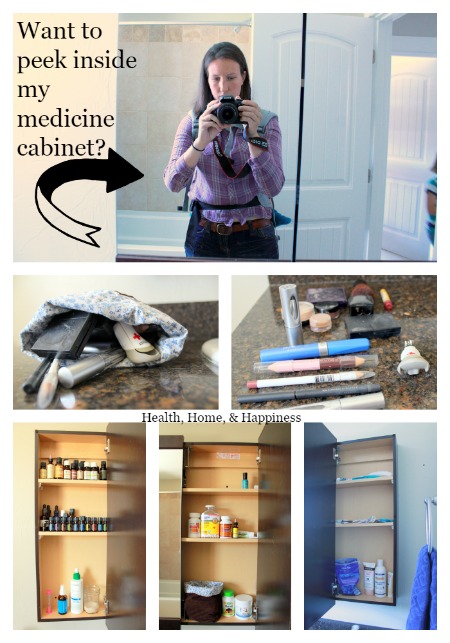 5 Delicious Keto FatBombs
Sign up to get my 5 Best Keto Fatbomb Recipes sent right to your inbox! Plus a bonus pizza recipe :)