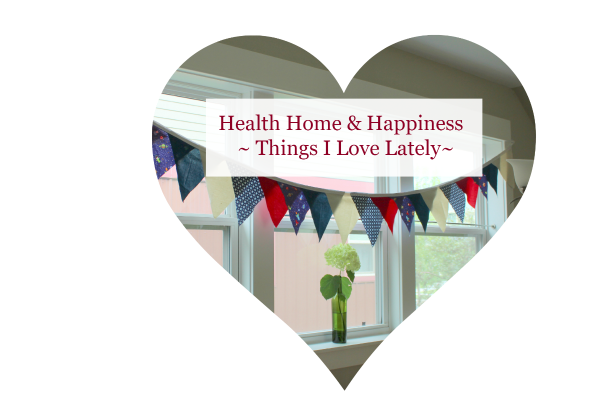 There's nothing like the changing seasons to make me excited about life (cue the Lego Movie song, Everything is Awesommmmeeeeee). Here are some things I'm loving lately, that I bet you will too.
Pictured above, a simple banner of triangles sewn on bias tape. I could have pinked the edges, but I didn't. This cheery birthday banner took about an hour to make, and made for a cheerful birthday week. See instructions here, except I didn't do the letters, and I overlapped the triangles.
This giveaway from Food Renegade has me drooling – a 5-piece cherry red cookware set by Le Creuset? That sounds lovely as we're getting ready for holiday dinners later this fall and winter.
As gift giving season is approaching, this post is a fantastic resource for non-toy gifts for children. Most of them have more toys than they play with anyway, and these are more lasting suggestions.
With fall comes the desire to have a mug of broth to warm up on chilly afternoons. As I type, I have broth simmering down to make homemade GAPS-friendly bouillon from this Nourished Kitchen recipe.
I'm working on my pregnancy book (I'm working on getting it done as quickly as possible  – there are a number of women in my life who are newly pregnant, who I really want to pass this along to – and I've even printed out the first twelve not-yet-proofread chapters for one!), I'm researching things that I haven't looked into in a while, this in depth article from Mommypotamus about Group B Strep is a fascinating read, as always.
Essential oil I love this week: The Purify blend.  Lemon-based, a drop in my laundry makes everything smell fresh, including the whole area around the laundry room!
Book I love: The Autism Discussion Page has two books out, for those struggling to explain sensory issues or spectrum issues to friends, family, or schools, I can't recommend these books highly enough.
Bottles of Purell and antibacterial hand soap are popping up everywhere, here's a friendly reminder that these little bottles are not harmless.  We prefer soap and water, washing every.time we come in the house from being at school or on errands, and again before food prep.
No, I don't do it all.  I have a babysitter come in once a week, and get this, she does all my kids' laundry – including matching up outfits.  See this post here for what it looks like. She also cooks, organizes, and does other random odd jobs around the house.  At different times of my life I order from Pete's Paleo, hire house cleaners, or have help with the yard work.  I know when you read blogs it looks like we have our act together – I assure you we don't.  I'm just not posting pictures of my cluttered laundry room thankyouverymuch :)
Supplement I love: I've been learning about the B vitamins, especially folate (rather than folic acid) and the MTFR gene – I will have more to share in a blog post soon, but for now I can link you to this chewable (not GAPS legal), which is giving me awesome focus and energy.
Stress test that I found interesting:  How are you handling stress?  I have a friend who told me about a test she uses to see how families handle stress in her clinical practice.  She takes a 3 foot section of 4″ PVC pipe and has the family work together to carry it across a parking lot, while keeping 3 tennis balls inside.  Nobody's hands (or bodies) can block the ends of the tube, it's all about balance and working together.  Is this something that sounds like fun and that your family could do in under 20 minutes? Then rest assured that you are doing a great job, even if you feel like every day is a challenge that you're struggling with. Does the idea of this test stress you out? Do you think that it would cause a squabble for who was the leader in the challenge? Then you may want to take some time to learn about stress management and family leadership, reduction in stress can do wonders for your health.
5 Delicious Keto FatBombs
Sign up to get my 5 Best Keto Fatbomb Recipes sent right to your inbox! Plus a bonus pizza recipe :)
Please follow and like us: