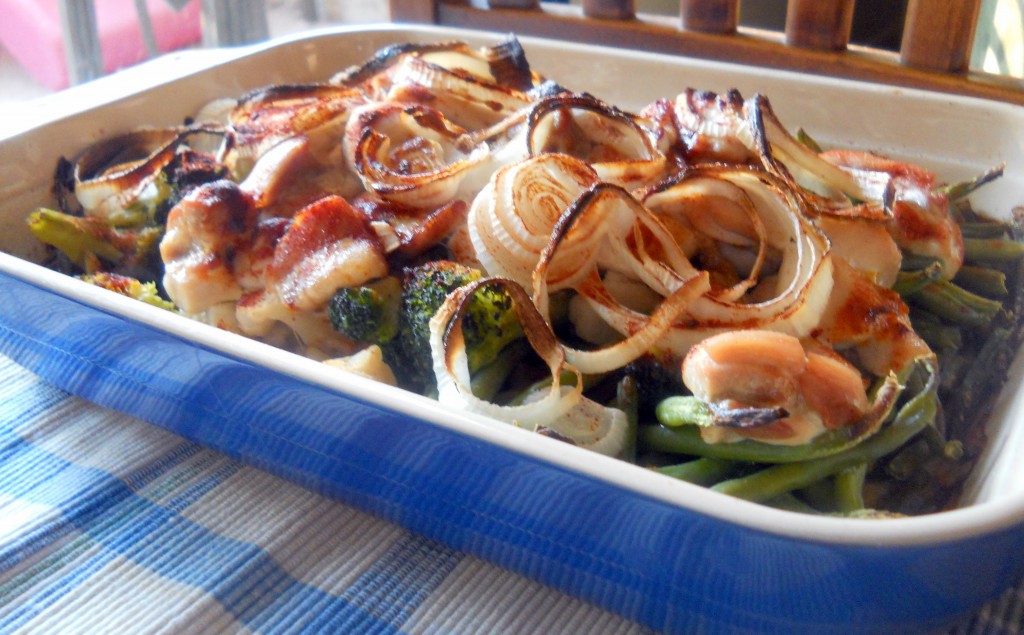 Being creative with our grain free meals can be fun (sushi, baked apples, fried cheese sticks)  but sometimes we wake up with a full day ahead wanting a shortcut.  Soups in the crockpot are great for this, but sometimes the day calls for something other than soup.  Busy day casserole it is, frozen veggies, boneless chicken thighs, and optional cheese layer together quickly, spices give flavor.  The chicken releases juices that flavor the veggies nicely, and if using frozen veggies, you can put together the meal in under 15 minutes.
Bulk cooking tip: Multiply this out for as many casserole dishes as will fit in your oven easily (usually 3 is the max, you need a little space for the air to circulate) and pre-cook lunches for the week, or stick a few uncooked casseroles in the freezer to save even more time later.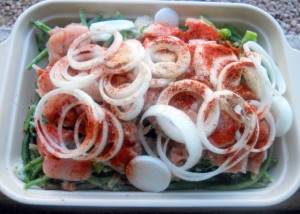 Busy Day Grain Free Casserole
Serves 4, multiply as needed
1-2 pounds boneless chicken thighs (buy organic free range chicken here)
2-3 pounds fresh or frozen veggies: Broccoli, cauliflower, green beans, butternut squash, asparagus, carrots,  beets.
1 large yellow or white onion, cut into thin rounds
1/2 teaspoon sea salt
1/2 teaspoon freshly ground black pepper
Optional: pinch of ground ginger, sage, and/or smoked paprika
Optional: 1 lemon, juiced
1/2-1 cup cheese: Bleu, parmesan, gouda, pepperjack, or cheddar
Instructions: If using fresh veggies, scrub (peel if necessary: beets, squash) and cut into bite sized pieces.  Place in the bottom of 9×13 or similar sized casserole dish, to fill the dish 3/4 full (they will cook down). Rinse chicken if needed and cut into bite sized pieces with a butcher knife.  Cover the vegetable mixture evenly, it's okay if the chicken touches.  Peel and slice onion and top the chicken layer, sprinkle with lemon juice and seasonings.  Shred cheese if using and top onion layer.  Cover with foil (if using cheese, lightly grease foil first with butter to prevent sticking) and place in the fridge to bake later, or bake now at 375 degrees for 40 minutes, removing the foil for the last 10 minutes of baking.
To prepare lunches, allow casserole to cool and then portion out into single serving containers.  Pour liquid released from the chicken over the top.  Eat cold.