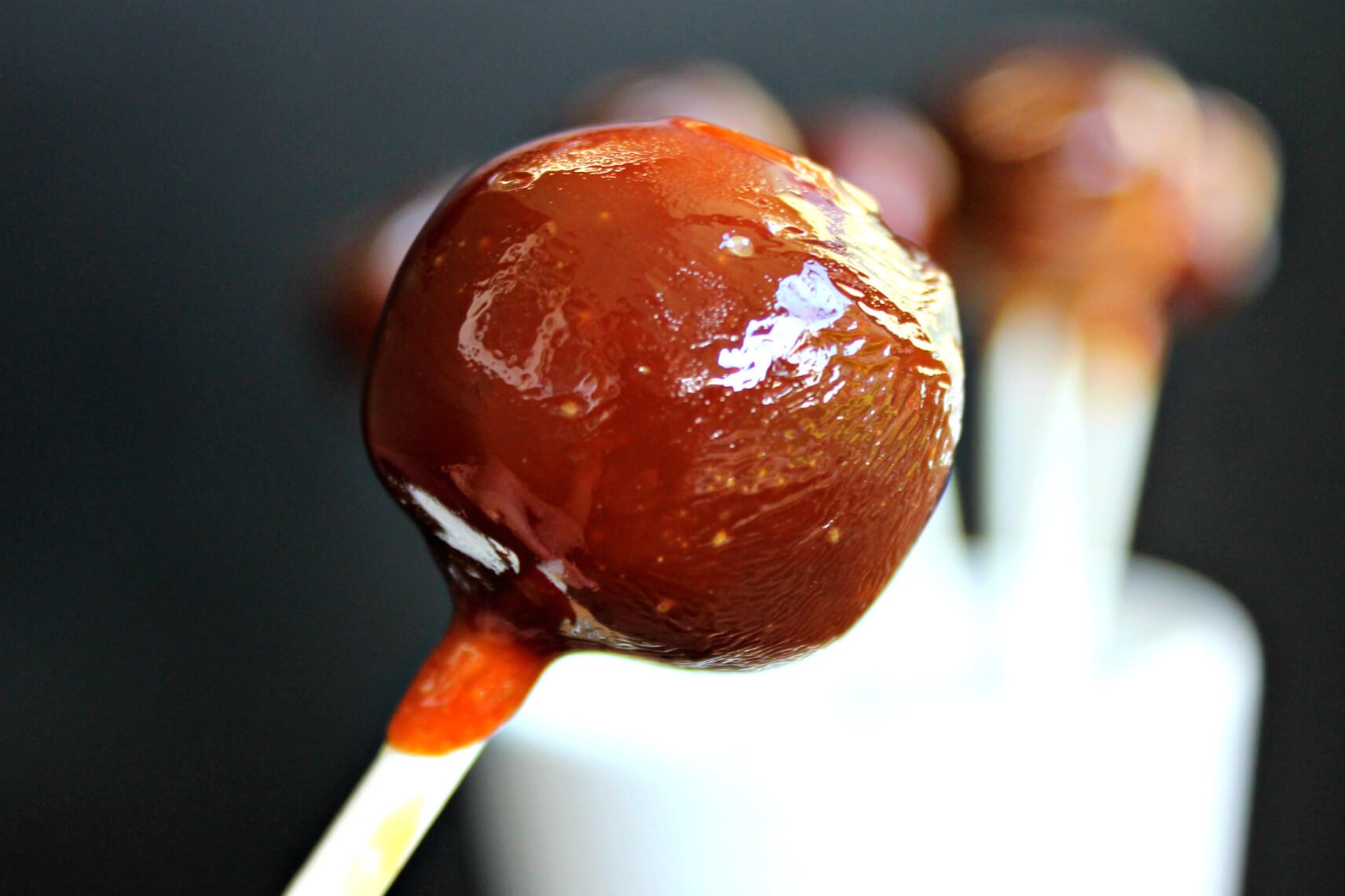 A plate of home-dipped caramel apples was always quick to fly off the treat table at our annual school carnival. An apple on a stick, dipped in sweet caramel? Yes please! Caramel Apple Pops Without Corn Syrup are a fun twist on the classic treat.  We make our caramel from scratch with real sugar, cream, and vanilla, and enjoy avoiding corn syrup that is in commercially prepared caramel as well!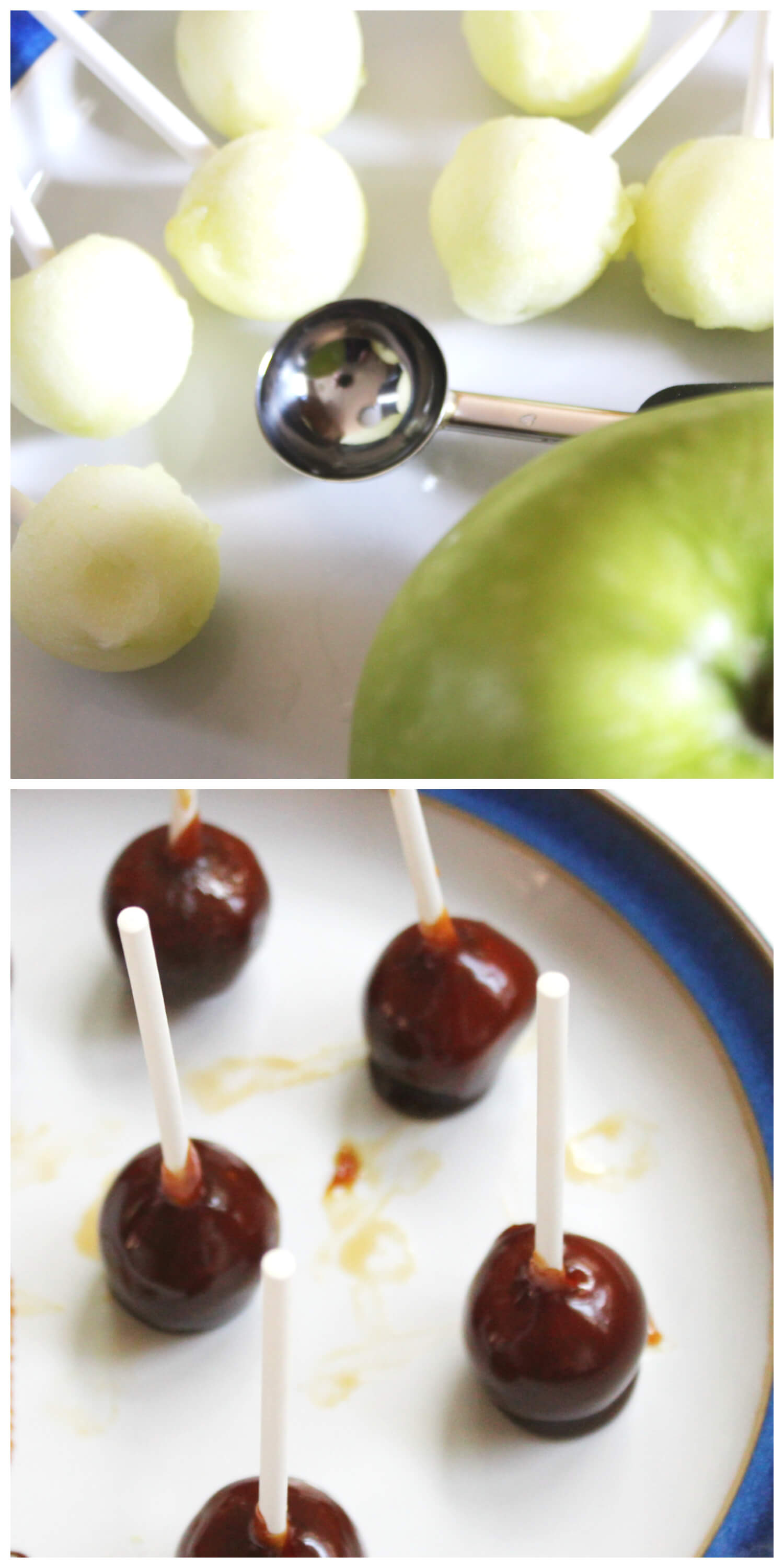 Classic caramel apples are so impressive and beautiful on a buffet table.  But unless you're home, with a cutting board, large sharp knife, and certain amount of determination, caramel apples can be messy to eat!  These caramel apple pops are all of the fun and sweetness, in a little bite-sized treat.  Since you get 4 apples pops of each large Granny Smith apple, you'll have a plate full of these treats in no time.
These caramel apple pops without corn syrup are perfect to bring for bake sales, fall parties, and as a pre-trick-or-treating activity.
As we noted when we talked about Gourmet Candy Making Without Corn Syrup, make sure you follow the directions exactly! An extra stir, an ingredient added too late, or a temperature exceeded will all cause your caramels to turn from anything from caramel sauce gritty sticky caramel to burnt hard toffee.  The directions aren't difficult, they just require you keep an eye on the thermometer and aren't distracted during the making.
Equipment needed: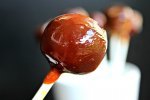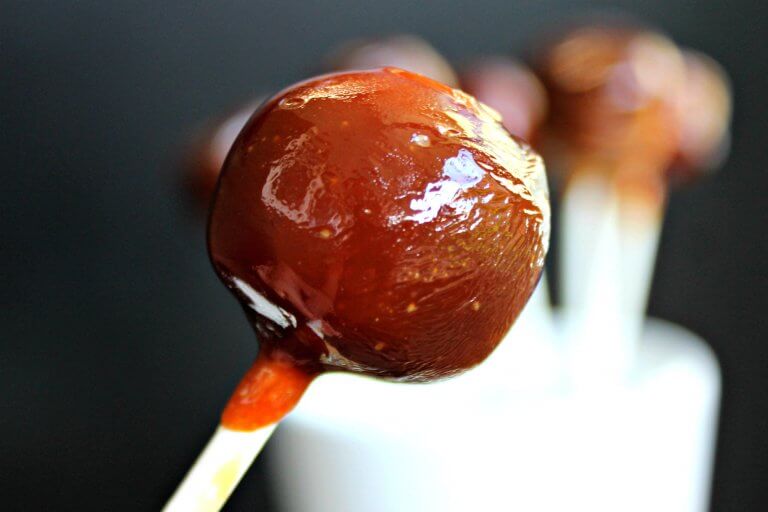 Caramel Apple Pops (corn-syrup free recipe)
Classic caramel apples are easier to eat when they're bite sized! Make caramel from scratch, without corn syrup or canned milk, and enjoy taking a plate of these fun treats to share this fall season.
Print
Instructions
In the pot of your Instant Pot, or in a stock pot for use on the stovetop (choose a large one, it will bubble up in later steps), combine sugar, coconut nectar, a pinch (about 1/4 teaspoon) sea salt and water with a whisk until all the sugar is wet.

Remove whisk, clip on candy thermometer so that the bulb is in the sugar mixture but not touching the bottom of the pot, and turn the Instant Pot on to Saute- Medium. Alternatively, heat pan on the stovetop over medium heat.

Heat until just before hard crack stage (310* F). Do not stir at all during this time.

As the sugar mixture heats, use a small saucepan to heat the cream and 1 tablespoon butter over medium-low heat, stirring occasionally. Heat until it starts to boil, then turn heat off.

Add vanilla to cream after heat is off.

Use a melon baller to scoop out 4-5 apple balls from each apple. Insert stick into each apple ball, and return to the fridge.

As soon as sugar mixture reaches 310*, remove from heat (place on a trivit or hot pad) and slowly pour in in hot cream/vanilla mixture. Be careful, there will be lots of steam and the mixture will increase in volume.

Stir for a couple seconds to mix cream into the sugar mixture and return to medium heat.

Cook until caramel mixture reaches 260* F. Do not stir during this cooking process.

Line a tray or dish with parchment or waxed paper to set your dipped caramel apple pops on in a later step.

Once caramel reaches 260*, cool for a moment until it stops bubbling, then pour into a pint-sized canning jar, or deep and narrow heat-resistant bowl. Allow to cool 5 more minutes and then start dipping the apples.

Keep the apples in the fridge and try dipping one pop at first, you want the apples to be cool to help the caramel stick.

To dip the apple pops, plunge the apple all the way to the stick in the hot caramel and then gently remove. If you get a long string of caramel as it is removed, turn the pop horizontal and twist so the caramel wraps around the apple.

When the caramel mixture coats easily with dipping, and doesn't immediately fall off when removed, the apples are ready to be dipped.

Work quickly, as the caramel will start to set up, dipping one apple after another, and setting on the prepared tray to set with the stick up and apple pop down.

If caramel sets and no longer is easily dippable, you can place the apple pops on the prepared tray, and then spoon the soft caramel mixture over the apple part.

Enjoy the day they are made, ideally within 4 hours, as the juice of the apple slowly dissolves the caramel. If you need to make these ahead of time, use small peel-on Granny Smith apples and use the same process.
Recipe Notes
If you only want a few caramel apples, you still need to make the full batch of caramel or it won't be deep enough to dip your apples in and will cool too quickly. Pour the remaining caramel in lollipop molds and make caramel lollipops. Store lollipops in the fridge (in a container lined with parchment) for up to 3 months. Lollipops last much longer than caramel apples, due to not having the apple center :)
Notes for the GAPS Diet:  Rachel of Nourishing Minimalism has a GAPS Caramel that you can use this same method with.
Please follow and like us: