I was resistant to try blended hot coffee- getting out the blender seemed like too much work before I had consumed my coffee in the morning. But a friend was over, and she insisted we try it, and now you can find me firing up the blender with a baby on my hip each morning.
When fats are blended into hot coffee they become frothy – just like those fancy espresso drinks that are loaded with sugar and questionable quality ingredients and cost more than anyone enjoys spending.  Espresso drinks can be made at home, but they still take special equipment and the caffeine can hit your system in a hurry, leaving you jittery and then sluggish as you crash.
Blended hot coffee has delicious fats blended into one cup of regular coffee, which buffers the caffeine from being absorbed too quickly and from tanking your blood sugar.  The fat in coconut oil also leaves you feeling full for a long time, making a small breakfast give you energy all the way til lunch.
I've made this for the kids too, with decaf coffee, and they love it.  Some of you may want to avoid even the small amounts of caffeine present in decaf coffee for your children, it will depend on your family and your health choices.  Coffee is an area where I compromise health ideals – I really enjoy it. I know that some of my readers are skipping coffee due to adrenal issues, and that's okay too :)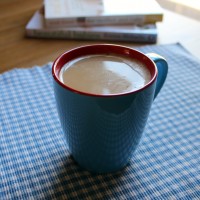 Coffee Milkshake
This is the famous 'keto coffee' and is filling, warming, and a sweet frothy treat! Even decaf coffee does have trace amounts of caffeine, so if you are very sensitive, use herbal tea.
Print
Ingredients
3

cups

very hot brewed coffee

or decaf or regular or tea

3

tablespoons

expeller-pressed coconut oil

3

teaspoons

butter

1

tablespoon

maple syrup

GAPS: use honey or the equivalent of a no-carb sweetener.
Instructions
Combine all ingredients in a blender or in a wide-mouth quart jar for use with an immersion blender and blend on high 20-30 seconds. You want to blend the coffee and fats until light and frothy. Be sure to hold the lid on the blender as the steam can lift up the lid and cause a coffee volcano.

Enjoy your blended coffee while hot and have long lasting energy all morning.
Nutrition Facts
Coffee Milkshake
Amount Per Serving (1 cup)
Calories 130
Calories from Fat 117
% Daily Value*
Fat 13g20%
Cholesterol 8mg3%
Sodium 27mg1%
Potassium 11mg0%
Carbohydrates 3g1%
Vitamin A 95IU2%
Calcium 5mg1%
* Percent Daily Values are based on a 2000 calorie diet.