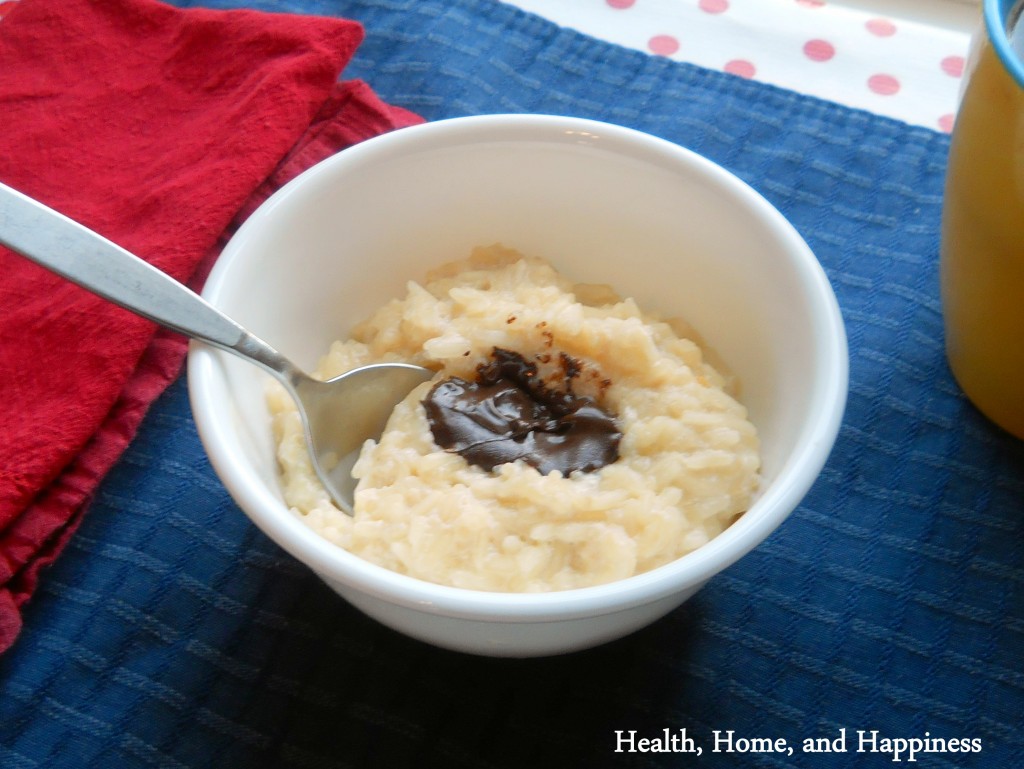 Now, I know this isn't grain free or GAPS friendly, but it's delicious for those who are either working onto the GAPS diet by switching to whole gluten free foods, or those who are transitioning off of the GAPS diet.  I read about it in the book French Women Don't Get Fat.  After reading French Kids Eat Everything, I was interested in learning more about the french food culture. I'll say that I did like the French Kids Eat Everything (my review here) book better than French Women Don't Get Fat, but it was an interesting read anyway.
My son and I made this simple rice pudding today to eat after lunch, it was delicious. I love that you just stick a chunk of dark chocolate in the center, and then mix it in with your spoon to eat as desired.
Chocolate Rice Pudding Ingredients:
2 cups whole milk
1/4-1/2 cup maple syrup, grade B (the recipe called for 1/2 a cup of white sugar, but I'd rather use maple syrup)
pinch sea salt
1 cup rice (I use jasmine rice)
1/2 teaspoon vanilla
2 ounces dark chocolate (85% cocoa is what we used)
Chocolate Rice Pudding Directions:
Over medium-low heat bring the milk, syrup, and sea salt to a simmer. Add rice and cook uncovered for 20 minutes, stirring every 5 minutes or so. Add extra milk if needed to keep the pudding creamy as the rice cooked (I added another 1/4 cup).  Once the rice is soft, stir in vanilla and spoon mixture into 4 custard cups.  Break chocolate into 4 pieces and poke a piece of chocolate into the center of each pudding cup.  Allow to melt for 2-3 minutes, and then serve.
Please follow and like us: