Nothing brings new enjoyment to the kitchen and dinner table as much as new recipes that incorporate both delicious flavors AND the nutrition we need to stay healthy both physically and mentally.  This new book, the Heal Your Gut Cookbook, is a beautiful representation of all the delicious simple foods that we can eat on the GAPS diet.
The children and I loved looking through it, it has recipes for all stages on the intro diet, an overview of the GAPS diet, and beautiful photographs to go along with all the recipes. Check out more here, you're sure to love it.
Today I'm going to share the Classic Pesto recipe from this cookbook. Pesto is delicious with all things savory – spread on top of meat, dolloped on soup, and even eaten with eggs.  Make up a batch this weekend, and see if it brightens up your menu this week.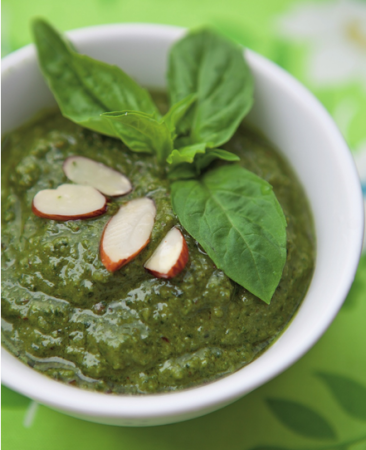 Classic Basil Pesto Recipe
From the
Heal Your Gut Cookbook
 2-4 cups fresh basil
1/2 cup olive oil
1/2 cup grated raw Parmesan (optional)
1/2 cup pine nuts
2 cloves garlic for every cup basil leaves
zest and juice of one lemon
sea salt and pepper
Combine all of the ingredients in the food processor or Vitamix (you'll need a tamper), and pulse or blend until well combined; you may need to add a little olive oil to get it going.  While the machine is running, slowly drizzle in the olive oil until your desired consistency is achieved.  Season with salt and pepper to taste. Put in a pint-sized mason jar, and store in the fridge.
The book goes on to show 7 different ways to prepare pesto to incorporate other greens such as cilantro, mellow fennel, lemon dill, arugula, sage, and even sun-dried tomato pesto (yum!)
Don't forget to click here to check the cookbook out! It's a delight your family is sure to love!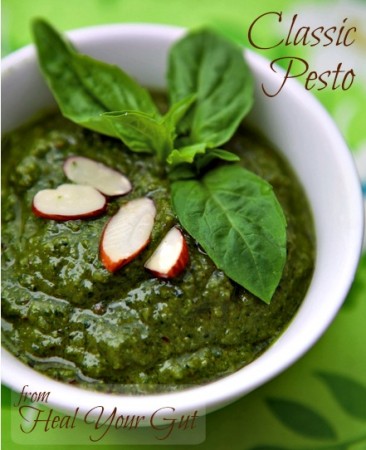 5 Delicious Keto FatBombs
Sign up to get my 5 Best Keto Fatbomb Recipes sent right to your inbox! Plus a bonus pizza recipe :)
Please follow and like us: