These almond flour cranberry muffins are amazing!  They make use of the beautiful tart cranberries that are in the stores now, and lots of yummy nourishing eggs.    The only reason they are yellow is because of the deep yellow yolks of pastured eggs. On the Specific Carbohydrate Diet it is recommended to only consume one  nut flour baked good a day, since nuts are a little bit difficult to digest, but nut flour does create yummy muffins!  These grain free muffins are suitable for people both on SCD and GAPS.
Almond Flour Cranberry Muffins
Makes 12
Ingredients:
¼ cup honey
5 eggs
1 tablespoon cranberries per muffin (spoon onto the top)
Directions:
Combine the muffin ingredients, mixing well.  Place evenly in well-greased muffin pan.
Spoon cranberries  onto muffins.
Bake muffins for 15-20 minutes at 350 degrees, or until set in the center.
Enjoy!
** To use paper muffin liners without using genetically-modified vegetable oil spray on them, just drop a dab of coconut oil into the bottom of each liner, preheat in the oven for a few minutes until the coconut oil melts and wicks up the paper liner.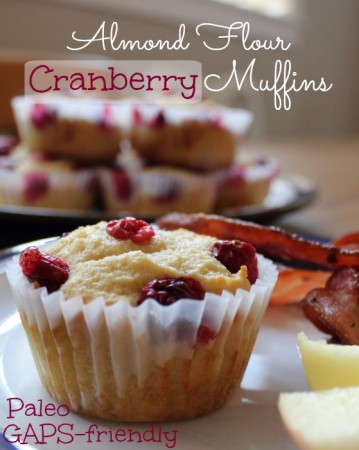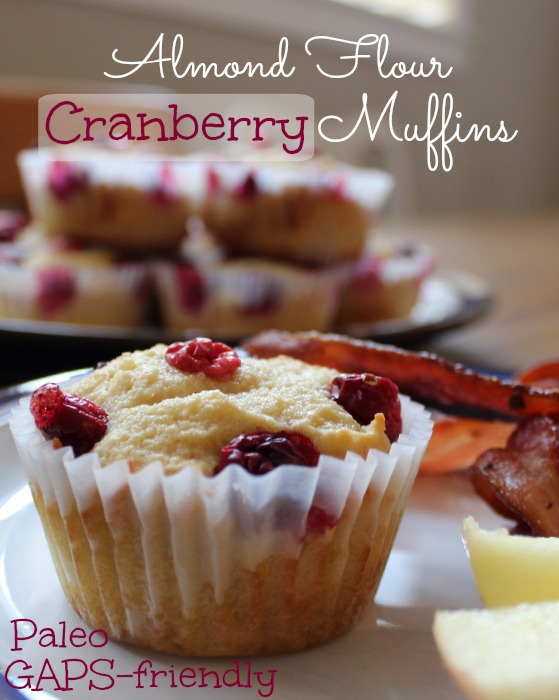 Free Ebook this month only: 20 Grain-Free Breakfast Recipes
20 Delicious Breakfast Recipes suitable for GAPS and Paleo diets!
Please follow and like us: