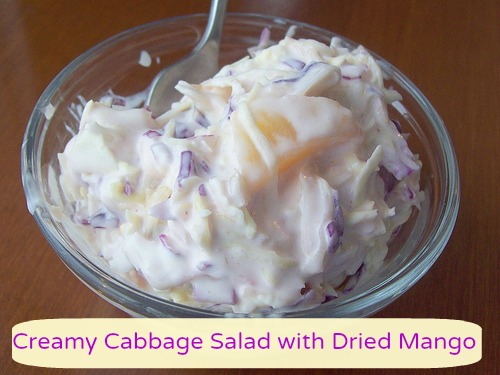 This creamy cabbage salad sits overnight to allow the flavors to blend and the dried fruit to plump. Made with crunchy cabbage, creamy probiotic filled yogurt, spicy ginger, and chewy dried fruit, it is a nice change of pace from everyday salad. I make mine the same day I make saurkraut, as I'm already shredding cabbage then anyway!
Serves 4
Creamy Cabbage Salad Ingredients:
1/2 head cabbage, purple or green or a combination of the two, thinly sliced (I use a food processor)
1/4 cup mayonnaise
1/2 cup full fat yogurt
1/2 teaspoon sea salt
1 teaspoon ground ginger
1/2 cup dried mango, raisins, or other dried fruit
Creamy Cabbage Salad Directions:
Mix all ingredients right in the salad bowl. Be sure to toss well to evenly distribute the salt and ginger and dried fruit. Cover, and allow to chill overnight in the fridge. We especially like this creamy salad served with red meat; steak, hamburgers, or ribs- enjoy!