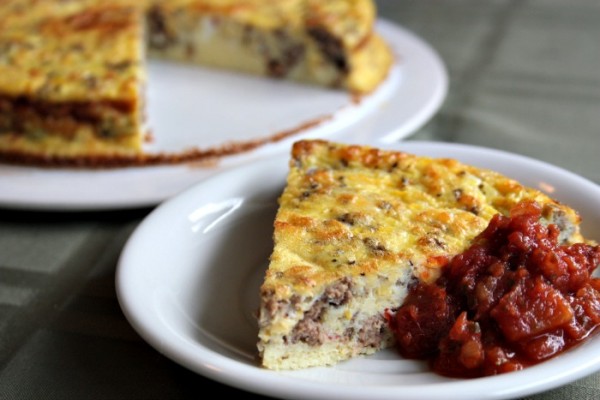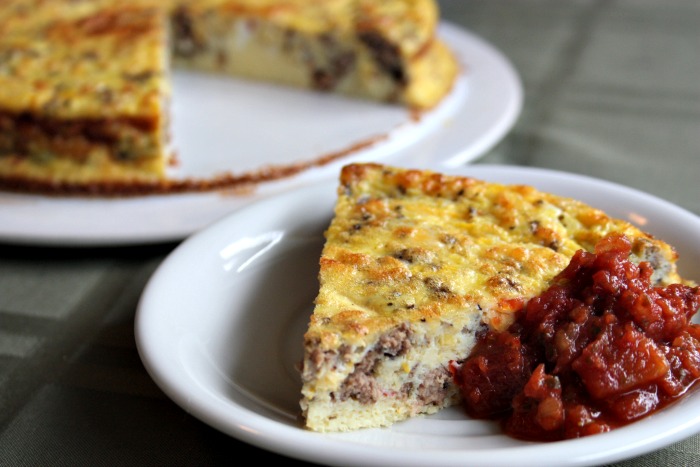 Looking for an easy way to use up that yellow summer squash this summer? If you have eaters who don't like "green things" in their eggs, yellow summer squash frittata is the perfect way to add veggies to your breakfast and please all parties. I like to add a cup or so of easy breakfast beef or turkey sausage to mine – because who doesn't love sausage? 
If your eaters don't mind green, use zucchini instead, and while you're at it, toss in some other veggies. Chopped frozen or cooked greens, tomatoes, sauteed onion, green onions, even cooked sweet potato are all delicious options in your eggs. If you can tolerate cheese, crumble some of that into your mixture before baking it – and don't forget the leftover (beef or turkey if you prefer) bacon. Oh wait – is there ever any leftover bacon?



Easy Sausage & Summer Squash Frittata
A post by guest contributor Stephani Jenkins

Ingredients:
1 1/2 cups yellow summer squash, shredded in a food processor
7 eggs
1 cup Four-Ingredient Breakfast Sausage, browned and crumbled (recipe below or try Cara's recipe)
Sea salt and pepper, to taste

Optional Garnish:
Salsa
Green onion, chopped
Shredded cheese
Strained homemade yogurt (use like sour cream)

Directions:
Preheat oven to 400 degrees Fahrenheit. Combine all ingredients in a large bowl (or in the food processor you shredded the squash in) then pour into a greased 9-inch pie plate. Bake for 15-20 minutes, until cooked through. 
Slice and garnish as desired.




Four-Ingredient Breakfast Sausage

This is my favorite breakfast sausage recipe. Not just because it only uses four ingredients so it's a snap to mix up – it also tastes phenomenal!

Ingredients:
1 pound ground turkey or beef 
2-3 tablespoons sage, to taste
1-2 tablespoons crushed red pepper, to taste
1 teaspoon sea salt

Combine ingredients thoroughly and either brown in a frying pan or shape into patties and fry.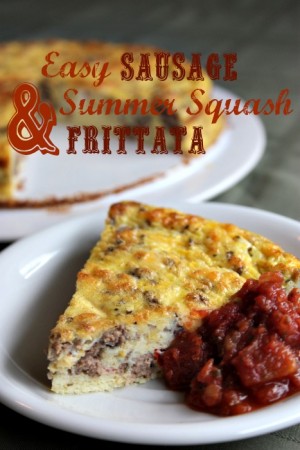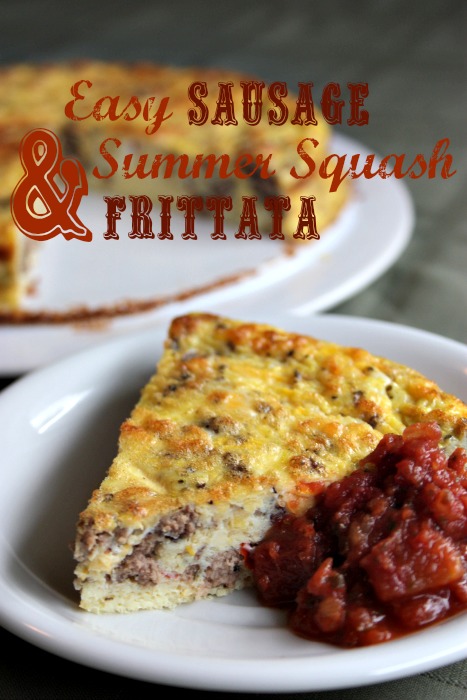 Please follow and like us: