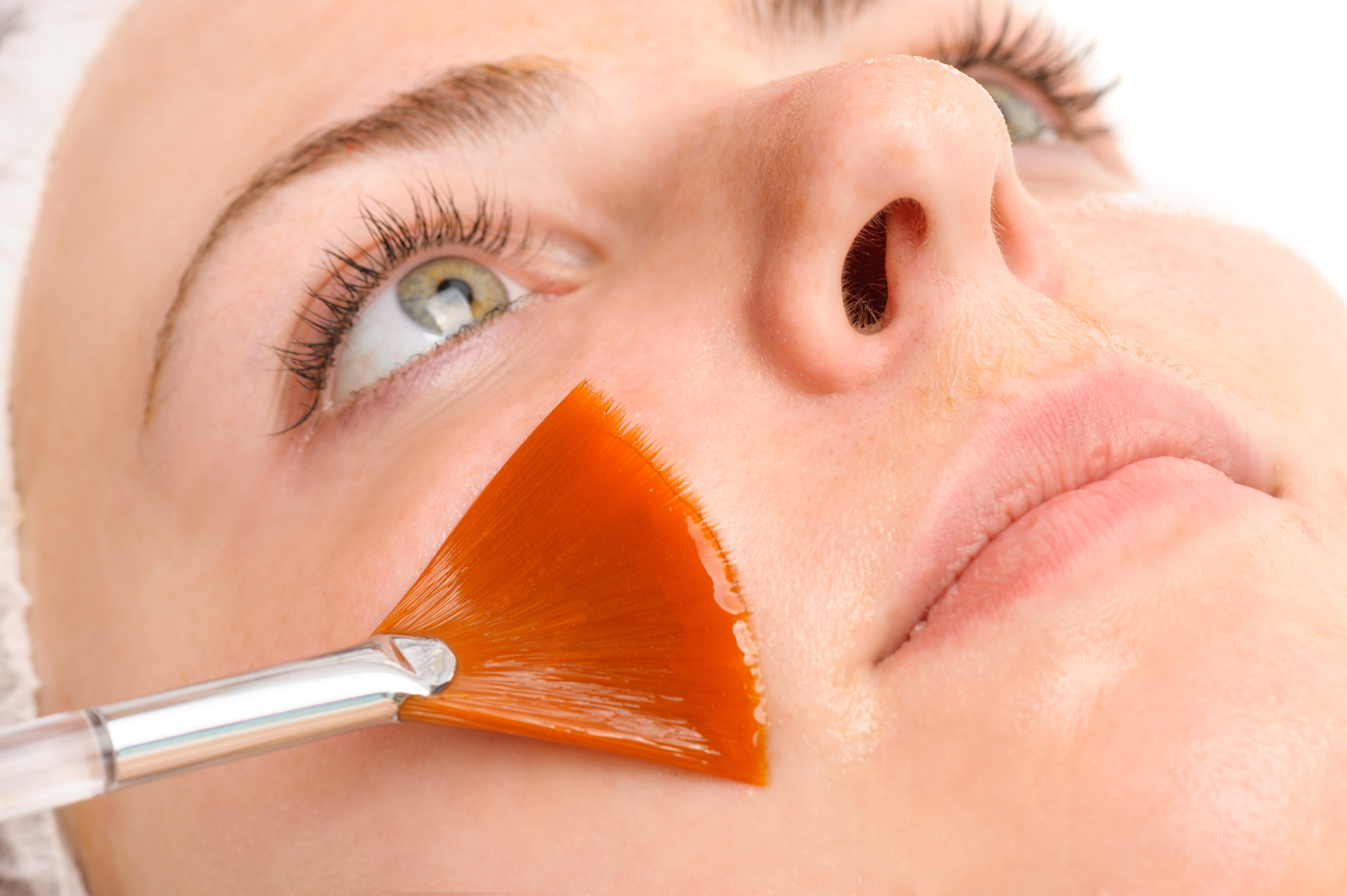 Peels are a great way to fade dullness and awaken skin.  Peels are useful for any skin condition since they encourage old skin to make way for the new.  Whether you're a teen battling hormonal acne or a mom of 3 who wants to hold onto her youthful skin, peels are a common addition to anyone's skincare routine.
Unfortunately, peels by popular beauty brands don't disclose many of their ingredients. The undisclosed ingredients often are harmful to your endocrine (hormone) system, organs including liver and digestive tract, carcinogens, and more.
Let's take a look at the ingredients in many facial peels, whether they are from a dermatologist office, salon, or sold over the counter for home use.
What is a facial peel?
Facial peels use special ingredients to chemically (yes, even if they are from plants they are still chemicals) loosen and remove old dead skin cells. The results make your skin smoother and brighter, reduce the appearances of pores and fine lines, and give you the healthy glow of baby-soft skin.

What are the dangerous active ingredients in popular facial peels?
Facial peels range from chemical peels done in professional dermatologist offices to chemical and botanical peels sold over the counter in beauty stores.  As we know, just because it's sold by a doctor or approved by the FDA doesn't mean it is safe!
First, cosmetics and skincare do not need to disclose ingredients like food does.  This is why I like BeautyCounter, they are transparent and always disclose all the ingredients in every product. It's easy to check how safe it is because they are not hiding anything!

Why safer skincare?
Skin care can be incredibly simple (see below) or overwhelming. The problem with skincare is that many of the ingredients are harmful, not only to our skin, but to our whole body.  I like to check any product I use on the Environmental Working Group's Skin Deep Database to see what ingredients are in it, and be aware of any known toxins.
Companies knowingly use toxic ingredients
Companies knowingly use ingredients that are known to cause cancer, hormone problems, and are toxic to different organ systems.  This makes me so sad!  But thankfully better beauty is becoming more popular, and it's better than ever.
Common ingredients in skincare include the following nasties:
Carcinogens. These are known cancer-causing agents and have no business being against the largest organ in your body.
Endocrine Disruptors.  We all know how important our hormones are – and many beauty products contain ingredients that are known to cause problems with them! Our endocrine system is responsible for so many things including our weight, how hungry we feel, our mood, and our fertility. We don't want endocrine disruptors being absorbed through our skin!
Organ toxicity. No questions about it, some ingredients in beauty products are known to be hard on the liver, kidneys, GI tract, and more.
Choosing safer skincare doesn't mean completely going without a skincare routine! It just means choosing a company that is looking out for you. That's why I love BeautyCounter  – the products work super well, and I don't have to check every ingredient of every product because the company does that for me.
BeautyCounter is transparent, labeling all their ingredients on every product, and they are meticulous in their testing and screening to make sure their products are not causing harm to the users.
Are you new to skincare and makeup?
You may be like me in my 20s and are using Honest Company or Dr. Bronners and coconut oil for absolutely everything. If it needs to be washed, from teeth to toes Dr. Bronners it is. If it needs moisture, from chapped lips to baby tushies to shaving cream, coconut oil is your one-stop shop.
There is a time and a place for these minimalist 'get the job done' multi use products.  But there also is a time for specialty products that do one specific job, and do it quite well (no offence to Dr Bronner!).
Many of us are coming to a place where we need to take more time for ourselves, and skincare can absolutely be a perfect 'just for me' activity of self care.
A skincare routine not only makes us feel better as we slow down in the moment, but the extra boost of health our skin gets brings confidence throughout the day.
Recommended: Special Needs Mamas, This is Why You Need Self Care
Safer Peel That Works Just as Well:
BeautyCounter's Overnight Resurfacing Peel (buy here)
Think of a blanket of freshly fallen snow, the wind-whipped sandy beach that hasn't been walked on yet, or even how satisfying it is to walk into a house with shiny clean floors. That's what the Overnight Resurfacing Peel does for our skin.
The overnight resurfacing peel uses safer botanical acids to both dissolve away old rough skin and ingredients soothe and nourish your skin underneath.  The results are a baby-smooth radiant face with more even skin tone, a gentle glow even without makeup, and reduced pore and fine line appearance.
Oh, and you might be wondering, no you don't actually 'peel' it off.  The Overnight Resurfacing Peel is called a peel because the botanical acids gently exfoliate and stimulate cell turnover, which 'peels off' the old skin, while other botanicals sooth the new skin.  This gently encourages exfoliation of dull old skin without having to physically peel it off.
To use the Overnight Resurfacing Peel:
Start with a clean face.  Cleansing Balm is perfect for very dry skin or CounterMatch Cleansing Milk for combination skin to wash away makeup and dirt from the day.
Put 1-2 pumps of the Overnight Resurfacing Peel onto your finger tips and rub into your clean face, neck, and jawline.  Allow to dry for 5 minutes.
Top the Overnight Resurfacing Peel with a moisturizer such as CounterMatch Overnight Cream or the Cleansing Balm as above and go to sleep.
In the morning wash your face again, and feel how smooth your skin is!
I don't typically wash my face in the morning, but after the peel I do. Apply daytime moisturizer and makeup as desired and enjoy your new glow all day! You really do see a difference after one night of use, it's the best!
Before and After photos of the Overnight Resurfacing Peel
Grain-Free Holiday Desserts, Breakfasts, and Side Dishes
Candied Butternut Squash, Zesty Lime Custard, Honey-Sweetened Pecan Pie, Slow Cooker Cranberry Sauce, and 10 more holiday recipes that you'll love for the way they taste and the way they make you feel.