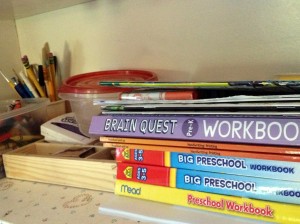 Who doesn't love a clean and organized house? I know I do! Over the summer vacations, festivals, and generally not sticking with a routine lead to not staying on top of clutter at my house. As we're settling into our fall routine, I'm having a hard time concentrating on the book I'm trying to write (40 Weeks to an Informed Pregnancy – sign up for the newsletter to keep up with news about this) because my house is cluttered.  The office is a mess, the laundry isn't getting caught up, and the dresser drawers are packed with clothes we aren't currently wearing.
Making decluttering a habit
I just read the fantastic book The Power of Habit and the book talked about the importance of both being aware of what steps you are taking as well as having a reward to help you set up a habit. He equated a habit with a craving- I have that with decluttering already, so I don't really need a reward to motivate me.
If you're just starting decluttering, you will want to set up a reward system for yourself. Just posting here about your accomplishment might be reward enough, if not, think of something small that fits in your budget and might be related to the area you just decluttered to motivate you.
When we receive rewards, brain activity spikes and the habit is better set in our brain and will become automatic more quickly.
Read more about the Power of Habits here.
I'll show you my thought process with our art shelf.
Why declutter this?
Because we use it daily, and I'm constantly coming across dried up pens and accidentally knocking things out of the cupboard when I try to reach the paints.
What am I keeping?
Watercolors, the new markers that work, have all the lids, and you can tell what color the marker is on both the marker part and the cap (we had some crayola ones that only had colored caps, the other part was black- it drove me nuts trying to find the correct caps for the correct pen)
What am I admitting to myself?
That my kids are too young for perler beads, that they don't like colored pencils right now, and that the clay that's been mixed to a gross brown color needs to go.
What am I donating?
Perler bead and colored pencils
What am I throwing? 
Loose coloring pages, coloring books that have the thin pages that the kids rip through, broken crayons, dried out pens, boxes for the beeswax crayons that aren't usually used, dried out ink pads, mixed clay.
How much space did I just free up in my home to make it a happier, more cheerful, and easier to use place for my beautiful family? 
Half a brown paper grocery bag full :)
Is there a reward associated with this?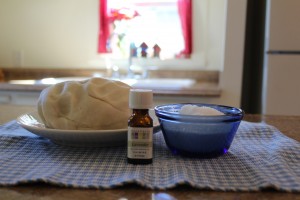 We replaced the yucky clay with yummy smelling homemade play dough.
Want to join in? Copy and paste this list into your comment, and then answer for each area you do!
This will be a huge encouragement to others to see how much space we're clearing and how much we're getting rid of. If you're stuck on where to start, just scan through the comments and find a place that you think will take the least amount of time.
Why?
I am keeping:
I admitted:
Donated:
Throwing:
Space Cleared:
How do I feel?
Reward yourself?
Some more decluttering inspiration from Nourishing Minimalism:
Grain-Free Holiday Desserts, Breakfasts, and Side Dishes
Candied Butternut Squash, Zesty Lime Custard, Honey-Sweetened Pecan Pie, Slow Cooker Cranberry Sauce, and 10 more holiday recipes that you'll love for the way they taste and the way they make you feel.