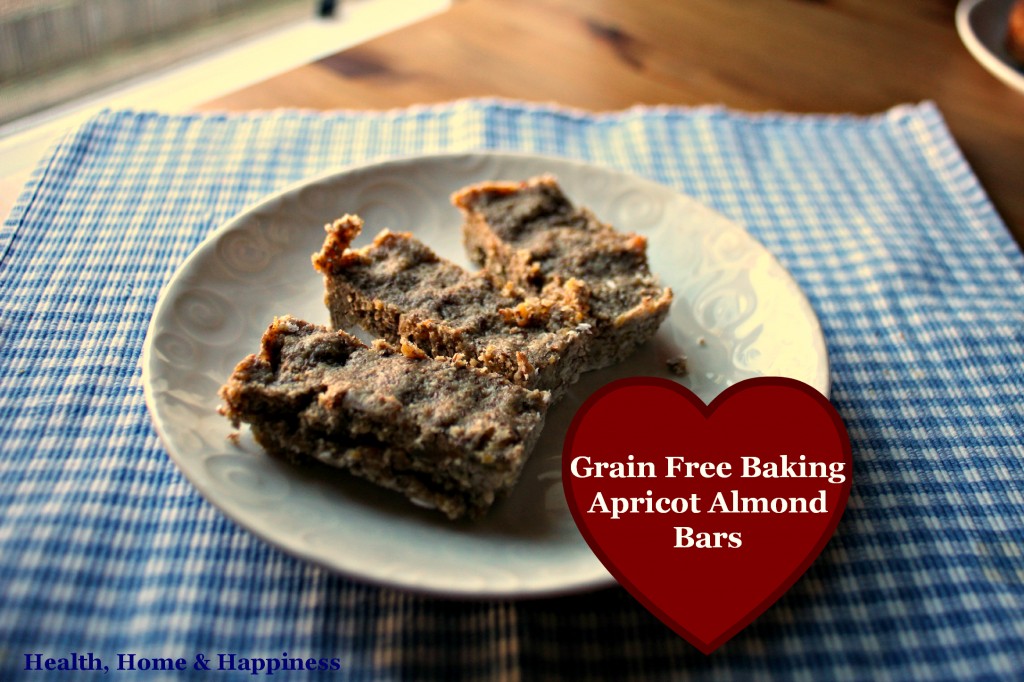 This is a part of Grain Free Baking Week at Health, Home, and Happiness! We are baking a few recipes from the Nourished Kitchen Guide to Grain Free Baking and Treats!
My children rave about fruit and nut bars like they have addictive qualities, and these are no exception. They love hand held sweet-nutty combinations of GAPS friendly ingredients!  Apricots and almonds pair together here with the addition of coconut and flax to make a substantial snack or breakfast in a pinch.
Ingredients:
2 cups blanched almond meal or flour
1/2 cup flax meal*
1/2 cup roasted almond butter
1/2 cup dried unsweetened coconut
1/2 cup dried apricots
1/2 cup coconut oil, melted, plus extra for greasing the pan
1/2 teaspoon unrefined sea salt
Instructions
Toss all ingredients into a food processor and process until smooth.
Grease a baking dish (9″x9″ works well) and spread the mixture evenly into the baking dish.
Allow almond-apricot bars to harden overnight.
Cut with a sharp knife and serve as a sweet dessert or snack.
*Dr Natasha on flax: Flax and chia seeds and oils are allowed on the Full GAPS diet. As a whole seed they are very fibrous and should not be consumed until diarrhoea has cleared completely. People who are prone to constipation find it useful to take a teaspoonful of these seeds every morning, after the seeds have been soaking in water over night (they become jelly-like).
It's been tons of fun, come on over and see what else she has! The Grain Free Baking is a guide includes 90+ recipes for breads, biscuits, scones, cupcakes, cookies, brownies, blondies and tons more all in an instant download! The guide is print friendly too. Click here to learn more!

See the other recipes we made here: Pineapple Upside-Down Cake, Apricot Almond Bars, Spiced Apple Crisp, and Apple Cinnamon Doughnuts. And read more about what the GAPS book says about sweets here.
This month's ebook!
Sign up to get the 20 Cool Treats sent to your email right away!
Please follow and like us: