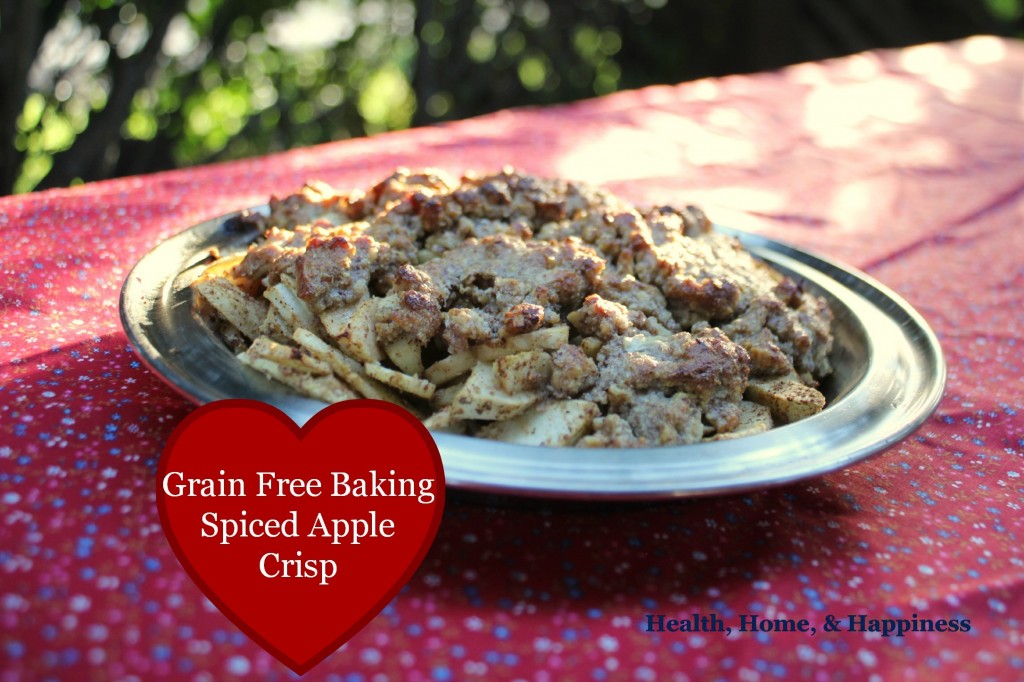 This is a part of Grain Free Baking Week at Health, Home, and Happiness! We are baking a few recipes from the Nourished Kitchen Guide to Grain Free Baking and Treats! It's been tons of fun, come on over and see what else she has!
My children adore helping me in the kitchen. I had to purchase cloves for this recipe, so I asked my daughter to open it as I was finishing peeling and slicing the apples.  I turned my back to finish the last apple, when she poured the entire container of cloves over the apples in the bowl. Oops! It was one of those small containers, so I'm sure to her it looked like just the right amount :)  
Thankfully apples are easily washed, and we just rinsed off the slices in a colander and proceeded with the recipe.  Cooking with children is always an adventure, but a worthwhile one for sure!
This was delicious, soaking the nuts really eliminates all the bitterness that nuts usually have, leaving just the creamy crunchy topping to be enjoyed! (read all the directions- they do call for soaking the nuts ahead of time)
Ingredients
 1/2 cup chopped walnuts

1/2 cup chopped pecans
1-1/4 teaspoons unrefined sea salt, divided
1/4 cup coconut oil, softened
3/4 cup almond flour
2 tablespoons honey
6 apples, peeled and chopped into bite-sized pieces

1 tablespoon blanched almond flour
1 tablespoon ground cinnamon
1/2 teaspoon ground nutmeg
1/4 teaspoon powdered ginger
1/4 teaspoon ground cloves
Directions
Toss walnuts and pecans in a mixing bowl with one teaspoon unrefined sea salt. Cover with warm water and allow them to soak at least 6 hours and up to 12.  Drain, rinse, set aside.

Preheat oven to 375 F, toss apples with flour, cinnamon, nutmeg, ginger, and cloves.  Layer in a baking dish or pie pan.
In a separate bowl, prepare the topping by stirring soaked walnuts, pecans, and remaining 1/4 teaspoon sea salt, coconut oil, blanched almond flour, and honey.  Knead until it forms a smooth texture. Drop the topping over the apples and bake 45 minutes.
See the other recipes we made here: Pineapple Upside-Down Cake, Apricot Almond Bars, Spiced Apple Crisp, and Apple Cinnamon Doughnuts. And read more about what the GAPS book says about sweets here.
The Grain Free Baking is a guide includes 90+ recipes for breads, biscuits, scones, cupcakes, cookies, brownies, blondies and tons more all in an instant download! The guide is print friendly too. Click here to learn more!
5 Delicious Keto FatBombs
Sign up to get my 5 Best Keto Fatbomb Recipes sent right to your inbox! Plus a bonus pizza recipe :)
Please follow and like us: