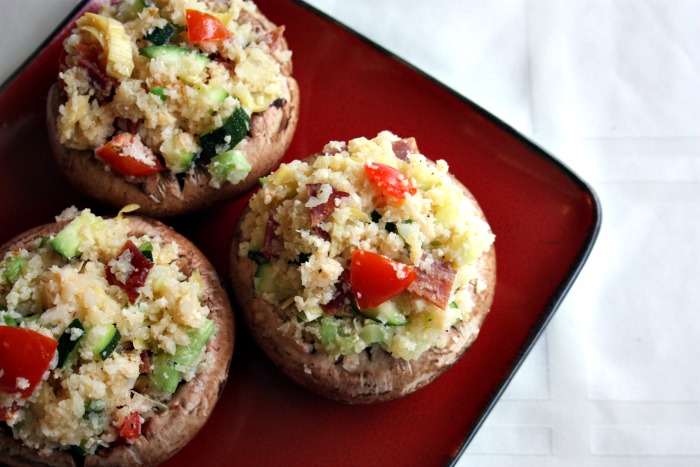 I only recently joined the portobello fan club. I know they've been staple for grain-free burgers and vegetarian steak for some time, but then I found a new way to use them – one that won't remind me of the bun or steak I may or may not dig into.
Then again, they also make a perfect side to a steak or a giant salad. Easy to put together, beautiful presentation, and packed with veggies, these stuffed portobellos are a dish worthy of guests, lunch times, and hearty dinners.
Eating with your fingers is highly recommended.
Stuffed Portobello Mushrooms
By Stephani Jenkins, guest contributor
Serves 4
Ingredients:
4-6 portobello mushrooms, stems and gills removed
1/2 head cauliflower, coarsely chopped
3/4 cup artichoke hearts, finely sliced (find additive free artichoke hearts here)
1 small zucchini, finely chopped
2 strips bacon, cooked and chopped (find beef bacon here, pastured pork bacon here)
2 small tomatoes, finely chopped
4 green onions, green parts only, finely sliced
1/4 cup parmesan cheese (optional)
Juice of one lemon
1 tablespoon butter, ghee, animal fat or coconut oil (find coconut oil here, tallow here)
1 garlic clove, minced
2 tablespoons fresh basil or 2 teaspoons dried (find organic non-irradiated herbs and spices here)
Salt and pepper, to taste (find natural sea salt and pepper here)
Directions:
Brush inside and outside of mushrooms with lemon juice and sprinkle with salt and pepper. Set aside.
Pulse the chopped cauliflower in the food processor 10-15 times (1 full second each), until cauliflower looks like rice. Do not over-process or it may turn to mush.
Melt 1/2 tablespoon fat in a large frying pan over medium-high heat then add cauliflower, artichoke, zucchini, bacon, tomatoes, onion, and garlic (and basil if using dried). Stir frequently for 3-5 minutes, until vegetables are tender. Remove from heat and stir in cheese, fresh basil, a drizzle of lemon juice, and salt and pepper, to taste.
Arrange mushrooms on a plate and spoon in generous helpings of filling.
***I wanted to make sure you knew about the Future of Nutrition Conference – it features speakers like Dr. Natasha Campbell-McBride, the author of the GAPS book, Donna Gates of the Body Ecology Diet, and Dr Barry Sears!  Click here to sign up for free, the talks stream free for 24 hours each.  Hurry! It starts next week! Click here!
Grain-Free Holiday Desserts, Breakfasts, and Side Dishes
Candied Butternut Squash, Zesty Lime Custard, Honey-Sweetened Pecan Pie, Slow Cooker Cranberry Sauce, and 10 more holiday recipes that you'll love for the way they taste and the way they make you feel.