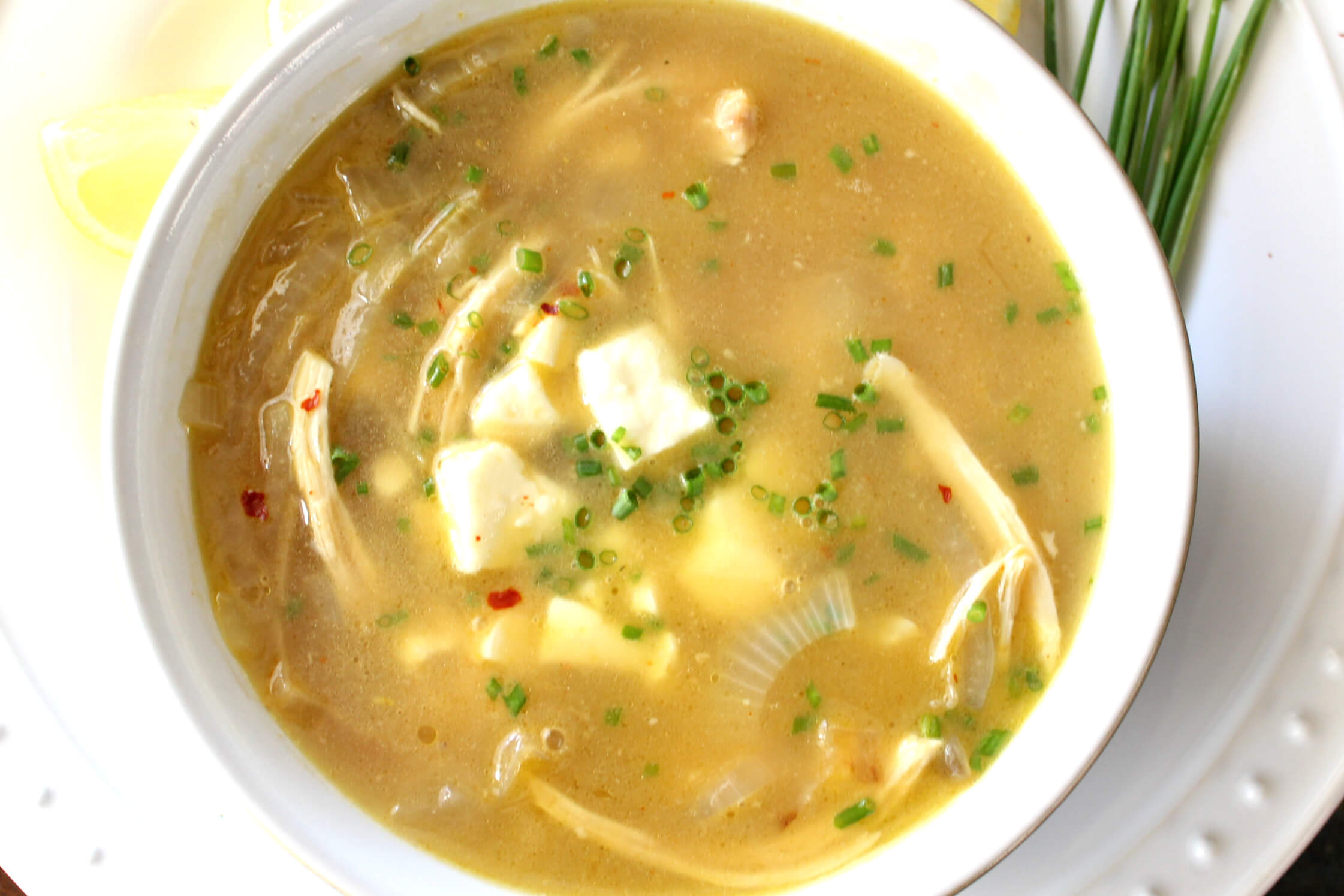 Zesty, full of bright light flavor, Greek Lemon-Chicken Soup is topped with feta and chives and brings a lighter flavor, with all the nutrition to your table this fall and winter.  This soup is a great way to use up meat you have accumulated while making chicken stock, or you just use boneless skinless chicken breasts or thighs.

Zesty Greek Lemon-Chicken Soup with Feta and Chives
This Zesty Greek Lemon Chicken Soup is a delicious fresh soup for fall and winter.
Cuisine:
Gluten-Free, Grain-Free, GAPS
Ingredients
2 tablespoons olive oil (find here)
1 onion, peeled, cut in half, and cut into thin half-rings
6 cloves garlic, crushed or minced
4 cups chicken stock (find here)
2 cups filtered water
1-2 lbs boneless-skinless chicken breast or thigh (find here)
1 lemon, juiced and zested
½ teaspoon red pepper flakes (find here)
1 tablespoon sea salt, or to taste (find here)
½ teaspoon freshly-ground black pepper, or to taste
1 bunch fresh chives
2 ounces feta cheese, crumbled
Directions
In the bottom of a stock pot or using the saute function of the Instant Pot, heat olive oil (can also use avocado oil) over medium heat and add onion.
Saute onions in oil until soft, about 10 minutes.
Keeping the heat on, add garlic, chicken stock, filtered water, skinless chicken breast or thighs (whole, we will shred it in another step), lemon zest and juice, red pepper flakes, salt, and pepper.
Once the soup is simmering, lower heat to medium-low (or low on the Instant Pot Saute Function) and cook an additional 30 minutes, or until chicken is cooked through when pierced with a knife. If you need the soup to be done faster, use the pressure setting on the pressure cooker- Manual for 10 minutes with the lid on and set to Seal.
Remove the chicken and shred with 2 forks on a plate or cutting board, and return to the soup. Taste and add red pepper flakes, black pepper, or salt as desired.
To serve, ladle soup into bowls. Top with snipped chives and crumbled feta. Enjoy!
21 Easy and Delicious Grain-Free Meals
Curious about eating grain-free? I want to show you how easy and delicious it can be!
Try our best-selling meal plans... for free!
Just enter your information and I'll email it to you right away.