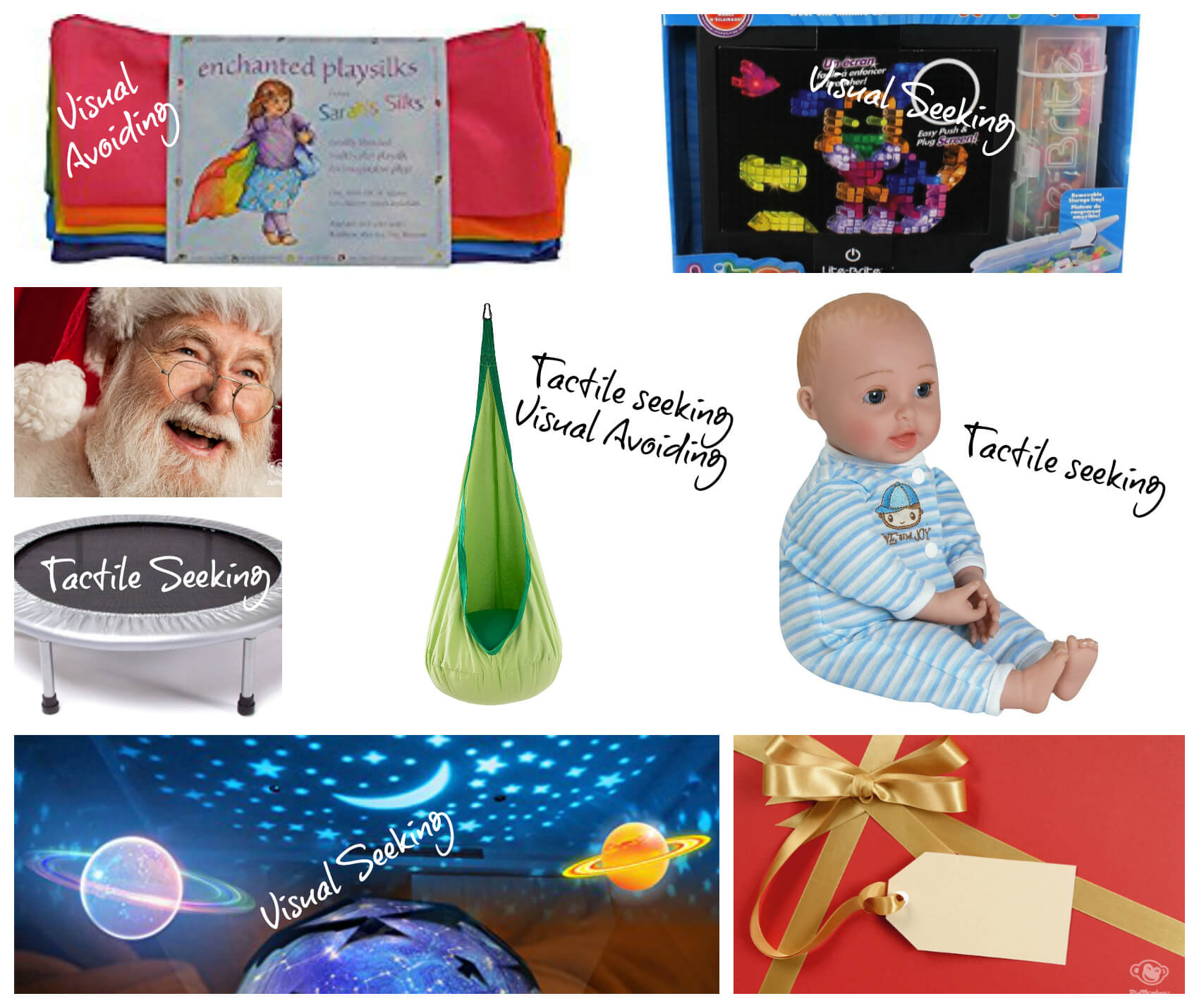 Holidays can be hard for those who have different sensory needs than the average person.  We talked about holiday routine and schedule changes as well as holiday activities for those who are more sensitive in this post, and today we're going to talk about gifts that not only are fun to give, but they also will be loved by the sensitive child as they uniquely fit their needs and personality.
sensory gift notes
You will see the 'seeking' gifts are more lively than the 'avoidant' gifts.  Usually children seek more in one area, and avoid in another, so you will most likely have two or more categories to choose from.
***Not sure where your child falls? Take this 2-minute Sensory Quiz.
When passing this along to friends and family, be sure to note your child's preferences in the Facebook post or email.
Since these children are usually more prone to frustration than others, choose quality over quantity of gifts.  A couple gifts that are well-made and work as expected is going to provide hours of joy and play, rather than a bunch of gifts that may break more easily, especially when played with over and over and over.
Visually Seeking Gifts

Visually Avoidant Gifts
Auditory Seeking Gifts
Auditory Avoidant Gifts
Tactile Seeking Gifts
Tactile Avoidant Gifts
This group loves to watch or hear, without having to touch things constantly.  Wind up music players are out (too much touching!), but a screen that runs for a few minutes at a time or portable music player can be a great gift!
As far as building materials go, less resistance and smooth textures are the way to go with this group.  They tend to prefer Brio and smooth blocks (the heaviness of solid wood blocks can be calming) over rougher blocks or legos that require force to stick together.
Related articles:
Calming Sensory Activities for Visually Seeking Children
Calming Sensory Activities for Visually Avoidant Children
Why Sensory Integration May Be Causing Your Child's Meltdowns
Sensory Friendly Holiday Activities to Avoid Meltdowns
L-Carnosine, the Amino Acid Supplement for Sensory Support
The GAPS Diet for Sensory Kids, Toddlers, and Picky Eaters

Please follow and like us: