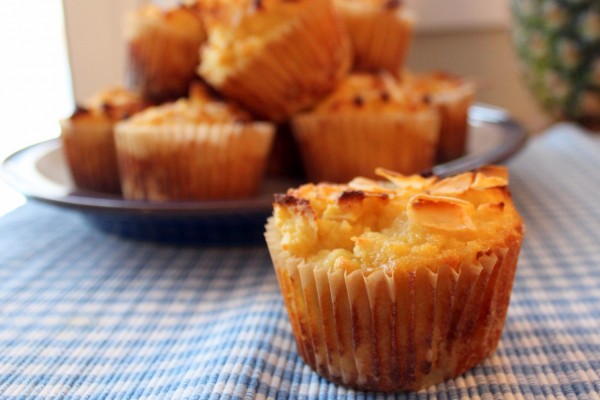 Every trip through the grocery store my son begs me to buy a pineapple.  Of all the things to be begging for, pineapple isn't so bad, is it? A little prickly to cut up, but it brings the taste of summer into the kitchen no matter what the time of year.  This recipe for tropical almond flour muffins is sure to please.  Topping them with coconut flakes gives the look of sprinkles – and who doesn't love sprinkles?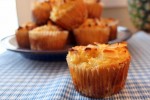 Pineapple-Coconut Almond Flour Muffins
Print
Ingredients
2

C

Almond Flour

1/4

cup

coconut flour

1/4

teaspoon

sea salt

1

cup

pureed

or crushed from a can pineapple

1

cup

flaked coconut+ 1/8 cup to sprinkle on top

3

eggs

1/4

cup

honey

1/2

cup

coconut milk or yogurt
Instructions
Preheat oven to 375*.

Line muffin tin with parchment liners.

Mix the almond flour, coconut flour, and sea salt until almond and coconut flours are thoroughly mixed.

Add in the pineapple, 1 cup coconut flakes, eggs, honey, and coconut milk or yogurt until well combined.

Drop into 12 muffin cups, filling 3/4 of the way, and sprinkle with the remaining 1/8 cup coconut. Bake for 25 minutes, or until coconut on top starts to brown and a toothpick inserted into the center of a muffin comes out clean.
Free Ebook this month only: 20 Grain-Free Breakfast Recipes
20 Delicious Breakfast Recipes suitable for GAPS and Paleo diets!
Please follow and like us: