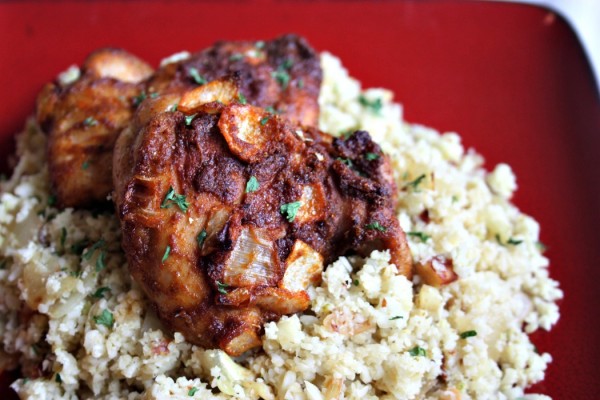 This Chicken Tandoori is a simple, 2-step dish sure to please even picky eaters. It's flavorful but mild, because the Curry Cauliflower is as much a star performer as the meat.
If you don't like curry flavors, simply make extra sauce and a basic cauliflower rice seasoned only with salt and pepper.
If you need to pull meals together quickly, the chicken freezes well, and you can rice the cauliflower several days in advance!
By Stephani Jenkins, Guest Author
Simple Chicken Tandoori
Ingredients for Chicken & Marinade:
1 pound chicken boneless, skinless thighs
1/2 small onion, finely chopped
1/4 cup yogurt or coconut yogurt or olive oil
2 tablespoons lime juice
1 1/2 teaspoons coriander
1 1/2 teaspoons cumin
2 teaspoons fresh ginger, grated
1 teaspoon paprika
1/2 teaspoon sea salt
2 garlic cloves, minced
2 teaspoons tomato paste
2 teaspoons olive oil
Ingredients for Sauce (Optional):
1 teaspoon lime zest
1/4 cup yogurt or coconut yogurt or homemade mayonnaise
1 tablespoon cilantro, minced
1/8 teaspoon sea salt
Ingredients for Curry Cauliflower Rice:
1 large cauliflower, cut into florets
1/4 small onion, chopped
1 clove garlic, minced
1 cup pineapple, diced
2 tablespoons almonds or sunflower seeds, chopped
1 teaspoon curry powder
1 tablespoon coconut oil or animal fat
Sea salt and pepper, to taste
Directions:
Combine sauce ingredients in a small bowl and refrigerate to let the flavors meld.
Place chicken in a glass or plastic pan with a tight-fitting lid. Combine marinade ingredients in a bowl, then pour over the chicken, seal container with the lid, and shake gently to coat chicken. Refrigerate 1-4 hours.
Remove chicken from container and grill or bake until juices run clear. If baking, bake at 400 degrees Fahrenheit for 15-20 minutes.
Meanwhile, pulse half of the chopped cauliflower in the food processor 10-15 times (1 full second each), until cauliflower looks like rice. Repeat with other half. Do not over-process or it may turn to mush.
Melt 1/2 tablespoon coconut oil in a large frying pan over medium-high heat then add onion. Saute until soft and starting to brown. Toss in garlic, pineapple, nuts, and curry powder, stirring until fragrant. Use more coconut oil if necessary. Add riced cauliflower and stir frequently for 3-5 minutes, until cauliflower is tender. Add salt and pepper to taste.
Serve chicken over rice and drizzle with sauce.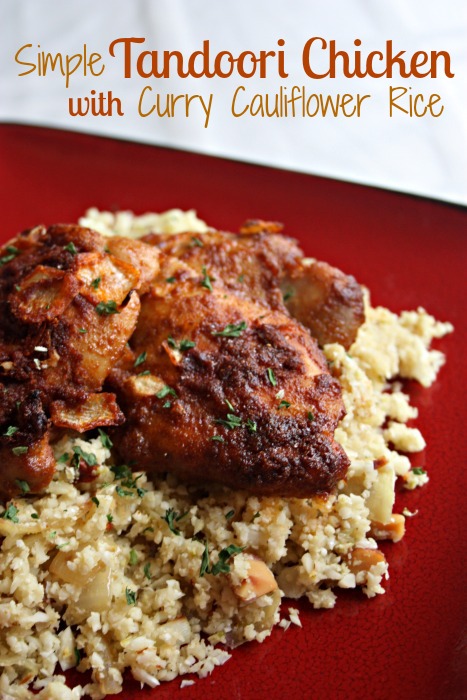 Grain-Free Holiday Desserts, Breakfasts, and Side Dishes
Candied Butternut Squash, Zesty Lime Custard, Honey-Sweetened Pecan Pie, Slow Cooker Cranberry Sauce, and 10 more holiday recipes that you'll love for the way they taste and the way they make you feel.