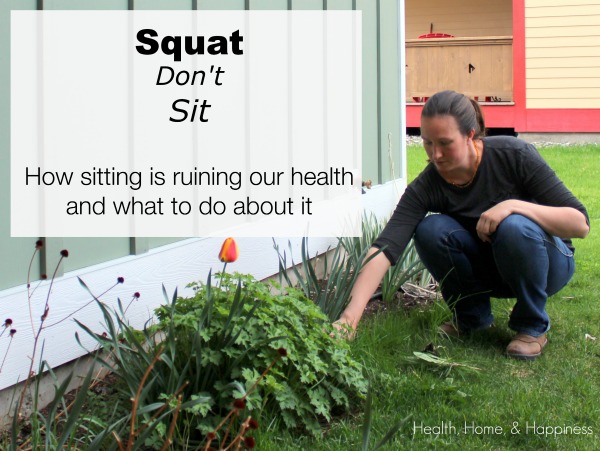 I had seen articles here and there recently about a study (source) that came out stating that prolonged sitting is just as bad for you as smoking, even if you get regular daily exercise. Talk about a wake up call for this blogger!
I spend much more time than I'd like to admit sitting while I research, edit photos, write blog post, write e-books, and scroll through Pinterest as I actively avoid doing those activities ;)
Sitting and watching TV more than 2 hours a day and spending more than 10 hours a week in an automobile has been linked with a 46% increase in in mortality not linked to other factors such as smoking, eating habits, and even regular exercise.
The good news for parents:
Interrupting long stretches of sedentary time be standing, stretching, or other breaks do show benefits.  Most parents I know don't sit and binge-watch Netflix or play video games in one position; they pause and check on the kids, let the dog in and out, and switch the laundry every so often.
Why squatting can help our health
As a child we went on many camping trips, and I associated the squatting position for pottying, so I really didn't use it for much other than that.  But my friend Rachel recently sent me a video (below) that goes over the benefits of a flat footed squat as a replacement for sitting.  I rarely watch videos, but this was intriguing, I highly recommend watching.
Since learning about squatting I've been working it more often into my daily routine.  I'll squat down to pick something up rather than bending over, and I pull weeds in my garden while squatting rather than kneeling as I did before.  As kids do, my children have been imitating me, which encourages me all the more.
Most likely my preference for trekking off the side of the road and avoiding rest stop bathrooms has allowed me to retain the ability to squat flat footed, but many adults will have to work to gradually get into a flat footed squat. It's worth working on a few times a day.
Mommypotamus encourages squatting to pee in the shower here, another good practice that has made me start trusting trampolines again.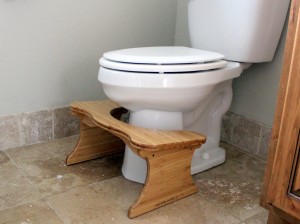 Squatting to Eliminate
In addition to squatting as a way to strengthen and stretch at the same time, squatting to eliminate allows for us to more efficiency get everything out.  The sitting position kinks the colon, making through pottying more difficult. A lot of toxins are evacuated into our poop, so it's imperative for those who are working on detoxifying to be able to get rid of all the poop as efficiently as possible.
We use the Squatty Potty to help with this process, you can find out more here.
Standing more
Since seeing how detrimental being sedentary is, I've started keeping my laptop plug at the kitchen counter rather than near the couch.  I'm working on creating a habit of standing more than sitting, something I didn't realize really made that much of a difference.
Other ways to work more light activity and standing into your routine:
Walking while talking on the phone.
Dusting more often – bonus! Cleaner house!
Working walks with the kids into your every day routine (We've started taking a walk after dinner every evening, the kids love it!)
Only using electronics while standing up
Walking or biking to do errands when possible, even if it takes longer
More Activity Time
There  are lots of devices out there now to help motivate you to be more active.  Fitbit is the one I've heard about the most, not only does it count your steps, but it connects automatically to your computer so data nerds like me can see charts of progress, and it also monitors how much sleep you're getting. My mom loves her step counter, I personally don't have (or want) one, but for some they will provide just the motivation they need to have more active time than sedentary time. See more here.
5 Delicious Keto FatBombs
Sign up to get my 5 Best Keto Fatbomb Recipes sent right to your inbox! Plus a bonus pizza recipe :)