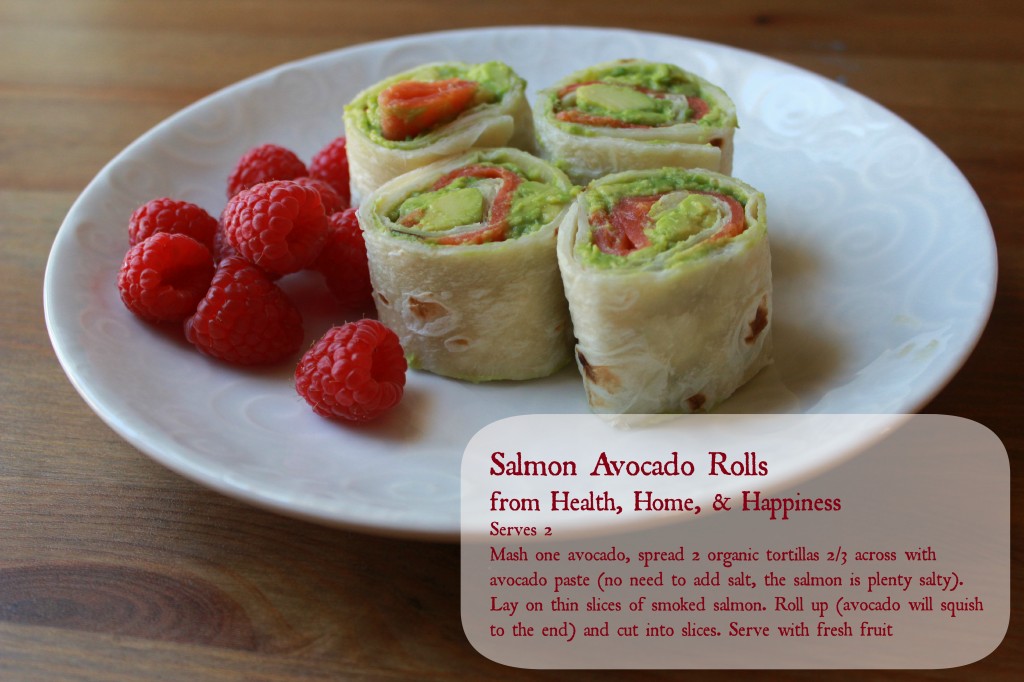 We made this simple lunch the other day and it was so easy and pretty that I had to take a picture.  I used organic wheat tortillas here, but you can use coconut flour crepes (recipe below from the grain free meal plans)
Salmon Avocado rolls
2 ten-inch tortillas
1 avocado, mashed
2 ounces smoked salmon
Lay out tortillas and spread 2/3 of the way across with avocado.  The avocado will smash to the end as you roll it out. Thinly slice, or peel off slices of the salmon and top the avocado mixture. Roll the wrap, starting at the avocado end.  Lay on the seam and slice with a serrated knife for rolls.
Coconut Flour Crepes
Makes 12 crepes
Ingredients:
12 eggs
4 tablespoons coconut flour
1/8 teaspoon sea salt
6 teaspoons refined coconut oil, to fry
Directions:
Mix all ingredients well, making sure all clumps of coconut flour are broken up. Allow to sit for a few minutes.
In a skillet over medium-low heat melt 1 teaspoon of coconut oil, tilting pan to coat.  Add about 2 tablespoons of batter and tilt to make a 6-inch circle.  Cook until bubbles start to form and the middle of the pancake looks slightly cooked. Flip gently with a thin spatula and cook until the other side is golden; about 5 minutes on the first side, 2 on the second.
Please follow and like us: