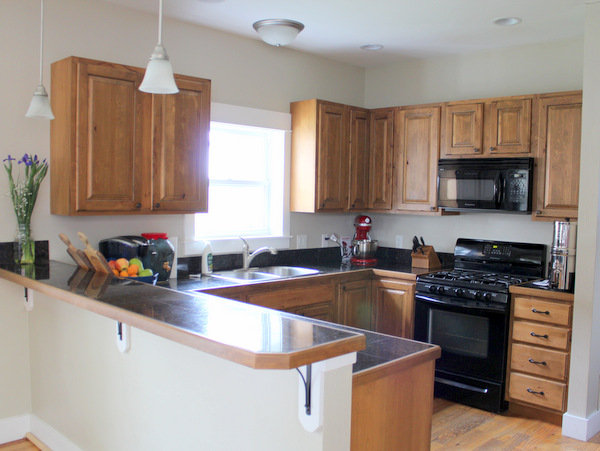 Anyone who loves to cook but has been forced to use cheap cookware will assure you, paying for a few good-quality pots and pans is worth the expense.  Forget all the fancy gadgets: The grilled cheese maker, countertop grill, and specialty strawberry slicer – if you're serious about cooking, stick to the basics and buy the highest quality that you can afford.
After being an adult for more than a decade, and spending lots and lots of time in the kitchen during that time, I finally settled on a pot and pan set that I was happy with.  I posted about it on Facebook and got a few questions, so I'm going to talk about different kinds of cookware and what I use and why here. Until now I was using a large stock pot, small saucepan, and a 12-inch skillet for everything. The additional pieces in the set allow me to cook all day and run the dishwasher at night, to make both yogurt and chicken stock at the same time during my bulk cooking days, and to reheat soup for our family without it simmering over the small saucepan.
Let's look at the controversies surrounding different cookware.
Don't use: Coated, nonstick cookware.  The Teflon coating over metal cookware may boast that it cleans easily, but this coating that is in direct contact with food, and is under intense heat often, is not time-proven.  (more information about the health risks of nonstick cookware)
Don't use: Aluminum cookware.  Aluminum is a softer, lighter metal that leeches into food more easily than stainless steel, especially acidic food like.  It may be associated with alzheimer's, and to me this is not worth the risk.  I also prefer heavier pots and pans for stability and even heat transfer when cooking.  (More information about health risks of aluminum found here.)
Use with caution: Glazed cast iron.  Glazed cast iron comes in fun colors, and this cookware is nice and sturdy and heats evenly.  When it comes from trusted sources, glazed cast iron is a good choice for most people.  Watch out for unknown brands, though, as glaze can contain toxins, which may leech into your food.  Some people also like to avoid cast iron because it is heavy and difficult for children to move around if you have children helping in the kitchen. A good brand that I would trust: Le Creuset  (Read more information about the health risks associated with glaze here)
Use with caution: Cast iron.  Cast iron is a traditional cookware, it is inexpensive, sturdy, and when it's made from a manufacturer you trust it should be toxin free. There are some things to be wary about: First is completely practical; cast iron is heavy and has to be washed by hand.  It's too difficult for my little dish washer to navigate, so we aren't using it right now.  Second, I would trust a brand like Lodge that is made in the US.  I would steer away from off brand cast iron because there may be contaminants in the manufacturing process that could leech into food. And the third thing to watch for is that because the iron does leach into food, you need to be sure you are okay with the addition of this much iron.  (more about that here)
Recommended: Stainless steel.  I use mostly stainless steel.  It is heavy enough to transfer heat well and stay where I want it on the stove, and light enough to allow my little ones to use it easily.  There is some concern about nickle and chromium leeching into food (source) but I am okay with using this in my family.  Choosing high-quality stainless steel cookware makes both cooking and cleaning up easier.  I like Calphalon Tri-Ply and made do with 3 pans for a LONG time before upgrading to the set (see below)
Tip: If you get frusturated with scrambled eggs sticking to stainless, as soon as you are done cooking the eggs fill the pan with HOT water and a squirt of dish soap.  By the time the pan cools the eggs will lift right off the pan, no scrubbing needed.
In extreme cases: Glass-lined cookware.  If nickle or chromium is bothering you or someone in your family due to extreme sensitivities, glass-lined cookware is an option. If I was opting to put a very sick person on GAPS, I might invest in this cookware just to rule out nickle or chromium bothering them from stainless. For most people I think that stainless steel is just fine though. (I'm not even sure where to purchase this, but maybe one of my readers can help out)
For obvious reasons, glass is difficult to work with, but in some cases it might be useful.
5 Delicious Keto FatBombs
Sign up to get my 5 Best Keto Fatbomb Recipes sent right to your inbox! Plus a bonus pizza recipe :)
Please follow and like us: