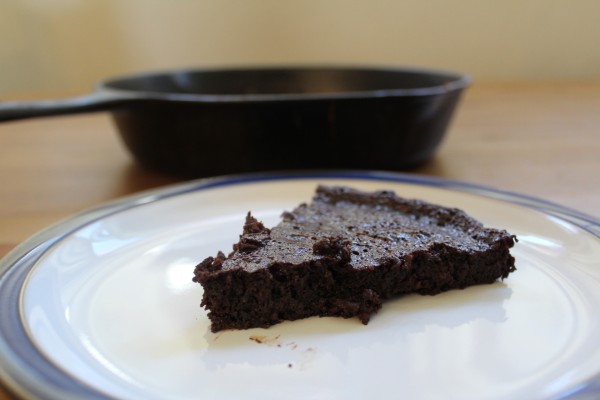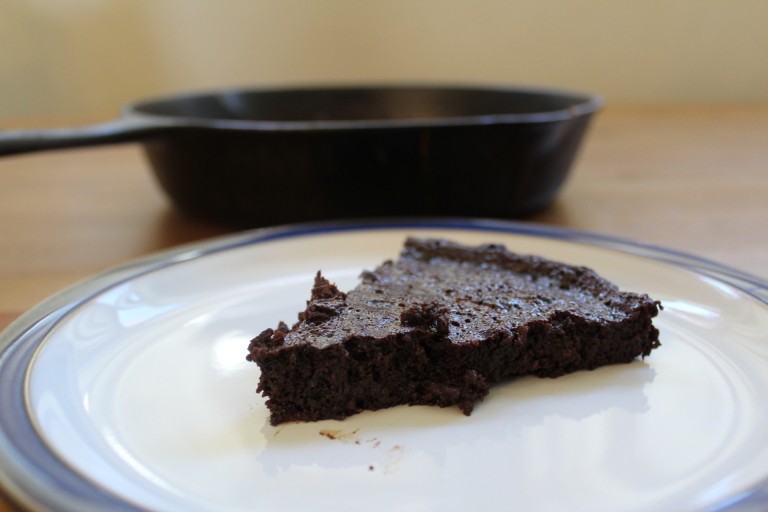 This simple cake is fast to put together, and the presentation is fun an rustic since it is made in a cast iron skillet. The skillet helps the cake to bake evenly and gives it a slightly thick, and delicious, crust around the edges.  We melt the chocolate and butter right in the skillet, to save dishes.
Simple Skillet Chocolate Cake
4 ounces unsweetened baking chocolate
1/2 cup butter or 1/2 cup coconut oil + a pinch of salt
3 eggs
1 teaspoon vanilla
1/3 cup cocoa powder
2/3 cup honey
1/2 teaspoon sea salt
Coconut whipped cream and berries to top (optional) (recipe)

Instructions:
Preheat oven to 375 degrees F.
In a 8-10 inch cast iron skillet over medium-low heat, melt the butter. Once the butter has started to melt, add in the chocolate and reduce heat to just over low.
In a  medium mixing bowl, mix eggs, vanilla, cocoa powder, honey, and sea salt until eggs are completely mixed and there are no more dry pockets of cocoa powder.
Use a pot holder to handle the skillet and combine the butter mixture from the skillet into the egg mixture in the mixing bowl using a fork or whisk.
Pour batter back in warm skillet. Bake for 25 minutes, or until center is slightly undercooked, but not liquid.
Allow to cool slightly and serve.