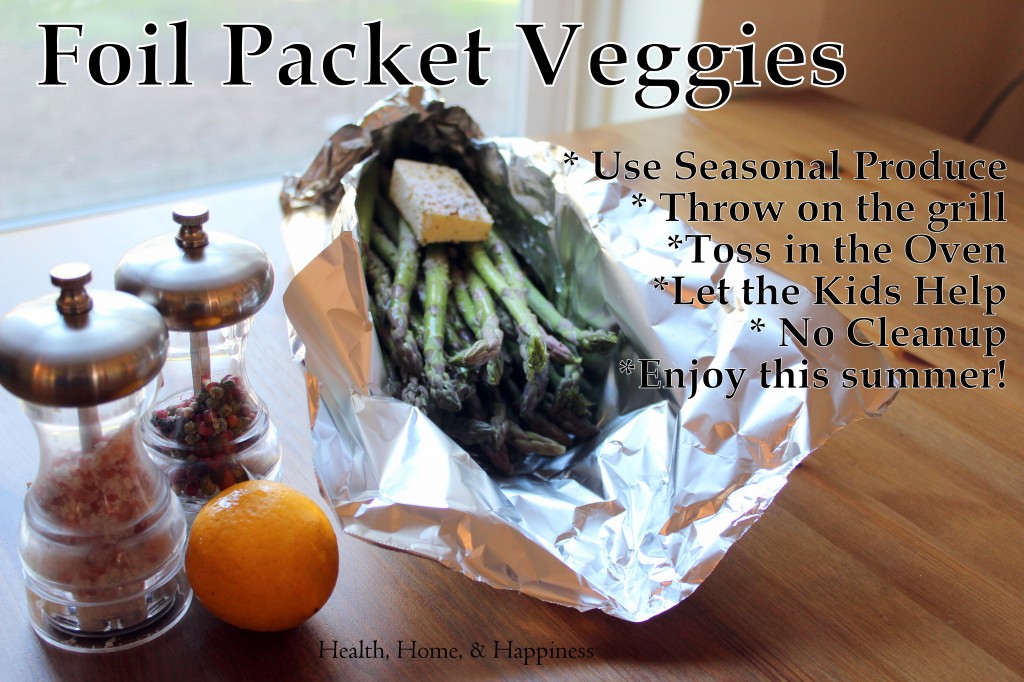 Foil Packet Veggies
The ingredients are all to taste. Use as much or as little of the spices and seasonings as desired. These are simple to prepare, the kids love to help, and they save time with both cooking and cleanup so more fun can be had outside in the long summer evenings.  Enjoy!
These are from the Grain-Free Meal Plans where I provide family friendly recipes like this for 3 meals a day, 7 days a week, plus snacks! Click here!
Ingredients:
2 pounds asparagus, squash, onion, or mixture of veggies from the garden, chopped into bite-size pieces
2-3 cloves garlic, minced
3-5 tablespoons olive oil (as desired)
3-5 teaspoons assorted herbs and spices (rosemary, thyme, lavender, fennel seed, marjoram, sage, basil, oregano, cayenne pepper, etc.)
Salt and pepper, to taste
Aluminum foil
Directions:
Place vegetables in a bowl and drizzle them with olive oil, herbs, salt, and pepper. Toss or stir them lightly to coat.
Spread out sheets of aluminum foil in 1-2 layers. Place vegetables in a pile in the middle of the sheet, and wrap them securely in foil. Make sure the foil is tightly closed on all sides.
Place the foil packet on a hot grill, taking care that the seams of the foil are facing up (you don't want the oil dripping out of the foil).
Cook the vegetables until they reach desired doneness (soft and well done or fresh and crisp). Cooking time will change depending on the kind of vegetables and the size of the pieces. Plan for at least 10 minutes, but up to 30-40 minutes for more dense or big vegetables. Veggies will crackle and sizzle as they cook.
You can check the doneness of the veggies by removing the packet from the grill and carefully opening the packet and checking them (steam will be very hot). If needed, rewrap them and place them back on the grill until done.
A note about foil: I personally feel comfortable using foil on the grill, since I don't use it all the time. My pots and pans are stainless and glass and ceramic and cast iron, but for grilling a couple times a week for the summer, I'm ok with this.  Aluminum is toxic in excessive quantities, which is why we don't want to use it every day.

Some readers have reported that they just wrap their food in parchment before it goes in foil- good idea! Others use stainless steel grill baskets (my dad uses these too).
Grain-Free Holiday Desserts, Breakfasts, and Side Dishes
Candied Butternut Squash, Zesty Lime Custard, Honey-Sweetened Pecan Pie, Slow Cooker Cranberry Sauce, and 10 more holiday recipes that you'll love for the way they taste and the way they make you feel.