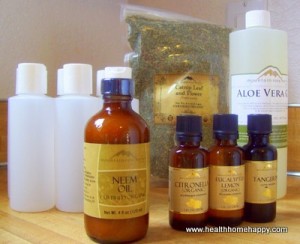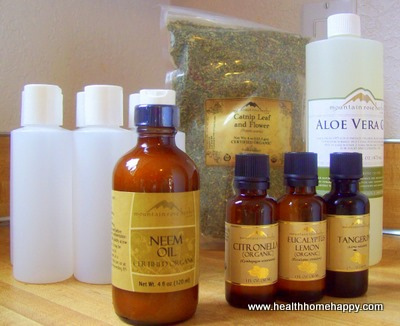 I love it when natural products work as well or better than their less healthy synthetic counterparts. Last year I was thrilled to find that natural bug repellent worked well for our family, as much as we anticipate spring we do not love the mosquitoes that come with it! But the bug repellent that I purchased was pricey, and one of the kids got the lid unscrewed and dumped a good half of it just as we were going into summer.
This year I looked up ingredients that are thought to repel bugs, and made my own concoction. We've now tried it and I can report that it does work wonderfully! It smells strong while you're making it but I don't find it to be overpowering when it's on your skin.
I did find that I had to make sure I applied it well, and it may need to be reapplied often when out in the buggy weather.
All together the ingredients are a little expensive, but this recipe makes nearly half a gallon- plenty to share with friends! I purchased 6-ounce bottles so that I had some to share, and could keep a bottle in each truck as well as near the back yard.  All ingredients and bottles are purchased from Mountain Rose Herbs, which I have found carries great quality essential oils and herbs at a fraction of what they sell for at the health food store.
Homemade Natural Bug Repellent Recipe
Makes approx 1/2 a gallon
2 cups loose dried catnip
5 cups water
~ Make catnip into a strong tea.
16 ounces aloe vera juice
4 ounces neem oil (mine had a small amount of olive oil in it)
1 ounce citronella essential oil
2 teaspoons lemon eucalyptus essential oil
1 teaspoon tangerine essential oil
30 drops lavender essential oil
30 drops peppermint essential oil
Make the catnip into a strong tea, steeping for half an hour.  Catnip essential oil is very expensive, but good for repelling bugs, so I decided to try the less expensive tea instead.  Strain tea through a sieve.  Combine all ingredients, including the tea, in a large jar. Shake to combine.  Place in containers (I used containers with lids that can allow drops out, like a shampoo bottle) and label.  Store the unused bottles in the refrigerator, as there are no preservatives in this!
I'm sure this isn't the only way to make natural bug repellent! If you have most but not all of these ingredients, you might try using what you have and see how it works. Good thing about mosquito season is that you can get immediate feedback on your creation!
This bug repellent is perfect for working in the garden- as the day gets cooler and the air gets more still, the bugs come out in force! Use this natural bug spray (and perhaps grow some aloe and catnip!) to keep gardening without itching! Disclosure: I wrote this post while participating in the Sowing Millions Project by Real Food Media on behalf of Seeds of Change. I received product and exclusive content to facilitate my post. However, my thoughts and opinions are my own and not of those of Real Food Media or Seeds of Change. Visit them on Facebook and share about your garden!
Grain-Free Holiday Desserts, Breakfasts, and Side Dishes
Candied Butternut Squash, Zesty Lime Custard, Honey-Sweetened Pecan Pie, Slow Cooker Cranberry Sauce, and 10 more holiday recipes that you'll love for the way they taste and the way they make you feel.