Waking up to the goopy mess of pink eye is one of the dreads of parenthood. But rather than reaching for the lysol and hopping into the car to the pediatrician's, let's take a look at the evidence for different treatments for pink eye.
In doing so we can often save a trip to the doctor's office, the expensive of a doctor's visit for those with high-deductible insurance, and unnecessary exposure to antibiotics.
What is conjunctivitis/pink eye?
Conjunctivitis is inflammation of the conjunctiva.  Conjunctiva is clear tissue that covers the the white part of the eye and is inside the eyelid.
The inflammation can come from viruses, bacterial infections including gonorrhea and chlamydia, or irritants including dust and pollen. 
Symptoms include:
Redness of the eye
Increased tears
Yellow, green, or white discharge from the eye
Itchy or burning eyes
Sensitivity to light
Blurred vision
(source)
How is conjunctivitis spread?
It was drilled into my head via school germ-prevention protocol that pink eye was spread when one sick person touched their eye, and then touched anything else- the desk, a door knob, the faucet in the bathroom, etc. and then another person touched any of those surfaces and then their eyes.  In reality, there are many ways that conjunctivitis/pink eye is spread, as there are many different causes for it.
Viral conjunctivitis, which the school was focused on preventing, is spread through casual contact such as touching faces, sharing towels, or sharing makeup.  Most cases of 'pink eye' are viral. (source)
Allergic conjunctivitis is not contagious, and comes from an allergy.
Bacterial conjunctivitis is contagious, though usually only found in people who have other eye conditions such as chronic dry eyes or inflammation of the eyelids.  Sexually transmitted bacterial infections can infect the eyes in at-risk populations (ie, not most school children). (source)
What is the conventional treatment for conjunctivitis?
Prescription steroidal and/or antibacterial eye drops are commonly prescribed. (source) Viral conjunctivitis is often misdiagnosed as bacterial. (source)
Due to concerns about antibiotic resistance, as well as other problems with overuse of antibiotics, practitioners are being encouraged to allow the illness to run its course without antibiotics.
The ophthalmologist plays a critical role in breaking the chain of transmission of epidemic adenoviral conjunctivitis, primarily by educating the patient and family about proper hygiene. Infected individuals should be counseled to wash hands frequently and use separate towels, and to avoid close contact with others during the period of contagion.

Treatment of conjunctivitis is ideally directed at the root cause. Indiscriminate use of topical antibiotics or corticosteroids should be avoided, because antibiotics can induce toxicity and corticosteroids can potentially prolong adenoviral infections and worsen herpes simplex virus infections. Viral conjunctivitis will not respond to anti-bacterial agents, and mild bacterial conjunctivitis is likely to be self-limited. Moreover, the choice of topical antibiotic agent for treatment of bacterial conjunctivitis is empiric, as no evidence exists demonstrating the superiority of any particular agent.
(source) Emphasis mine. 
What are side effects to common Pink Eye/Conjunctivitis treatments?
Antibiotic resistance (source)
Discomfort
Allergic reaction
How effective are conventional treatments?
It is now recognized that most cases of pink eye/conjunctivitis are viral in nature, and even if they are bacterial they are self-limiting (go away on their own) and do not require treatments except in extreme cases, when seen in infants, or when caused by an STD such as chlamydia. (source)
What are home remedies for conjunctivitis?
Because the eyes are sensitive, I prefer to not use anything in them unless necessary so we simply clean with a clean wash rag dipped in warm water. My preference is to do the least amount necessary.
Other home remedies:
Breast milk
Colloidal Silver (I am VERY cautious with colloidal silver and would not use this remedy)
Eyebright Herbal Remedy
How effective are home remedies on conjunctivitis?
As we have seen above, this is considered effective treatment in peer-reviewed journals and mainstream medical organizations.
When do I need to seek medical intervention?
You have preexisting eye conditions (including wearing contacts)
In a child under 1 year of age, especially in the newborn period
If symptoms do not improve within 48 hours.
For severe pain, or if you feel something is not right.
(source)
Wait! Now they won't let my child back in school. I don't have a doctor's note!
And this is why I'm writing this article :) It is school policy in many districts to not let a child back into school unless they have been on antibiotics for 24 hours or have a doctor's note saying the infection was viral and no longer contagious.
As we saw above, antibiotics are not recommended in most cases, even if it is viral, and due to high deductible insurance becoming more and more common, a doctor's note can be costly and time consuming.  Of course we don't hesitate to spend money on our children's healthcare when it is needed, but $135+ from an office visit (plus the time in missed work) can go far in the way of purchasing healthy food or needed supplements/medications.
When we do things differently, even if they are evidence-based, it can be frustrating for everyone. Try not to take the school policy personally, it is there because the school is concerned about keeping all the children healthy.  We cannot expect every school secretary to be up to date on every new medical development :)
What I do in these situations:
Call before school starts and ask about the specific policy.
If the policy says 'doctor's note or antibiotics for 24 hours' calmly explain that you did not feel that this minor illness required a doctor's or urgent care visit, and say that your child has been fever free for 24 hours, no pain killers are being used, and the eye is no longer goopy.
If the school is still insisting that the child needs to be seen by a doctor, request to keep the child home for an additional week, so that they will be sure to be illness free upon return to school. (the school will not take you up on this offer, as everyone by now can see that it is ridiculous to keep a healthy fever-free child home for a full week)
Smile during this conversation, do not get defensive, and remain silent as much as possible to give the person you're talking to time to process your very reasonable request.  Meltdowns, and arguing do not help this process :)
Remind the school staff that you always want to do everything possible to avoid spreading disease, and you will come pick your child up immediately if they feel that he is contagious.
Thank the school staff for working with you, acknowledge that it does take them more time and effort to accommodate families that do things differently.
What I do in my family
That goopy mess is essentially mucus. I rinse it off gently with a warm wet washcloth, just as I would clean up a goopy nose. I give my children weight-appropriate doses of NSAIDs (children's ibuprofen) for discomfort.
Our eyes are sensitive and obviously important, so we do want to carefully monitory any illness that involves them, but if after 12 or 24 hours of rest, avoiding the public, and cleaning as needed, the 'pink eye' is getting better, not worse, we let it ride its course.  If there was severe discomfort, or if it continued to get worse after 24 hours, I would seek medical attention.  We have never had that be the case, it's always started clearing up for us in under 12 hours.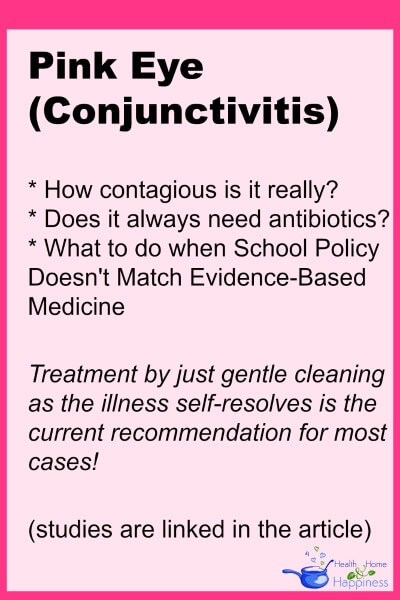 5 Delicious Keto FatBombs
Sign up to get my 5 Best Keto Fatbomb Recipes sent right to your inbox! Plus a bonus pizza recipe :)
Please follow and like us: