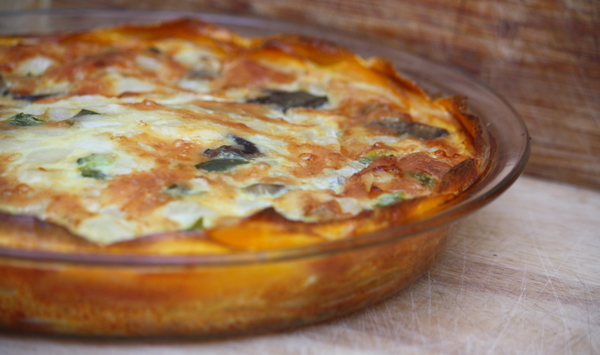 Note from Cara: This is a guest post from Heather at Mommypotamus- one of my favorite bloggers! Head on over and check out her blog– it's full of grain free recipes, parenting discussions, and natural health information.  Heather is wonderfully *real* which I know all my readers appreciate!  You'll want to subscribe to her blog for free via email so you don't miss anything!
You can also find her cookbook for the Standard Process Cleanse here, with more whole foods (though not completely GAPS friendly, most of the recipes are) recipes and beautiful pictures!
Thank you Heather for posting at Health, Home, and Happiness today!
A Texas-Style Brunch
Hugs and shouts of "heidi yawl!" from across the lawn. Tables sprinkled with sunflowers peeking out of simple mason jars. Settings dotted with mismatched dishes, paper plates, and the fine silver of course.
This is how we like to brunch in the Lone Star State.
Dishes are rustic and elegant, like this one featuring a french-style open pie with a Texas twist. Charred jalapenos, mellow cheddar and a grain-free crust . . . what could be better?
Despite their outlaw reputation, jalapenos actually reduce intestinal inflammation, too, which makes them perfect for our GAPS family. Yep, they contain a rich antioxidant and anti-inflammatory called capsaicin, which is also known to prevent ulcers (who would have thought!), help with migraine and sinus headaches, lower blood pressure and cause cancer cells to commit suicide.¹
Breakfast, lunch or dinner, this recipe is sure to put some sizzle back into your menu rotation. Bon appetit, ya'll!
Equipment:
2 pie pans
medium mixing bowl
mandoline or sharp knife
wooden spoon
Ingredients:
1 medium butternut squash
coconut oil for oiling pans
10 eggs
1/2 cup cream or coconut milk (Buy Coconut Milk here)
2 small or 1 medium onion
2 cups mushrooms, sliced
3-4 jalapenos (depending on heat preference)
4 tbs butter
8 oz cheddar cheese, grated (Buy Grassfed Cheese here)
Method:
Preheat oven to 375F
Peel butternut squash neck and slice into thin pieces with mandoline or a sharp knife. The thinner they are the more flexible they will be when forming the crust
Arrange squash in an oiled pie pan in the shape of a crust (you may need to cut the rounds into halves to make smaller pieces for the sides). Set aside
Saute mushrooms and onions in butter until soft
Set oven on broil and place jalapeno on top rack. Allow to char on one side (about 3 minutes, then turn over and allow to char on the other side). Set aside to cool
Whisk together eggs and cream or coconut milk. Add grated cheese and whisk again.
Once the jalapenos have cooled, peel the skin off and deseed. Chop finely and add to egg mixture along with onions and mushrooms.
Pour quiche filling into crusts. Brush any part of the crust that is exposed at the top with coconut oil.
Bake at 375F for 35-40 minutes until done (a knife comes out clean from the center)
Like this recipe? Check out Mommypotamus' other GAPS-friendly recipes here!
Free Ebook this month only: 20 Grain-Free Breakfast Recipes
20 Delicious Breakfast Recipes suitable for GAPS and Paleo diets!