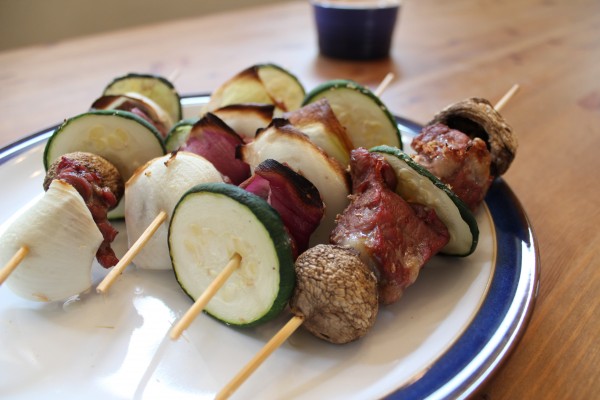 Lamb kebabs are loved by everyone, but are especially fun for children.  Meat on a stick is so much more exciting than meat on a fork!  We snip the pointy ends off with wire clippers to make this a safe meal for everyone.  This is also a great go-to for potlucks or barbecues where you're bringing a dish to share; you can load the sticks full, or with just a couple pieces of meat so that everyone can get a small taste.
1-2 pounds lamb roast (buy lamb roast here)
1 red onion
4 ounces baby portabella mushrooms
1 Zucchini
For the marinade
1 tablespoon grated fresh horseradish
2 cloves garlic, crushed
2 tablespoons lemon juice
1 teaspoon sea salt
1 tablespoon honey (optional)
8 wooden skewers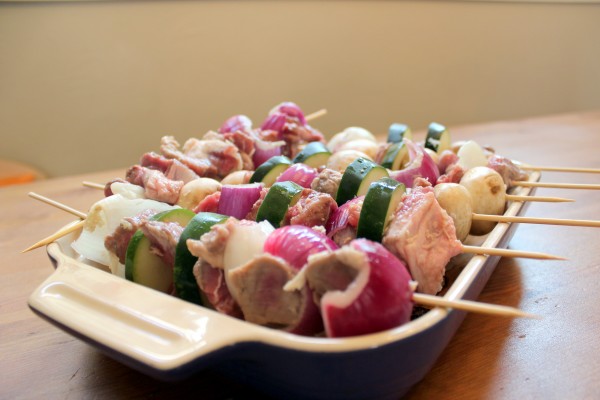 Instructions
Using a butcher knife, cut lamb roast into 1-inch cubes.  Place in a bowl.  Slice ends off the red onion, cut into quarters and separate into individual layers. Wash mushrooms and remove stems.  Discard ends of zucchini and cut into rounds.  Place the onion, mushroom caps, zucchini pieces, and marinade ingredients in the bowl with the lamb.  Gently stir to distribute marinade evenly, and then cover with plastic wrap and allow to marinade in the fridge for 4 hours or overnight.
Preheat oven to 425 degrees.
Once meat and vegetables are done marinating, thread them onto the skewers in a pleasing pattern, dividing evenly among all the skewers.
Place skewers across a 9×13" baking dish, the sides can be touching if needed.
Bake for 25-30 minutes, or until juice runs clear and meat is still a little pink in just the middle.
Cool until comfortable to touch, then use wire cutters to easily snip off the pointy ends before giving them to young children.
Dipping sauce
Dill and coconut is a delicious creamy combination. Dip your kebabs in this sauce and enjoy all the flavors as they mix together.
½ cup coconut milk (buy coconut milk here)
1 lemon, juiced
1 teaspoon dried dill (buy organic herbs and spices here)
1 teaspoon granulated garlic
½ teaspoon parsley
½ teaspoon sea salt
Instructions: Mix all ingredients.  Store any leftover covered in the fridge.