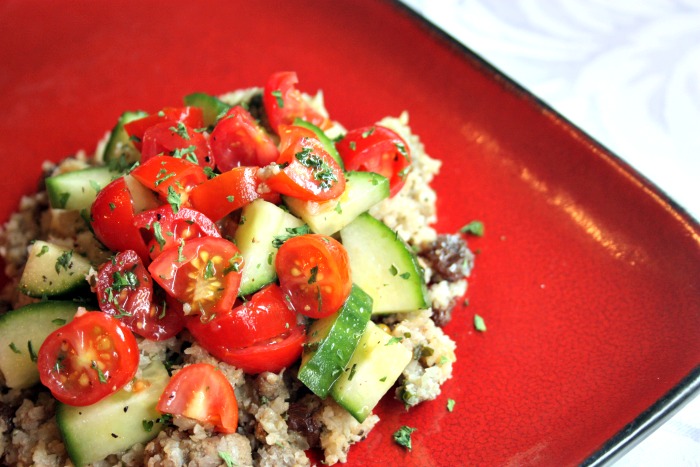 Middle Eastern Lamb & Rice with Cucumber Relish

This is one of those sneaky meals that sounds, looks, and tastes like it took a long time and possibly an Arabic grandmother to make. But the truth is, if you can chop veggies and stir them with a spoon, you can make this meal. And if you like to keep riced cauliflower and browned meat in the fridge for quick meal prep (which I highly recommend for a successful grain-free lifestyle), you can whip up this dinner in a matter of minutes.  This recipe is inspired by one of my favorite cookbooks, Well Fed 2.
By guest contributor, Stephani Jenkins

Ingredients:
1 head cauliflower, chopped into florets
1 pound ground lamb or beef (buy grassfed meat here) 
1/2 cup onion, diced
4 tablespoons raisins
4 tablespoons soaked and dried nuts, chopped
2 cloves garlic, minced
2 teaspoons cumin (buy organic herbs and spices here) 
2 teaspoons oregano (buy organic herbs and spices here) 
2 teaspoons mint (buy organic herbs and spices here) 
1/2 teaspoon crushed red pepper (buy organic herbs and spices here) 
2 teaspoons salt
1 teaspoon pepper
2-4 tablespoons coconut oil (buy organic coconut oil here)
Optional: 4 hard boiled eggs, peeled and chopped

Tomato & Cucumber Relish Ingredients:
1 cucumber, diced
1 tomato, diced
1/8 cup red onion, minced (optional)
2 teaspoons lemon juice
2 teaspoons olive oil
2 tablespoons fresh parsley, minced (or 1 tablespoon dried)
Sea salt and pepper, to taste (sea salt can be purchased here)

Directions:
Combine relish ingredients in a small bowl and set aside to allow flavors to meld.
Melt coconut oil in large frying pan over medium high heat them saute onion until translucent. Brown meat. 
While meat is browning, pulse cauliflower in food processor (in 2-3 batches to avoid crowding and making mush) 10-15 times, until riced. Add riced cauliflower to frying pan and cook, stirring frequently until translucent (taste to test doneness!).
Note: You may need to use two frying pans to cook all the meat and cauliflower. Pour garlic, cumin, and crushed red pepper into a small bowl. Use a spatula to push meat and cauliflower to the side, then add a teaspoon of coconut oil to the space in the pan.
Pour spices onto oil and allow them to toast for a few seconds – you won't regret this step! – until fragrant.
Stir meat and cauliflower into spices then add the oregano, mint, and salt and pepper. Taste a small spoonful and adjust spices as desired.

Serve lamb and rice piled high on plates, topped with relish and if desired, chopped hard boiled eggs.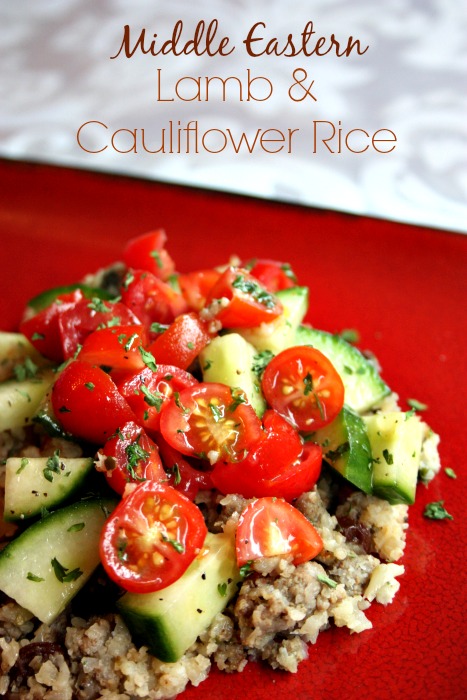 Download: 20 Gluten-Free Recipes From Around The World
Enter your information here and get this beautiful ebook directly to your inbox!
Please follow and like us: