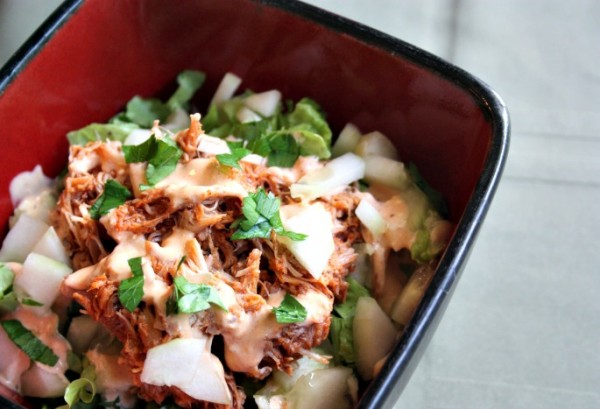 While eating healthy, one of the most rewarding experiences is finding a recipe that's even BETTER than the toxic, chemical-laden version we first enjoyed. And if it can be made in the crockpot, even better.


Paleo Crockpot Buffalo Chicken Salad

Ingredients for Chicken:
1 pound boneless skinless chicken thighs (find pastured chicken here)
2 cups homemade chicken stock or water (see recipe for easy chicken stock here)
3 garlic cloves, crushed
1/4-1 whole jalepeno pepper, to taste (amount of heat in individual peppers varies, so use carefully!)
1 bay leaf
1 tablespoon sea salt (sea salt can be purchased here)
1 teaspoon pepper
1/2 teaspoon mustard seeds or 1 teaspoon mustard (buy organic herbs and spices here) 
1 teaspoon thyme (buy organic herbs and spices here) 
One batch of Cara's Buffalo Sauce (we're dairy-free so we used olive oil instead of butter – still tasted great!)

Ingredients for Salad: 
1/4 cup homemade mayonnaise 
1/2 tablespoon apple cider vinegar
1/8 – 1/4 teaspoon paprika (buy organic herbs and spices here) 
1/4 teaspoon garlic powder or 1 clove garlic, minced
Veggies for salad (shredded lettuce, cucumbers, celery, carrots, tomatoes, etc.)
2 tablespoons fresh parsley, chopped (optional)
1/4 cup bleu cheese, crumbled (optional) 

Directions:
Place all chicken ingredients except Buffalo sauce in a small crockpot and cook on low until chicken is cooked through and shreds easily with a fork. Remove chicken thighs to a bowl then pour Buffalo Sauce over top. Use two forks to shred chicken, mixing in the buffalo sauce thoroughly.
In a small bowl, combine mayonnaise, vinegar, paprika, and garlic. Place salad ingredients in a large bowl, top with chicken, and drizzle with dressing and optional bleu cheese and parsley. Enjoy!
(Variation: Use a glass bowl and turn this into a pretty layered salad.)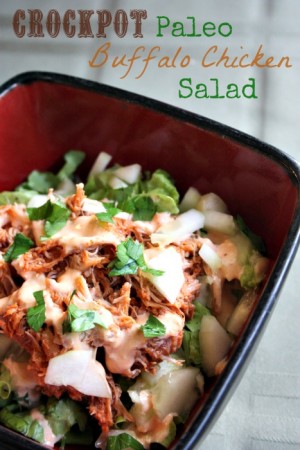 Grain-Free Holiday Desserts, Breakfasts, and Side Dishes
Candied Butternut Squash, Zesty Lime Custard, Honey-Sweetened Pecan Pie, Slow Cooker Cranberry Sauce, and 10 more holiday recipes that you'll love for the way they taste and the way they make you feel.