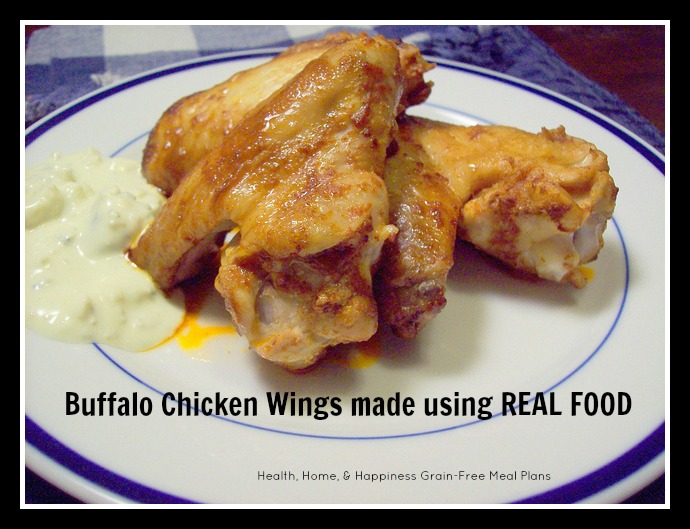 Buffalo Chicken Wings are a fun messy treat perfect for football season, having guests over, and potlucks.  These are favorites with my kids, though they had a hard time wrapping their heads around not using a fork to eat since that's so often emphasized ;)
Served with sliced veggies (which can also be dipped in the blue cheese dressing), this meal is simple to put together.  Save the bones to make stock with.
Buffalo Chicken Wings with Blue Cheese Dressing
Makes about 15-17 wings
Buffalo Sauce:
1/4 cup melted butter
1 tablespoon ground cayenne pepper (buy organic herbs and spices here)
1 tablespoon paprika (buy organic herbs and spices here)
2 tablespoons apple cider vinegar
1 tablespoon tomato paste (purchase BPA free tomato paste here)
Blue Cheese Dressing:
1/2 cup mayonnaise (mayo recipe)
1/2 cup yogurt (yogurt recipe)
1/2 cup crumbled blue cheese
3- 3 1/2 pounds chicken wings, tips removed (about 15-17) (buy chicken here)
coconut or olive oil (buy coconut oil here, olive oil here)
Directions
Buffalo sauce: Whisk all ingredients in a bowl.
Blue cheese dressing: Stir ingredients together in the serving bowl, leave some lumps.
Wings: Spread chicken wings in a single layer on a large baking sheet. Drizzle with 1 tablespoon oil and season with salt and black pepper.
Bake at 425 degrees for 25 minutes, turning once, or until golden brown and crispy. Cover with Buffalo Sauce. Serve with Blue Cheese Dressing.