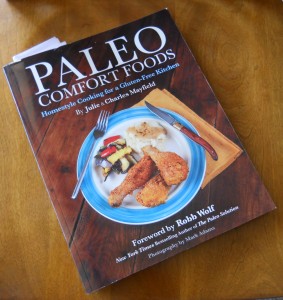 Paleo Comfort Foods is a must have book for anyone who is or wants to go grain free. The enticing full color pictures on every page, clear directions, and easy to find ingredients make cooking grain free exciting! I've had grain-free-wannabe friends take a look at this book and exclaim that they'd want to cook something from this book every night!
The book is a great resource, covering Starters and Snacks, Sauces and Staples, Soups and Salads, On the Side, Main dishes, and Desserts.  My favorite aspect of the book is that nothing is too complicated and the ingredients are relatively easy to source.
The first recipe I made was the Brussels Sprouts Slaw, which I'll share for you, with my minor adaptations to the instructions.  I brought the finished salad to share with Kendahl of Our Nourishing Roots, to which she dubbed me 'Queen of Savory Dishes' :) With the help of a food processor to slice the brussels sprouts, this dish is quick to put together.  I am not a big fan of raw veggies, that's what appealed to me about this salad- it's lightly sauteed.
Brussels Sprouts Slaw
1 cup pecan halves (buy nuts here)
1/2 pound bacon, cut into pieces (buy additive free beef or pork bacon here)
1/4 cup prepared mustard
2 tablespoons apple cider vinegar
The juice of 1 lemon
1/4 cup olive oil
1/4 teaspoon freshly ground black pepper (buy herbs and spices here)
1-1/2 lbs brussels sprouts, stems trimmed off
2 green onions, cut on the bias
Instructions:
Heat a large skillet to medium high, add pecan halves and toast, stirring constantly, until fragrant (3-5 minutes) and remove.  Turn heat down to medium and fry bacon until crisp. As bacon fries, slice brussels sprouts, either by hand or with the slicing blade on a food processor.  When the  bacon is crisp, remove from pan and allow to drain.  Pour out most of the grease, leaving only about a tablespoon.  Add sliced brussels sprouts and green onions and saute until softened.  As the brussels sprouts cook, whisk mustard, apple cider vinegar, lemon juice, olive oil, and black pepper in a bowl.  Once brussels sprouts are soft, combine the greens, dressing, and toasted pecans and toss. Serve warm or cold.
To find other yummy dishes such as this, buy Paleo Comfort Foods here!
5 Delicious Keto FatBombs
Sign up to get my 5 Best Keto Fatbomb Recipes sent right to your inbox! Plus a bonus pizza recipe :)
Please follow and like us: