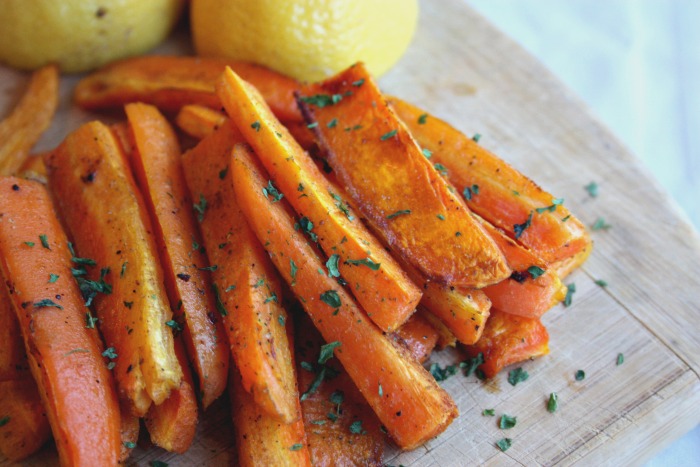 Roasted Cumin Carrots
I often serve this kid-friendly side dish for simple family dinners, or while having guests over.  The sprinkle of lemon juice is optional, but if you have it on hand it's delicious!
Guest recipe by Stephani Jenkins
Ingredients:
1 pound carrots
1/2 tablespoon cumin
1/4 teaspoon cinnamon
coconut oil
salt and pepper, to taste
Sprinkled lemon juice and chopped parsley, optional after baking
Directions:
Preheat oven to 400 degrees Fahrenheit.
Chop the carrots into match sticks, then pile them on a baking sheet. Drizzle with coconut oil (if carrots just came from the fridge, pop them in the preheating oven to warm up a little before adding coconut oil). Sprinkle with spices and use your hands to toss everything together until carrots are evenly coated (be careful of the hot pan). Arrange them in a single layer on the baking sheet.
Bake for 15-20 minutes, until edges are lightly browned.
5 Delicious Keto FatBombs
Sign up to get my 5 Best Keto Fatbomb Recipes sent right to your inbox! Plus a bonus pizza recipe :)
Please follow and like us: