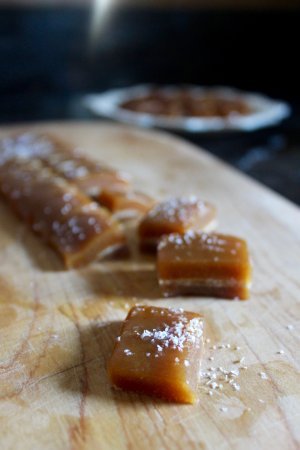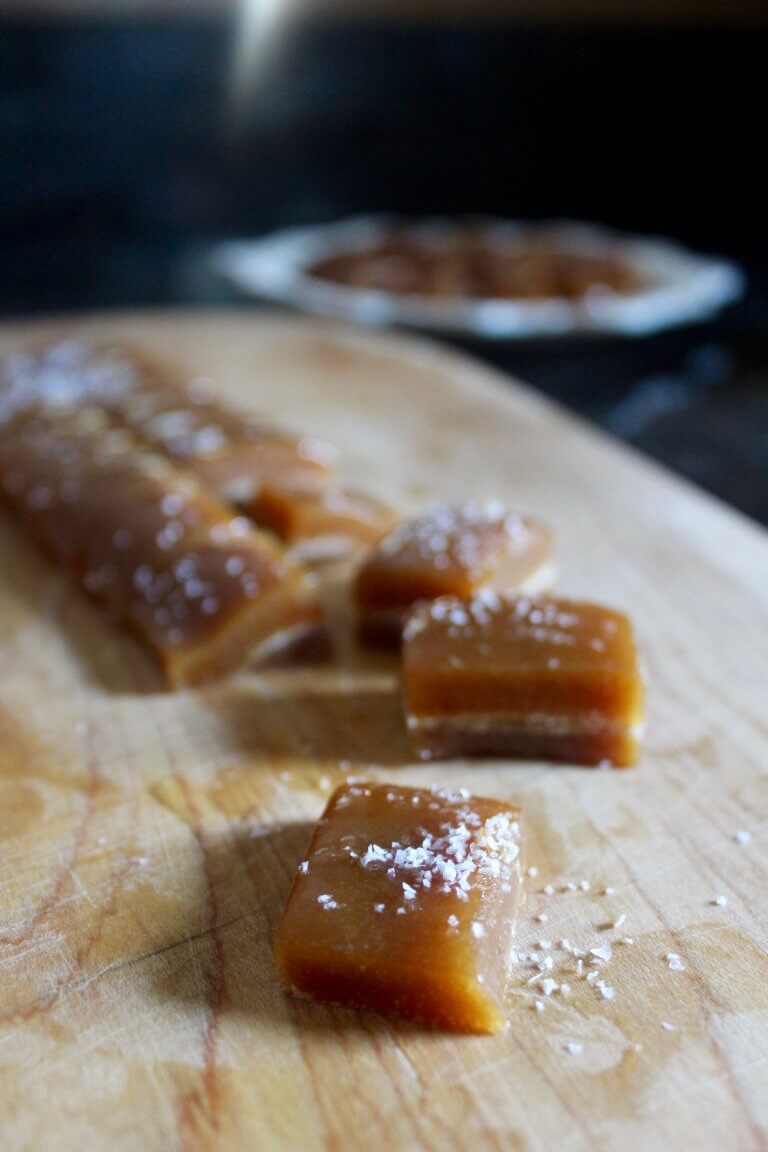 The secret ingredient in these soft caramels is coconut nectar, which inhibits the sugar from re-crystalizing before we want it to, without using corn syrup or glucose syrup. These delicious soft chewy caramels are sure to be a hit on your treat plate, or served from a candy bowl this winter.  This recipe is easy to follow, and the touch of salt just perfectly complements the sweet buttery chewy candy.  This is my #1 recipe and most frequent request from the book Candy Making Without Corn Syrup.
Dairy Free? Yes, you can have delicious soft caramels too! The recipe is here.
As we noted when we talked about gourmet candy making without corn syrup, make sure you follow the directions exactly!
An extra stir, an ingredient added too late, or a temperature exceeded will all cause your caramels to turn from anything from caramel sauce gritty sticky caramel to burnt hard toffee.  The directions aren't difficult, they just require you keep an eye on the thermometer and aren't distracted during the making.
Equipment needed:
From the Book:
Candy Making Without Corn Syrup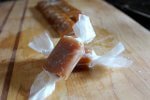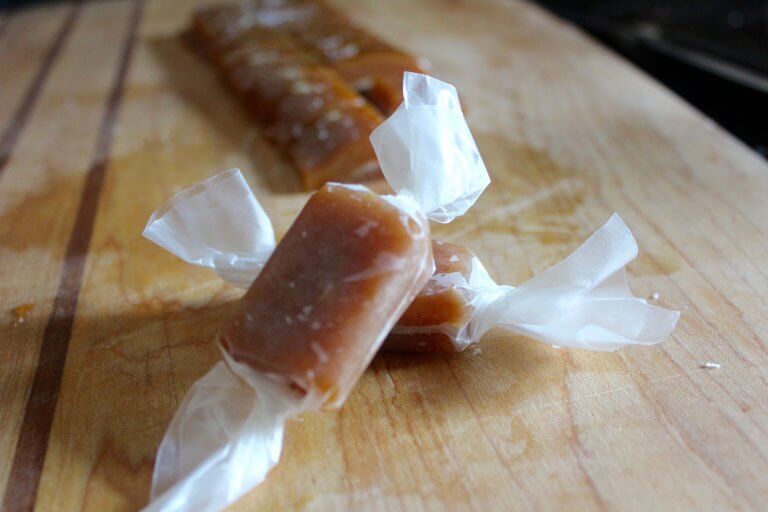 Soft Caramels with Sea Salt (corn-syrup free recipe)
Classic soft caramels are perfectly chewy, and slightly salted to enhance their sweetness. This recipe is also free of corn, nuts, eggs, and gluten.
Print
Instructions
In the pot of your Instant Pot, or in a stock pot for use on the stovetop (choose a large one, it will bubble up in later steps), combine sugar, coconut nectar, and a pinch (about 1/4 teaspoon) sea salt with a whisk until all the sugar is wet.

Remove whisk, clip on candy thermometer so that the bulb is in the sugar mixture but not touching the bottom of the pot, and turn the Instant Pot on to Saute- Medium. Alternatively, heat pan on the stovetop over medium heat.

Heat until just before hard crack stage (295* F). Do not stir at all during this time.

As the sugar mixture heats, use a small saucepan to heat the cream and 1 tablespoon butter over medium-low heat, stirring occasionally. Heat until it starts to boil, then turn heat off.

Add vanilla to cream after heat is off.

As soon as sugar mixture reaches 295*, remove from heat (place on a trivit or hot pad) and slowly pour in in hot cream/vanilla mixture. Be careful, there will be lots of steam and the mixture will increase in volume.

Stir for a couple seconds to mix cream into the sugar mixture and return to medium heat.

Cook until caramel mixture reaches 260* F. Do not stir during this cooking process.

As the caramel mixture cooks again, line a loaf pan or 8x8 pan with parchment paper, and grease with coconut oil or spray with cooking spray. Alternatively, a silicone pan can be used without the need to line or spray.

Once caramel reaches 260*, add the second tablespoon of butter and pour into prepared pan. Do not scrape the edge of the pan, only pour off what comes out on its own.

Place pan with caramel on a cooling rack and allow to cool until it comes to room temperature. Cover and transfer to the fridge.

After caramel is set, 4-8 hours later, sprinkle with remaining sea salt flakes and pop out of the mold by lifting up the parchment or inverting the silicone pan.

Use a knife that you have run under hot water to heat up to cut into 1" squares. Wrap in waxed paper, cellophane, or parchment paper squares individually to keep caramel from sticking together. Caramel can also be served in small parchment paper mini muffin cups.
Nutrition Facts
Soft Caramels with Sea Salt (corn-syrup free recipe)
Amount Per Serving (1 square)
Calories 35
Calories from Fat 9
% Daily Value*
Fat 1g2%
Cholesterol 6mg2%
Sodium 4mg0%
Potassium 2mg0%
Carbohydrates 4g1%
Vitamin A 65IU1%
Calcium 2mg0%
* Percent Daily Values are based on a 2000 calorie diet.
Grain-Free Holiday Desserts, Breakfasts, and Side Dishes
Candied Butternut Squash, Zesty Lime Custard, Honey-Sweetened Pecan Pie, Slow Cooker Cranberry Sauce, and 10 more holiday recipes that you'll love for the way they taste and the way they make you feel.
Please follow and like us: