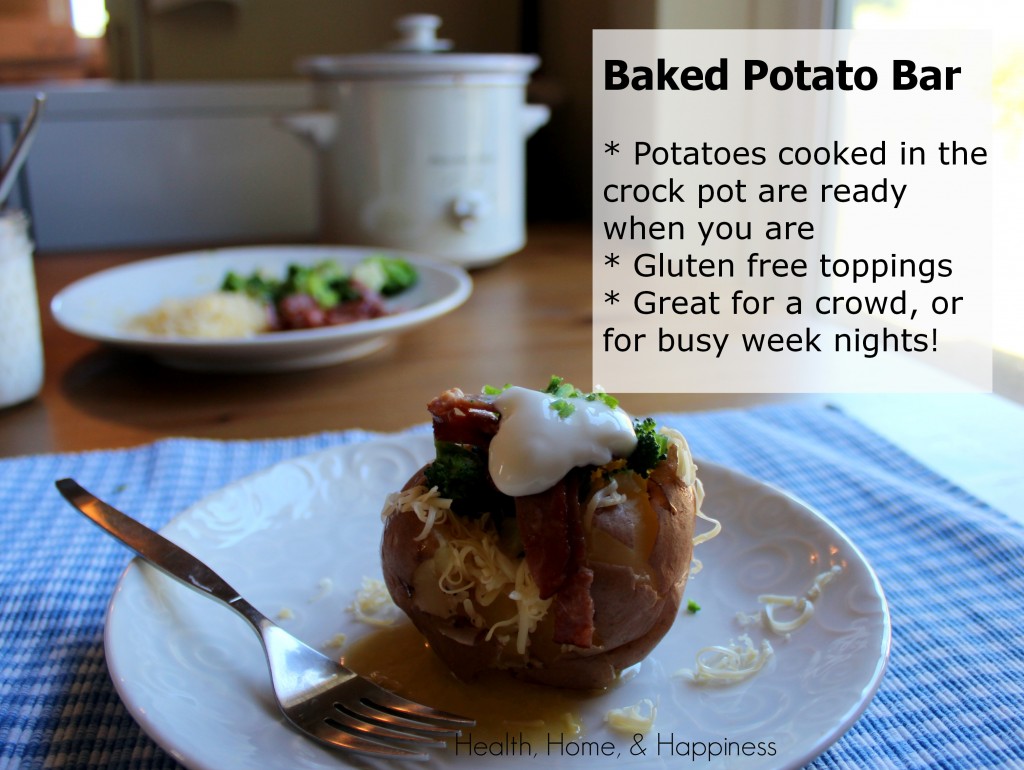 I love 'baking' potatoes in my slow cooker. I put them in the morning, and then the oven is free for other things, or if we'll be coming home around dinner time, dinner is all ready for us.  
This Baked Potato Bar is simple to put together, you can either grate the cheese, cut up the broccoli, and fry the bacon while the potatoes are resting right before dinner, or you can prep it in the morning and really have nothing left to do at dinnertime.  It's also nice because everyone can add what they want to their potato.  I like mine loaded- here it has butter, cheddar cheese, turkey bacon, broccoli, sour cream, and chives. 
If you have chili, you can have this the next night with leftover chili on top.
Delicious!

Ingredients:
1-2 Potatoes per person
Topping suggestions:
Butter!
Bacon (find beef bacon here)
Cheddar Cheese (I recommend cheese from grassfed cows, kerrygold is a good brand)
Chives
Green Onions
Chopped Broccoli
Sour Cream (Or here's the recipe homemade yogurt, which we use)

Directions:
Scrub potatoes, and then prick a few times with a fork.
Place in the crock pot, I've seen other people rub them with butter and sea salt/pepper and then wrap in foil, but I personally just put them plain in the crockpot with no foil and season them later.
You want your crockpot to be about 3/4 full, it doesn't be exact but if it is completely full they may not cook well, and if it's not full enough the potatoes tend to burn on the bottom.
Turn on low for 6-8 hours.
Right before you're ready to eat, set potatoes out to start cooling, and prepare toppings.
Cut potato across the top, and squish the ends to open it up.
Top as desired and enjoy!
Crockpot recommendations: 
I use this smaller crockpot for our family of 3, this is a larger crockpot for feeding a larger family or having friends over for dinner!
More info:
Potatoes are one of the first foods you can introduce when coming off GAPS. For more info, visit this link. 
More slow cooker recipes in the Grain Free Crockpot Recipe Roundup!
5 Delicious Keto FatBombs
Sign up to get my 5 Best Keto Fatbomb Recipes sent right to your inbox! Plus a bonus pizza recipe :)
Please follow and like us: