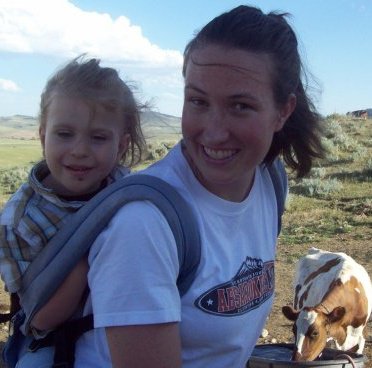 (picture: She pretty much lived in the Ergo – it provided sensory input that she craved, and kept her from getting into things or running)
Having a toddler on the spectrum made me change our home to be efficient, minimal, and child proof in ways that most people never think of. Children with special needs often have sensory processing issues too, which means what looks a little messy to you looks like complete paralyzing chaos to them. Toning down the toys, clutter, and decorations can help children with special needs feel more at home in their own homes. They also often have impassivity issues typically reserved for the under-3-feet-tall set, well into the ages where physically they can reach more, climb more, and no longer nap!
When you're maxed out parenting a child with challenges, it's helpful to take a day or 5 and clear all the clutter to streamline your life. When we started GAPS I readily traded my sewing and knitting hobbies for new cooking and sourcing natural food hobbies.
Crafts
It's worth it to take a deep breath, realize that the craft store will always have more yarn, fabric, and scrapbooking material, and hold a yard sale or donate the majority of your supplies. Keeping a few basic tools like a sewing machine, rotary cutter and mat, scrapbooking scissors, etc, are small and easy enough to store in a box, but the fabric, paper, and other consumables will make your life much simpler if they're not in multiple storage containers in the attic to get knocked over as you get the Christmas decorations.
For keeping up with the kids' crafts, see this post by Nourishing Minimalism.
Kitchen
Going through your kitchen equipment and making a list of things that you want to replace with a better model (pots, pans, vegetable peeler, knives) and then tossing any duplicates as you replace them. I had 'backups' of plastic serving spoons and spatulas, serving platters, even my old nonstick pans that were never used, but made my dishes take twice as long to put away out of the dishwasher every morning. When you're cooking a lot as a lot of us do who are doing special diets for our children, it might seem like more is better, but more items just get in the way more often and you will still reach for the same 10 kitchen tools over and over.
Toys
While my daughter was young and very easily overwhelmed with visual clutter, I kept toys in the living room and completely out of the bedroom. She had a blankie and a very minimally decorated bedroom with just the kids' beds in it. Even the dressers stayed in my room (that doubled to make it super easy to put away all the laundry- all the dressers were in the master bedroom and that's where we folded laundry).
When children are overwhelmed, or just when they're having trouble sleeping or need some time to cool off, a bedroom without distractions (or anything to take off the wall) prevents the chaos from escalating.
A smaller house
Having less means you can get by with a smaller house, which is helpful when you need to keep an eye and an ear out for a child that gets into everything. If the kids share a room (mine do, even though they could have their own rooms now) there are many opportunities for practicing getting along.  The whole family is more encouraged to get outside too, which is recommended by both Dr. Natasha for fresh air, and every occupational and physical therapist I've talked to for building muscle tone, increasing body awareness, and limiting the distractions that are abundant inside.
Does this sound like something you'd enjoy? Check out these new books on how to get a clean and organized home in 30-90 days by my friend Rachel here!


Look for more posts this month on how and why to own less:
Special Needs Children and the Benefits of Owning Less STUFF
Doing more, owning less
Choosing 'buy it once'
Appreciate habits
Why telling people about your goal may make you 30% less likely to achieve it
Teaching our children the value of not owning things
How to keep things off the floor when you have children
And more on children with special needs:
Please follow and like us: