If you're like me, you can't resist all the summer squash your neighbors are practically begging you to take off their hands. Who says no to free home grown food? And if you're like me and my family, by the end of the season you probably aren't a huge fan of anything that actually tastes like zucchini.
Except maybe chocolate zucchini bread, which of course tastes like cake.
This soup is an easy, frugal, flavor-packed way to eat your free vegetables without feeling like you're eating zucchini for the eleventh time this week. The ginger gives it a surprising but lovely kick, and the broth and veggies make it a powerhouse of homemade nutrition. I don't often make soup in the summer time, but there's something about this recipe – besides the abundance of squash in my fridge – that keeps me making it again and again.
Spicy Zucchini Crockpot Soup
By Stephani Jenkins, guest contributor
Ingredients:
4 medium-size zucchini or yellow summer squash, chopped
4 cups chicken or beef stock (see recipe here)
1/2 large onion, chopped
4 garlic cloves
1 tablespoon fresh ginger, minced (or 1 teaspoon dried)
1 teaspoon cumin (buy organic herbs and spices here) 
1 teaspoon sea salt (buy organic herbs and spices here) 
1/2 teaspoon pepper (buy organic herbs and spices here) 
Garnish:
Beef or turkey bacon, crumbled (buy grassfed meat here) 
Chives or scallions, chopped
Monterrey jack cheese, shredded
Directions:
Place all ingredients except salt and pepper in a crock pot and cook on low 6-8 hours. Add salt and pepper then puree soup with a stick blender until smooth. Serve in bowls and garnish as desired.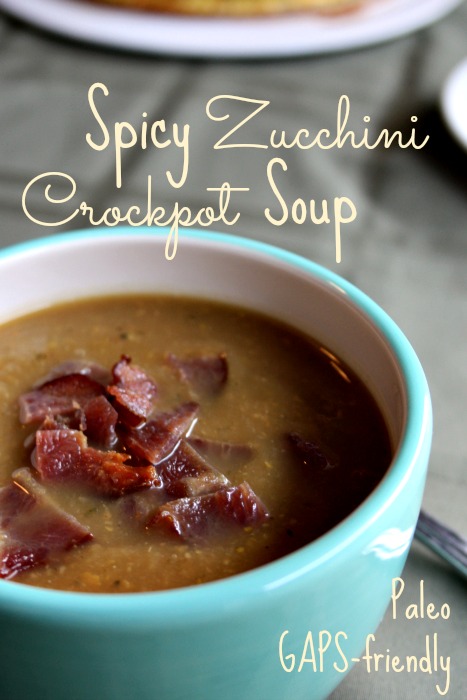 Please follow and like us: