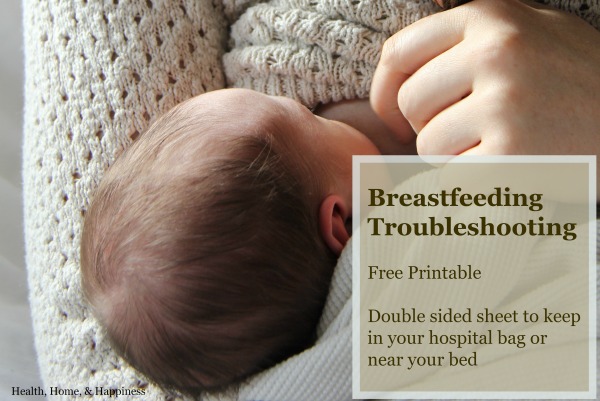 The breastfeeding relationship can either be the easiest thing in the world (Look at this! Milk! Right here in bed! Pre-made and pre-warmed!) or can be the most frustrating thing ever (This is supposed to be natural! And it feels like the most unnatural thing ever!).
For moms who want some help at their fingertips to navigate those first few days, and then later help them pump if desired, this printable is for you.  Print it out, it's just one page if you print double sided, and keep it in your hospital bag. Some hospitals have fantastic lactation consultants, some just have a RN that happened to breastfeed for a few weeks as their 'consultant' that may give out poor advice.
This printable goes over the following issues, with a few different things to try to solve them:
* Problem: Baby won't latch
* Problem: Nursing hurts
* Problem: Baby isn't gaining well
* Problem: Baby is fussy
* Problem: I don't think I'm making enough milk
* Problem: I can't get anything out when I pump
This is also part of my Empowered Mother Ebook it'll be in the back as a bonus section. Learn more about the book here.  It's coming along quickly right now, I'm getting more and more excited as it progresses!
5 Delicious Keto FatBombs
Sign up to get my 5 Best Keto Fatbomb Recipes sent right to your inbox! Plus a bonus pizza recipe :)
Please follow and like us: