Above: Homemade kefir pops made simply with milk kefir and stevia, though blended fruit would be delicious as well! Popsicle molds found here 
Some articles and recipes that I know you will enjoy:
You can make homemade jello – Ann Marie shows you how! I'm planning on trying carrot juice and will be using beef gelatin in ours- can't wait!
Suffering anxiety or depression? Kelly has 20 tips for getting help for depression naturally on her blog- great to have a mental note of these tips to cope with stress even if it's not something you often struggle with.
After all the work you do sourcing high quality nutrient dense foods, make sure you choose safe cookware to prepare it to retain nutrients and avoid toxins as much as possible.
And to finish it up, a meatza recipe – a hearty grain free weekend meal from Food Renegade! Doesn't that look great?
How to Cook Real Food, an amazing cooking class by Nourished Kitchen is opening up again!
Don't forget to enter the Mightynest.com Stainless Steel Pie Pan Giveaway!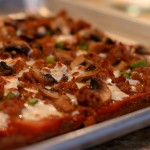 5 Delicious Keto FatBombs
Sign up to get my 5 Best Keto Fatbomb Recipes sent right to your inbox! Plus a bonus pizza recipe :)
Please follow and like us: