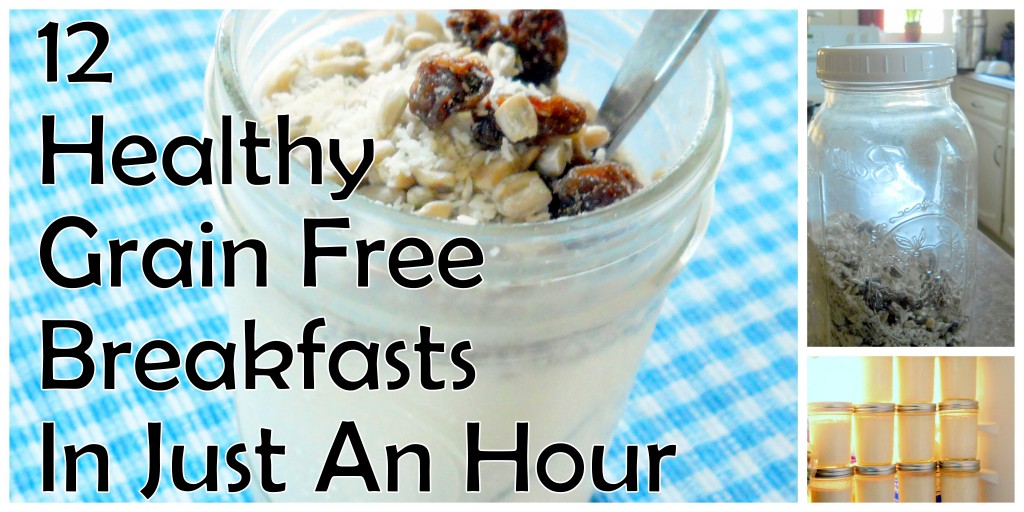 This is something from the Grain Free Freezer Cooking Guide that we have been eating often lately.  Homemade yogurt and homemade grain free granola makes a simple delicious meal on the go.  When yogurt is incubated in 8-ounce or 4-ounce mason jars, this is an easy meal to pack along as well.
Yogurt is an awesome food- with the added cream it is rich in fats to keep you full all morning long, is loaded with protein, probiotics, and calcium as well.
Hands on time, including cleanup, here is less than an hour. I usually start my yogurt heating (see the link below to instructions to make yogurt) on medium-low while we start making lunch, turn it off after lunch, and then by the time the meal is cleaned up the milk is cooled enough to pour into jars.  This can also all be worked into more comprehensive (but more productive) cooking blocks as outlined in the Grain Free Freezer Cooking Guide.
Directions:
Make yogurt with 1/2 gallon whole milk plus 1 pint of heavy cream.  Fill twelve 8-0unce mason jars a little more than 3/4 full to save room for granola or other toppings. (yogurt making directions are found here, and in the freezer guide as well)
Make granola by mixing shredded or flaked coconut, dried fruit, and chopped  crispy nuts or sunflower seeds (1 cup each).  Store in a gallon ziplock in the freezer, or in a half gallon mason jar on the counter if you plan on going through it quickly as we do.
Before eating, add granola to yogurt and stir in.  Enjoy!
Kids Help in the Kitchen
Kids love to help, but sometimes we're so busy trying to get things done that we can't think of ways to include them. For this recipe have young children help:
Plop a bit of yogurt starter in each mason jar before placing in the dehydrator

Move jars to the dehydrator once they have had lids put on tightly
Move jars from dehydrator to fridge once they're done
Measure 1 cup each of the granola ingredients.
Gently shake granola ingredients together once an adult has secured the lid
Grain Free Freezer Cooking Guide

The freezer cooking guide is full of recipes like this that can be made ahead of time for busy families, couples, or singles.  Like this recipe, they don't necessarily involve the freezer every time ~smile~.
Not only are recipes included, but there are 'blocks' of cooking with recipes grouped together so that you can only work on a few hours' of things at a time, then clean up, without being exhausted with an entire cooking day.  Click here to learn more and purchase!
Recipes are GAPS and SCD compliant, and most have dairy free options.
Free Ebook this month only: 20 Grain-Free Breakfast Recipes
20 Delicious Breakfast Recipes suitable for GAPS and Paleo diets!