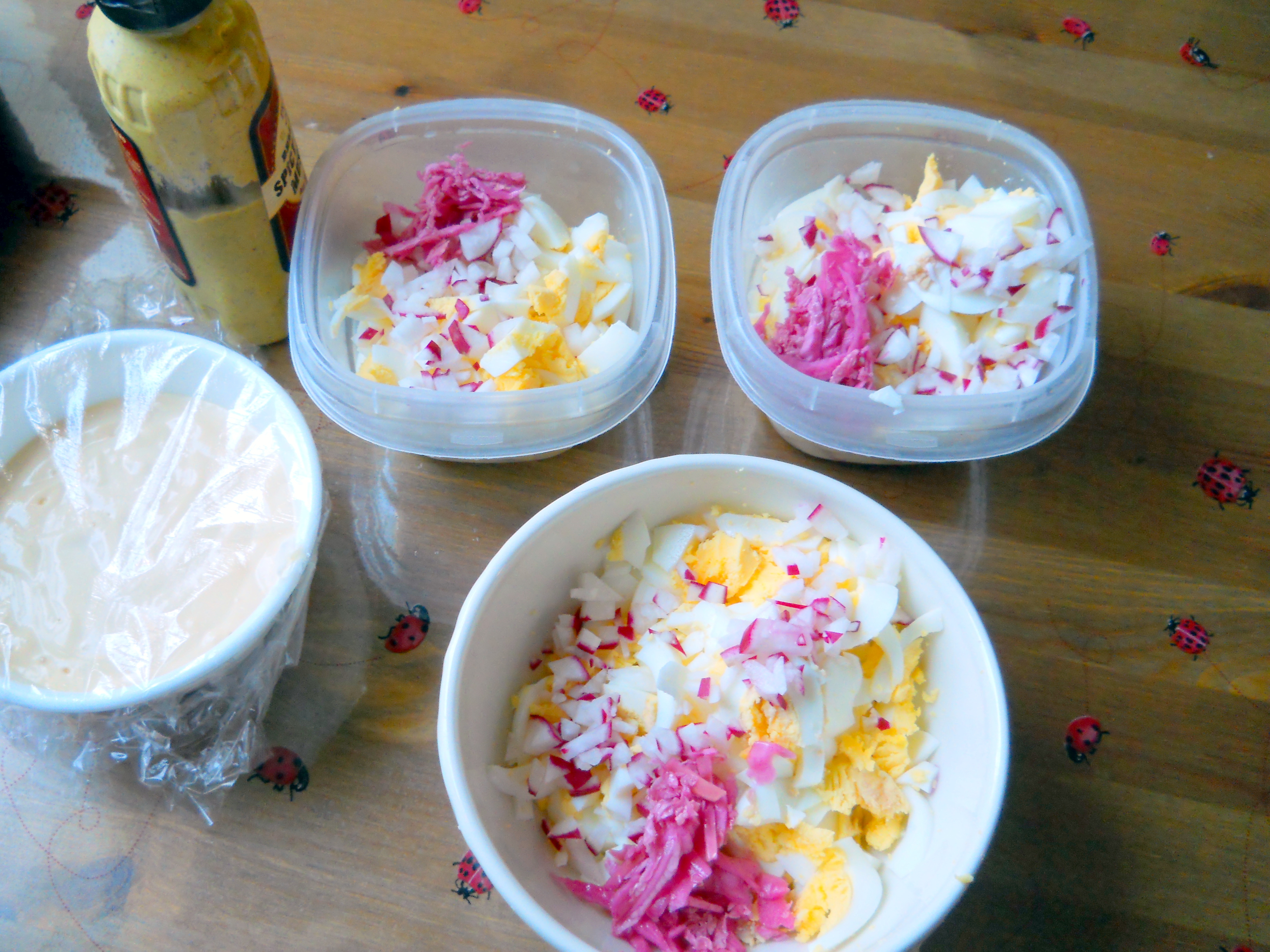 After the holidays we are usually ready to move on to fresh simple meals. I just made a batch of egg salad (enough to eat for lunches for the next couple days) with protein rich local eggs, sweet onion, probiotic filled sauerkraut  and homemade mayonnaise made with local olive oil.  
I'm sure you're ready for some simple wholesome meals that are easy to grab out of the fridge as you put away holiday decorations and shift back into normal routine.  
Egg salad
6 hard boiled eggs, peeled and chopped or a combination of hardboiled eggs and leftover chicken or turkey to make 2 cups
4 tablespoons homemade mayonnaise (see below) – use more if needed to reach desired consistency
1/2  sweet onion, finely diced
1/2 cup sauerkraut, juice drained (do not include juice)
Chopped (soaked and dried) pecans (optional)
Sliced black olives (optional)
2 stalks celery, thinly sliced (optional)
Mix all ingredients. Serve in a lettuce wrap or just eat out of a bowl with a fork.
Homemade Mayonnaise
(this recipe is in my Cookbook too! – the whole cookbook is filled with simple healthy clean eating grain free recipes)
Ingredients:
2 raw farm fresh eggs, room temperature
2 cups oil; olive, grapeseed, or sunflower oil
Pinch of salt
1 tablespoon whey (optional)
Directions:
Use two room temperature raw eggs that have been free range, preferably where you know where they came from.
2 cups of oil- Olive oil makes a more flavorful mayonnaise, and that's what we use. Grapeseed oil has less of a flavor, but the brands of extra virgin grapeseed oil that I've used have been bright green.
Put the eggs in the food processor or blender, turn on, and take a full minute to pour in each cup of oil. I have a clock with a second hand up above my counter, that helps.
By the time two minutes are up (or one minute for one egg/cup of oil) it should be thick! In my experience you have to pour it slowly- dumping it all in at once and then letting it run for a minute doesn't seem to work.
Then I add a small pinch of sea salt and let it mix in.
It does thicken a little more in the fridge.
 Need a little help in the kitchen?
Grain Free Meal Plans incorporate preparation instructions into every day kitchen work- so you have the recipe for the mayonnaise, tips on how to most easily hard boil eggs, remember to use up leftovers from previous meals, and have a seasonal variety of recipes so nobody gets bored all in one place.  Click here to check them out!
5 Delicious Keto FatBombs
Sign up to get my 5 Best Keto Fatbomb Recipes sent right to your inbox! Plus a bonus pizza recipe :)
Please follow and like us: