Tritip is a popular large cut in the western US due to its inexpensive flavorful nature, forgiveness with cooking.  This large steak-like roast is also known as 'the California cut' or 'triangle cut' and is available from ButcherBox as well as local grocery stores.
Tritip is SO good! It has the tenderness of steak with the inexpensiveness of a roast.  The larger size makes it not only forgiving to cook, but it also feeds a crowd with one cut.
If you can, select a tritip roast with the fat cap on it as pictured. Placing the fat up as you roast the tritip in the oven bastes the meat to lock in flavor and tenderness as the roast cooks.  It also provides that glorious buttery finish without adding anything other than salt!
If your tritip does not have a fat cap like this, you can mimic it by rubbing your roast with 2 tablespoons soften tallow, bacon grease, or ghee before baking.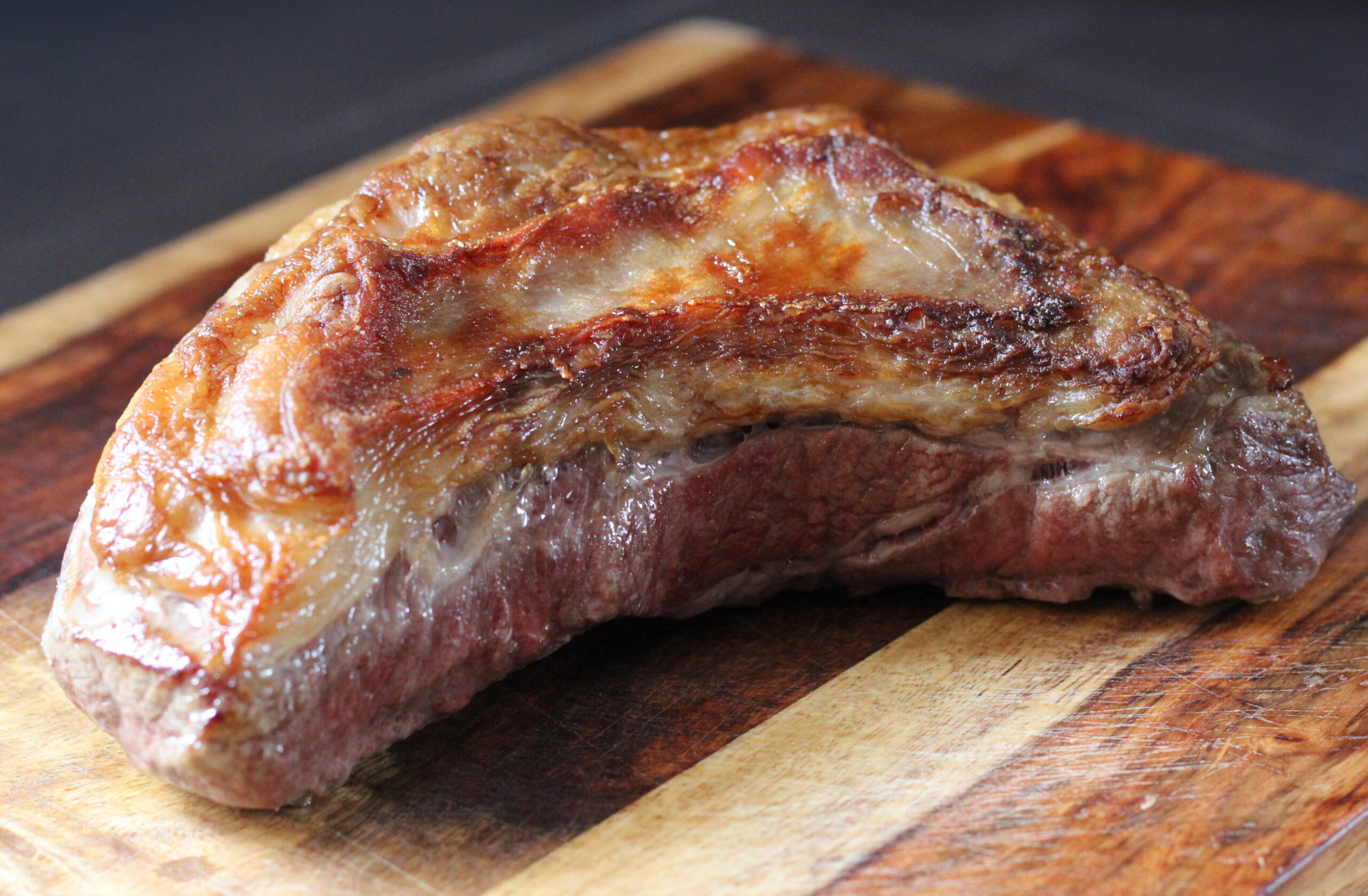 Just Meat and Salt Recipes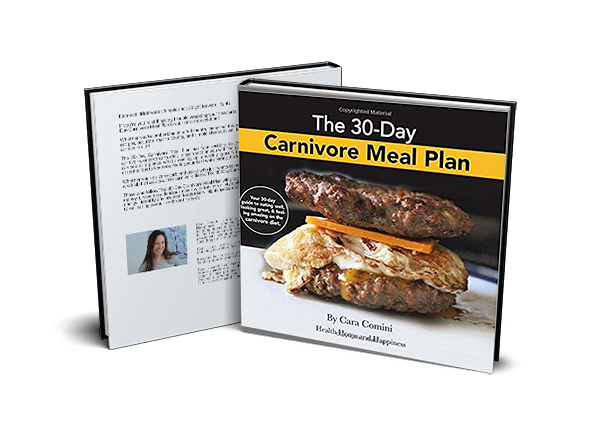 Yes, herbs and seasonings are fun and add flavor and variety.  However, seasoning high quality meat with just sea salt allows the meat to really shine as the main attraction, while simplifying your meal prep immensely.
All too often we overpower and overcomplicated delicious cuts of meat by messing with them too much.  Going back to the basics of cooking with just salt is allergy friendly.  You may also find that you and your family prefer it!
Seasoning tritip with just sea salt is our family's favorite, so I'm sharing this simple recipe with yours as well.
This tritip recipe is one of the many meat-and-salt recipes available in my 30-Day Carnivore Meal Plan.  If you'd like to go back to the allergy-friendly basics, you can find 9 other simple and delicious video recipes for cooking with just meat and salt in the Carnivore Training Wheels Class.
Learn more about the Carnivore diet: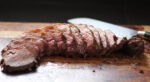 Tritip, Baked
Tritip roast is one of the more flavorful less-expensive cuts of meat. Mastering your tritip game is a skill you want to develop- this cut of meat is not only perfect for the carnivore diet, but it is great for feeding company as well.
Print
Ingredients
3

pound

tritip roast

1

tablespoon

tallow, ghee, or bacon grease

softened, more if your tritip has been trimmed of most fat.

1/2

teaspoon

sea salt

to taste
Instructions
Preheat a skillet to medium-high heat. Preheat oven to 350*

Cover tritip with sea salt and softened fat, on both sides. Allow to rest for 5 minutes as the skillet completely preheats.

Placing fat-cap down, sear the tritip in the skillet for 3-4 minutes, or until golden.

Flip onto a parchment-covered baking dish. Bake, with seared fat-side up for 10 minutes per pound, or 25 minutes for a 2-1/2 pound tritip; 30 minutes for a 3-pound tritip.

After baking, allow to rest for 10 minutes before slicing across the grain of the meat and serving.
Recipe Notes
Grilled Tritip: For best results, allow beef to come to room temperature before cooking (sit out for 1 hour). Salt meat liberally on all sides. 
Preheat the grill to medium-high. Grill for 5 minutes per side over medium-high heat to make a beautiful crust, flipping only once. Remove to indirect heat (move the roast so that it isn't over the coals or the lit element in a gas grill) and continue cooking until internal temperature is 130* F for medium rare, about 10-15 more minutes.
Slow cooker Tritip: Salt tritip and then cook on high for 4-5 hours, or low for 8-10 hours. Reserve juices and fat to pour over meat. Shred with forks, adding juices back in to shredded meat.
Nutrition Facts
Tritip, Baked
Amount Per Serving (1 g)
Calories 373
Calories from Fat 171
% Daily Value*
Fat 19g29%
Cholesterol 152mg51%
Sodium 331mg14%
Potassium 728mg21%
Carbohydrates 1g0%
Protein 47g94%
Vitamin A 58IU1%
Calcium 54mg5%
Iron 3mg17%
* Percent Daily Values are based on a 2000 calorie diet.
Other simple meat-based recipes:
Please follow and like us: