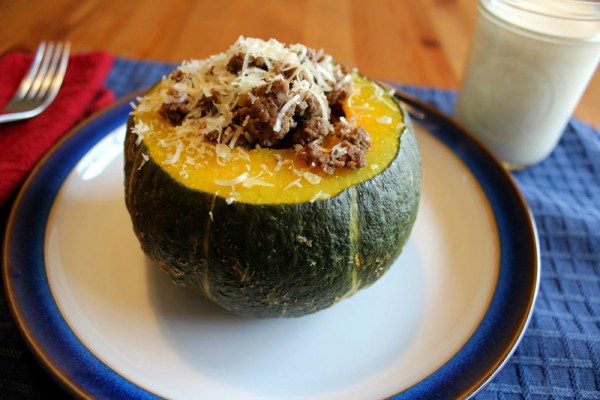 Stuffed winter squash is a delicious meal that's simple to put together, yet dressy enough for company. Each person gets an individual serving in a squash bowl, which the kids love! I made this beef stuffed kobacha squash topped with Parmesan cheese on a cold weekend afternoon, pup enjoying the view of the wind in the tree outside and children making houses and jets out of Legos on the floor in the living room adjacent to the kitchen.
Kobacha squash is a sweet and mild winter squash that can be found in soup-bowl sizes, which makes it idea for stuffing. If you can't find kobacha squash, an acorn squash halved lengthwise (one half per serving) can be substituted. The grassfed beef is seasoned and winter veggies added to give it flavor and lightness without gluten or grains.
While we are not strictly grain free any more, my daughter spent over 2 years on the Gut and Psychology Syndrome (GAPS) diet, starting with the GAPS Intro diet, and slowly adding in foods as she could tolerate them.  During this time we became die-hard fans of winter squash, kobacha is my favorite for its smooth texture.
Beef Stuffed Winter Squash
Ingredients
4 small kobacha squash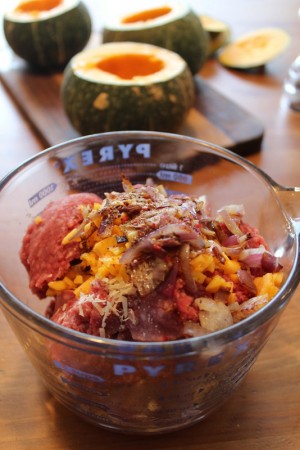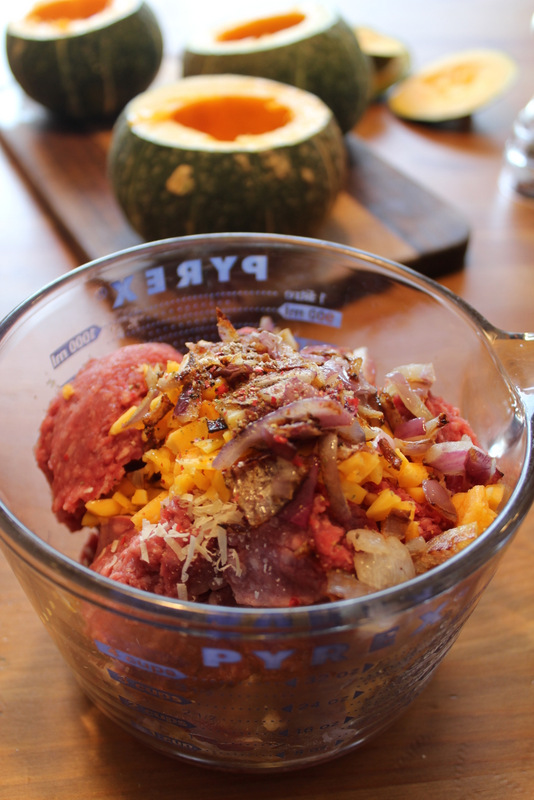 1 pound ground beef (see sources)
2 tablespoons butter, tallow, or coconut oil (see sources)
1 yellow onion, chopped
1/2 teaspoon sea salt (see sources)
1/4 teaspoon freshly ground black pepper (see sources)
1/4 teaspoon cayenne pepper (see sources)
1 clove garlic, crushed
pinch cinnamon (optional)
1 cup shredded parmesan cheese, divided
Instructions
Preheat oven to 350 degrees.
In a stainless steel or cast iron skillet, melt butter over medium heat, add in chopped onion and sautee until fragrant and soft.
As the onions cook, rinse the kobacha squash and cut the tops off. Scoop out the pulp and place in compost.
Scape any orange flesh from the stem end of the squash and dice to add to the meat mixture.  Discard the squash top after scraping out the flesh.
Place squash bowls cut-side down on a pie pan or casserole, add 1/2 inch of filtered water, and place in the oven for 30-45 minutes, or until squash still holds its' shape, but is soft and the inside is scoop-able with a spoon.
Mix diced squash, sea salt, black pepper, and cayenne with the ground beef.
Add beef mixture to the sauteed onions, still over medium heat, stirring to break up chunks. Cook until cooked through, stir in 1/2 cup parmesan cheese.
Remove cooked squash from oven, place on serving platter and fill with cooked beef mixture.
Top with parmesan cheese and serve.