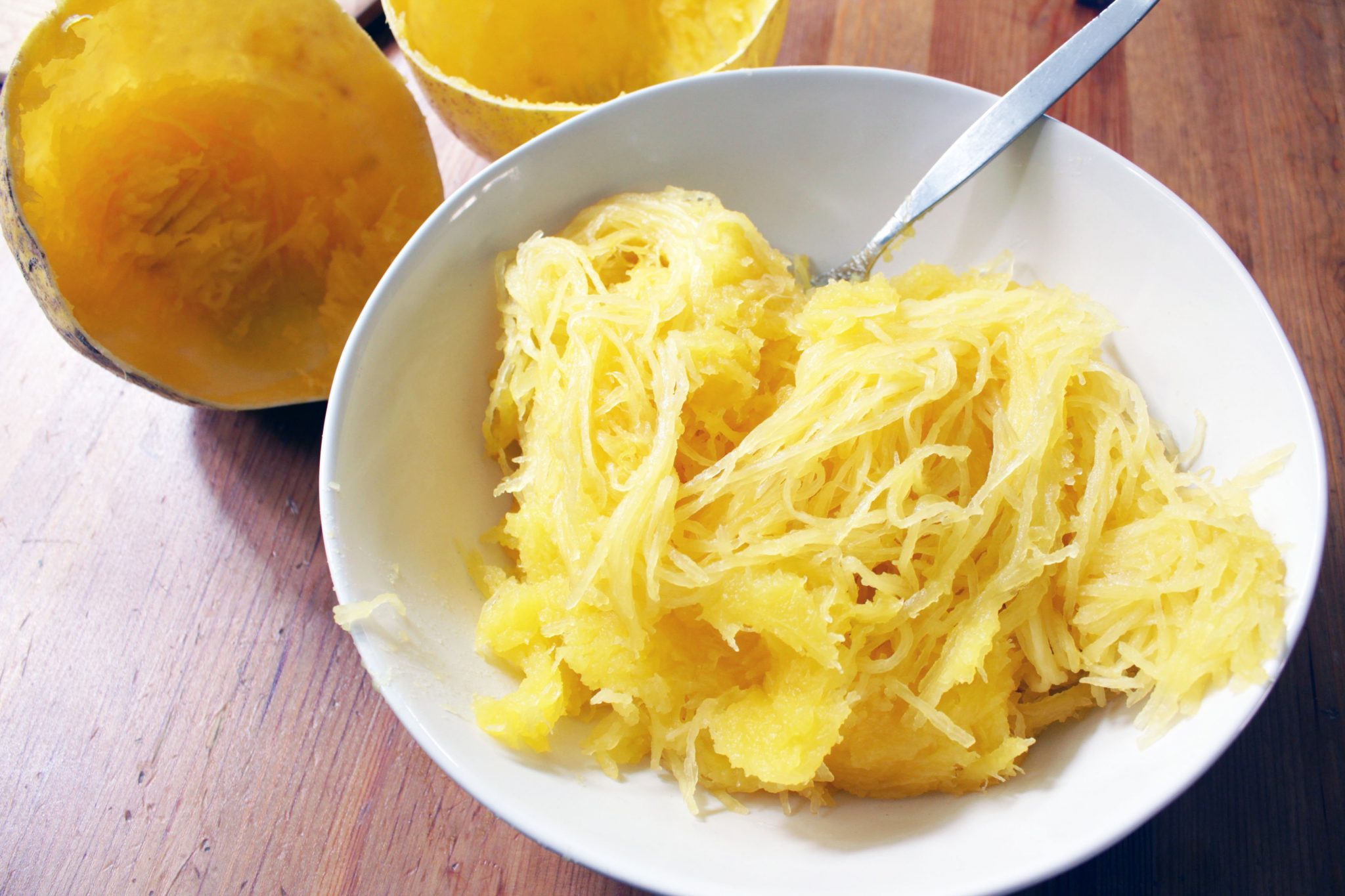 Spaghetti squash is a delicious substitute for pasta.  It's a fun stringy veggie that children and adults all love! I had to have a friend show me how to make it the first time – it's not the pulp that becomes the 'spaghetti' strands like I originally thought, but actually the flesh breaks into little noodle shaped stands after cooking.
Spaghetti Squash in the Instant Pot
Cooking hard winter squash in the Instant Pot (buy an Instant Pot here) is my favorite way to prepare it!  One of the barriers to cooking winter squash is the cooking time… and with the Instant Pot it just takes minutes.  If you're already using your Instant Pot for another recipe then the oven or slow cooker methods may work better for you.
Want to learn more about Instant Pots? Learn more here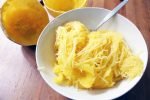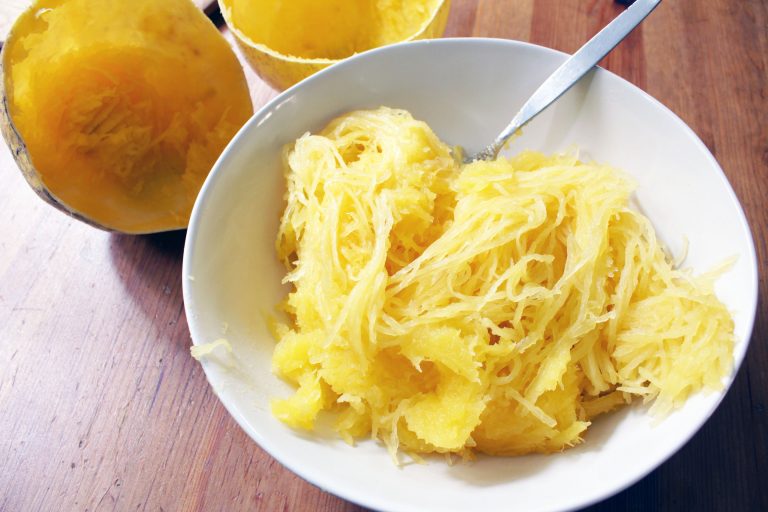 How to Cook Spaghetti Squash
You can use the oven, slow cooker, or Instant Pot to cook this sunny delicious winter vegetables.
Print
Ingredients
1

Spaghetti Squash

4-5 lbs
Instructions
Cut spaghetti squash in half crosswise (be careful!) using a large knife. Use a large spoon to scrape the strings and seeds, reserving if desired for roasted squash seeds.

Cook your spaghetti squash using your method of choice below.

Squash is done when it slightly gives and can be pierced with a fork, but is not mushy. Mushy squash still tastes good, but it won't have the defined spaghetti strands that are so unique. It will continue to cook a bit as it cools.
Instant Pot:
Fill pot with 2 cups of water (use the lines on the side of your pot), place a trivet or steamer basket in, and place squash cut-side down on the trivet or steamer basket in the Instant Pot.

Depending on the shape of your squash and size of your Instant Pot, you may need to do two batches to get the whole squash cooked - no worries, this is a very fast method and you'll have them both done in no time! If you can fit them both in and still close the lid, you can do both halves at once.

Close the lid, and set the vent to seal. Set the Instant Pot to Manual - 8 minutes* and allow to come to pressure. Naturally let the pressure come down for 5 minutes after it is done cooking, and then use quick release to release the rest of the pressure. Set squash aside to cool until comfortable to touch (15 minutes) before using a fork to scrape out the spaghetti strands.

If necessary, repeat with the other squash half.

* *Instant Pots can take some getting used to. If your spaghetti squash is too soft after the 8 minutes on pressure and 5 minutes natural pressure release, yours might run a little hot. In contrast, if it is still firm, even after the 15 minutes of cooling, it might run a bit low and you'll want to add a minute or two to the cooking time for most recipes.

Finally, if your squash is barely cooked at all, you probably need to replace the silicone ring around the lid. I replace mine about once a month when I'm using the Instant Pot on a daily basis.


This modern gadget can save oodles of time in the kitchen, but it does take some patience to get it to work how we want it to.[/timer]

Slow cooker:
First, check to make sure your squash fits in the slow cooker! You can cut it into large 'rings' instead of just in half if necessary to make it fit. By keeping it cut crosswise, we get longer squash 'noodles' so try to avoid cutting it lengthwise.

Pour 1 cup of water into the bottom of a slow cooker. Place squash cut-side down in the slow cooker and cook on low for 4-5 hours or high for 2 hours.

Open lid and turn off slow cooker and allow squash to cool until comfortable to touch (15 minutes) before using a fork to scrape out the spaghetti strands.
Oven Roasted:
Optionally, brush squash ends (cut side) with olive oil, melted butter, or coconut oil. Place cut-side down in a casserole dish or baking sheet *with sides* to contain juices. Add 1 cup of water.




Place squash in the oven (it's okay if it hasn't completely preheated yet) and bake for 45 minutes.




Remove from the oven and allow squash to cool until comfortable to touch (15 minutes) before using a fork to scrape out the spaghetti strands.
Recipe Notes
** If you're in a time crunch you can put the whole squash in the slow cooker or oven, with the 1 cup of water. as described below in the oven and slow cooker directions The soft warm squash will be slightly more difficult to work with at the end, but it's really not much harder to remove the pulp gently after cooking. I do this sometimes when I know I need to get dinner started, but I have something else competing for my attention.
Nutrition Facts
How to Cook Spaghetti Squash
Amount Per Serving (1 cup)
Calories 22
% Daily Value*
Sodium 12mg1%
Potassium 77mg2%
Carbohydrates 4g1%
Vitamin A 85IU2%
Vitamin C 1.5mg2%
Calcium 17mg2%
Iron 0.2mg1%
* Percent Daily Values are based on a 2000 calorie diet.
More Winter Squash Recipes:
Learn how to heal leaky gut
60-page ebook of all my best GAPS Diet (Gut and Psychology Syndrome) articles all in one place.
Please follow and like us: